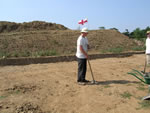 Click on any thumbnail to enlarge
Day 1 - Site introduction and Geophysics - Heath and Safety and Excavation
Discussion session on previous years digs and observations made.
The Villa is a Classic Romano/British design with the gallery and two side rooms.
Round and Rectangular houses found together i.e. Celtic round and Roman rectangular
Evidence of medieval wall robbing found to build the nearby church
Classic position of a villa near road and river transport and also wood for timber and charcoal.
Interesting observation is that only 5% of finds are on the surface at any one time
Equipment
Discussion and hands on use of the types of equipment that can be used to aid the dig, Magnetometers, Metal detectors, Dowsing, Bowsing and Geophysics etc.
Resistively Meters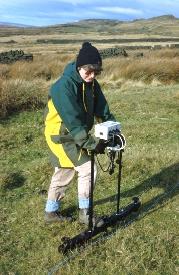 The first type of equipment available is the Receptivity Meter. For most amateur groups, it is the most commonly used piece of equipment as it is both the cheapest and easiest to use. The hardware usually consists of a box of electronics mounted on a carrying frame, with wires leading down to a pair of metal spikes that are inserted into the ground. An electric current is passed through the ground and the box measures the resistance to the electrical current passing through the ground, hence the name resistively meter. The amount of resistance is affected by how much moisture there is in the soil. If there is a lot of moisture in the soil, you will get low resistance as the electric current passes through the wet ground easier. Conversely, if there is little moisture, then there is high resistance to the electric current. The problem with this setup is that the resistively is also dependent on the amount of contact the metal probes have with the ground, so most meters have a cable running to additional set of fixed probes that help it work out how much contact resistance there is.
The amount of water present in the soil is affected by some archaeological features. For example, if you have a wall under the surface, then there is less soil to store moisture, which will evaporate quicker, making that patch of ground high resistance. Conversely, if you have a ditch or pit, it can store more moisture for longer, giving a lower resistance. Resistance readings taken in a grid can then be turned into an image and interpreted to look for relevant archaeological features. The problem with resistively is that results can be rather poor if the ground is too wet or too dry, i.e. if there is little relative difference between the resistance for different depths of subsoil.
Magnetometers - great for finding kilns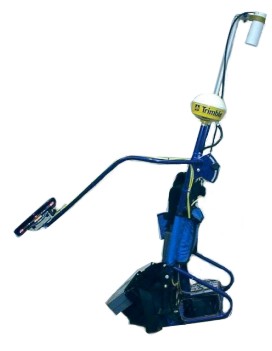 The second most commonly used piece of equipment is the magnetometer. It is rather more expensive and tricky to use, but is favorites with a lot of people because you can do a survey with a magnetometer a lot quicker than with a resistively meter.
Magnetometers measure the local magnetic field strength. As well as the earths magnetic field, some archaeological features have a measurable magnetic field. Burning will cause substances to become magnetised, metals such as iron have a strong magnetic field, and even the fill of a ditch will show up because there are magnetic particles in soil, so if you have a deeper depth of soil because of a ditch, you will get more of a magnetic field to measure.

Hands on use of a Resistively Meter and metal detector
We plotted a 20m sq. grid to perform the Geophysics on and took readings at every meter. It soon became apparent that we were finding a large wall foundation due to the high resistance. The field we selected had already had a full survey completed and they believe it is a 2nd Roman bath house that will be excavated next year as part of the continuing dig. The device can be linked to a PC and the software will draw the plots for you. A metal detector was demonstrated and guys could have a go themselves.
Health and safety on site covering machinery, digging plant and hard-hats.


An important topic as backing onto one of these diggers can be very painful LOL
Selecting the right digging equipment for the site, it's location, access and size is critical as it is an expensive exercise. Caterpillar machines have to be towed to the site and require trucks to take the spoil back and forward to the area that is it dumped. They have the ability to rotate 360 degrees and are very quick. The JCB can be driven on the road to the site but uses only it's rear bucket so it does not drive over the cleared area. They are a lot slower at removing the top soil to get down to the Archaeology.
We were then shown all the basic hand digging tools used on the site including mattocks, picks, trowels, brushes etc. We were shown the correct use of the tools and finally let loose on the excavation site with strict supervision. As we troweled a large area together we started to uncover a series of post holes that ran parallel to one of the main walls and it is believed they are a covered way. Even within quite a small area we uncovered Roman pottery and animal bones.