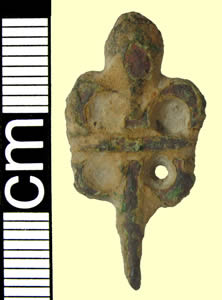 A corroded cast copper-alloy openwork mount in the form of a fleur-de-lis. The lower surface is flat while the upper surface is moulded with bevelled sides. Uppermost are the three fleurs of the lis, with perforations within the side fleurs. The motif rests on a transverse ridge, below which a pair of perforated loops that echo the side fleurs. Central below the ridge is a tapering 'stalk'. There are no obvious means of attachment on the lower surface; it is assumed the mount could be riveted through the holes. The object has corroded leaving a red-brown metal covered in off-white corrosion product; three of the holes have been entirely filled by the latter. No direct parallel has been found for the object; the metal suggests a medieval or, equally, post-medieval date.
Broad period: POST MEDIEVAL
Period from: MEDIEVAL
Period to: POST MEDIEVAL
Date from: Circa AD 1250
Date to: Circa AD 1700

Primary material: Copper alloy
Manufacture method: Cast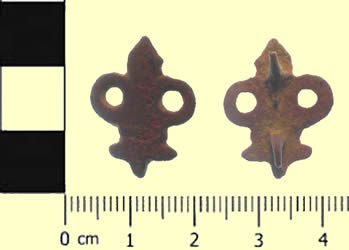 A copper alloy mount in the shape of a stylised Fleur de lys, post Medieval in date, probably from the 16th or 17th century. A central pointed element is flanked by two semi-circular shapes, each with a circular hole through. Two fixing spikes which have been bent over are still in place on the back of the mount. It has a reddish brown patina. It has a length of 21.54mm, width 16.83mm, thickness 1.57mm, weight 1.73g. For reference see SUSS-070486 located on the PAS database.
Chronology
Broad period: POST MEDIEVAL
Period from: POST MEDIEVAL
Date from: Circa AD 1500
Date to: Circa AD 1700