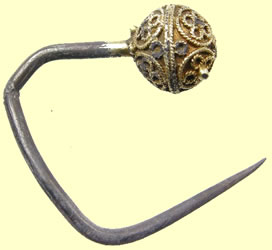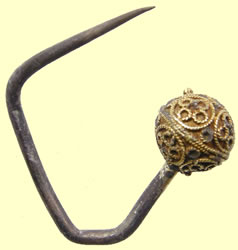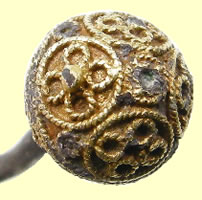 Stunning 16thC Tudor gilded silver pin
Pin dia 10.88mm, 4.68g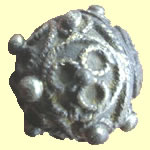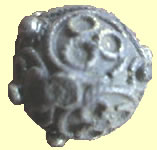 Treasure number 2007 T538: Post Medieval silver dress-pin-head. The spherical hollow cast pin head has a transverse line dividing it into two hemispherical sections. The surface has with applied filigree decoration in the form of circlets and knobs. Each hemisphere has three circlets, each containing three smaller circlets forming a trefoil with a central knob. Two of these knobs are missing from the lower hemisphere. The larger circlets are divided by knobs, and there is a further knob at the apex of the pin head. There is a worn break where the shaft was attached. The surface of the pin is dull grey, with some of the original silver colouring showing through. This pin-head is of typical 16th century design. See Treasure Annual Report 2004 no 295 for comparison. Dimensions: Diameter: 9.32mm, length: 9.85mm, weight: 1.60 grams.

Notes:

British Museum Report Treasure number 2007 T538 Spherical dress pin head with central rope twist band around the centre, filigree circlets and knops all over the surface. Signs of where the pin shaft was originally soldered on. A common type frequently reported through the Treasure Act. 16th Century. As such, due to its age and precious metal content, this object qualifies as Treasure under the stipulations of the Treasure Act 1996. Dr Dora Thornton, Curator of Renaissance Collections
Subsequent actions
Subsequent action after recording: Returned to finder
Chronology
Broad period: POST MEDIEVAL
Period from: POST MEDIEVAL
Date from: AD 1500
Date to: AD 1600

Dimensions and weight
Length: 9.85 mm
Weight: 1.6 g
Diameter: 9.32 mm
Quantity: 1
Materials and construction
Primary material: Silver
Manufacture method: Multiple
Completeness: Incomplete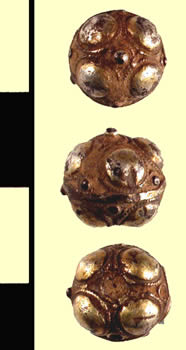 Treasure 2008 T584 Post Medieval silver pin head, with traces of gilding. Post Medieval (16th century) globular pin head, cast in silver with gilding. There is a small circular depression where the shaft would have extended from. The pinhead is divided into two hemispheres by a raised band. Each hemisphere has four raised circular domes surrounded by a beaded border. There is an integrally cast knop between each dome and the dividing border, one of which is missing from the lower hemisphere. The upper hemisphere has an additional knop at its apex. It is 10.60mm long, 10.92mm in diameter and weighs 2.94 grams. British Museum Report: Silver-gilt pin head from a dress pin, shaft broken off at head. Decorated on each hemisphere with large gilt lobes with cable ornament around them and knops in between. Part of a 16th Century dress pin of a kind frequently reported through the Act. For a very similar pin see TAR 2005-6, no. 789. As such, due to its age and precious metal content, this object qualifies as Treasure under the stipulations of the Treasure Act 1996. Dr Dora Thornton, Curator of Renaissance Collections The British Museum
Chronology
Broad period: POST MEDIEVAL
Period from: POST MEDIEVAL
Date from: AD 1500
Date to: AD 1600

Dimensions and weight
Length: 10.6 mm
Weight: 2.94 g
Diameter: 10.92 mm
Quantity: 1
Materials and construction
Primary material: Silver
Completeness: Fragment
Surface Treatment: Gilded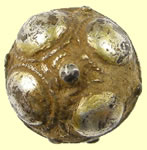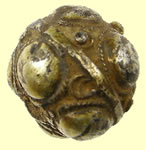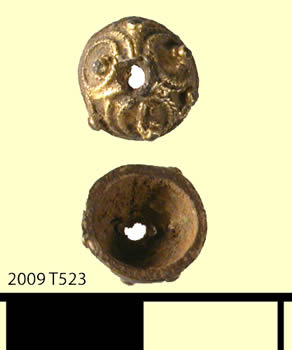 TREASURE CASE 2009 T523 Post Medieval pin
Date of Discovery: 22nd September 2009
Circumstances of discovery: Whilst searching with a metal detector
Description: Incomplete cast silver gilt pin head. The surviving section is one half of a hollow sphere with applied filigree decoration. The decoration is comprised of three sets of two concentric filigree circles containing a central knop, with a further knop between each set of concentric circles. At the apex of the head is a small circular hole. The gilding survives over most of the surface however it is missing on the knops. It is 8.84mm in diameter, 4.71mm deep and weighs 0.71 grams.
Date: Post Medieval, 16th century.
Disposition: Disclaimed
The object contains a minimum of 10% precious metal and is over 300 years old. Consequently it qualifies as Treasure under the stipulations of the Treasure Act 1996 in terms of both age and precious metal content.
Laura McLean Finds Liaison Officer, Essex. Colchester & Ipswich Museum Service. January 2010
Subsequent actions
Subsequent action after recording: Returned to finder after being disclaimed as Treasure
Treasure details
Treasure case tracking number: 2009 T523
Chronology
Broad period: POST MEDIEVAL
Period from: POST MEDIEVAL
Date from: Circa AD 1500
Date to: Circa AD 1600

Dimensions and weight
Thickness: 4.71 mm
Weight: 0.71 g
Diameter: 8.84 mm
Quantity: 1
Materials and construction
Primary material: Silver
Manufacture method: Cast
Completeness: Fragment
Surface Treatment: Gilded