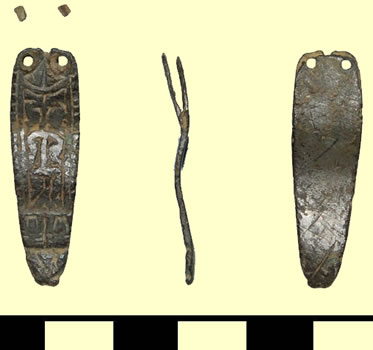 ESS-9E4FB2 STRAP END
2010 T167 Early Medieval strap end
Date of Discovery: 12th March 2010
Circumstances of discovery: Whilst searching with a metal detector.
Description: Early-Medieval Thomas Class A Type 1 strap end, cast in high tin copper alloy. The strap end is sub-rectangular in plan and rectangular in profile, increasing in thickness towards the terminal. There are two circular rivet holes at the split end; the copper alloy rivets survive but have become detached. The upper surface is decorated with a stylized foliate design, similar to the 'speckled fruiting plant' seen in Thomas (2003) figure 1.3. The terminal depicts a stylised animal head, with two large sub-rectangular 'ears' still visible, the remainder of the head is worn, however there are two slightly raised areas to either side that would have represented the eyes. The reverse of the strap end is plain undecorated. It is 36.18mm long, measures 10.66mm across the widest point, has a maximum thickness of 2.71mm and weighs 2.52 grams.
Date: Anglo-Saxon strap ends date from 740-1100AD, peaking in the 9th century. It is likely that this example is of 9th century date.
Disposition: Not Treasure. The finder reported this as treasure believing it to be silver. However, the strap end does not contain a minimum of 10% precious metal and therefore falls outside the stipulations of the Treasure Act 1996.
Laura McLean Finds Liaison Officer, Essex Colchester & Ipswich Museum Service April 2010
References: Thomas, G. (2003) Late Anglo-Saxon and Viking-age strap-ends 750-1100. Parts 1 and 2. Finds Research Group 700-1700
Class: Thomas Class A Type 1

Subsequent actions
Subsequent action after recording: Donated to museum
Treasure details
Treasure case tracking number: 2010 T167
Chronology
Broad period: EARLY MEDIEVAL
Date from: Circa AD 800
Date to: Circa AD 900

Dimensions and weight
Length: 36.18 mm
Width: 10.66 mm
Thickness: 2.71 mm
Weight: 2.52 g
Quantity: 1
Materials and construction
Primary material: Copper alloy
Manufacture method: Cast
Completeness: Complete