Cleaning early Roman, Celtic or Saxon silver that has a thick hard crust 'horn' silver on it. I use a mix 2 parts olive oil and one part lemon juice to 'cook' the coins.
Put the Roman silver coin in a cup with the 'mix' and then onto the hotplate of a coffee maker. Watch the brown crud float away from the coin. Check it every hour and after the 'mix' is clogged with crud replace with a fresh mix. This process can take several days but eventually the coin will become totally clean of the crust. Use a wooden tooth pick to pick any loose crud from the coin in between changes of the mix. Below are the before and after shots of some recent ones I 'cooked'
As dug with 'horn silver' crust

Olive oil and lemon juiced 'cooked'

(a) Silver Roman denarius of Hadrian 125-128 A.D - 2.88g, 17.65

Silver Roman Trajan (98-117 A.D.) 3.04g,18.24
Here is info from LLuis a Spanish Chemist and other tips sent to Mark lehman our Roman expert.
Here (below) are a couple of recipes from a friend of mine who's really quite the competent, multi-platform, technological wizard.
I'd add that I doubt that what you're looking at is really "horn silver" - silver chloride - but is more likely a somewhat less reactive (and therefore, less damaging) form of encrustation. Actually, I'm surprised I didn't think to tell you about the aluminum foil & lemon-juice thing - but it's just as well I didn't, Bruce has added a tweak - using olive oil as a surfactant.
If that doesn't provide the desired results, try the sodium thiosulphate.
And if THAT doesn't work, you might try actual, electricity-assisted electrolysis. It will kill any natural toning or patina - but I think with this coin, that's probably rather far down your list of priorities.

Using a 9v radio battery - the square ones with the snap-terminals - and a non-reactive electrolyte solution made with sodium bicarbonate (baking soda, we call it here stateside - Don't use salt!) - it's easy to whip up a little, disposable electrolysis unit with an iron or steel nut for the anode and perhaps a deli-tub (not sure if you have these, or if so, what you call them - any disposable plastic vessel of at least 500ml will do fine - glass is OK, too, but there's no danger of smashing plastic tubs to splinters if you're as clumsy as I am)

Mark

If it is 'Horn Silver' it can be removed. "Horn Silver" is a common name for Silver chloride, the silver counterpart to Bronze disease. It is a function of chlorides in the environment attacking the silver, it doe not need another coin. Your friend can remove it with sodium thiosulfate, that is common photographic fixer, and it should be available at any place that carries darkroom chemicals. I would mix it to the strength recommended for film. Place the coin in the solution, but watch it, and scrub about every 15 to 30 minutes. I have no idea how fast it will work.
Since this is an old, real silver coin, he could try 1 teaspoon of lemon juice in 4 ounces of olive oil, mix them well, add the coin, and place on a hot plate [I use the carafe-warmer from an old coffee maker] it takes about 30 minutes and most of the time a single treatment will remove the crust from a silver coin. The oil floats the crud away as the lemon acid breaks it down. I have used this method, it works fine on silver, but as you know, acids and bronze don't play nice!
Jerry had things backwards and turned inside out. If you have two different metals and an electrolyte, either acid or base, you will get a galvanic reaction [ a battery], and one coin will be eaten. which way the reaction goes depends on the electrolyte and the metals involved. If you really want to know, I can look it up for you.
If it is Horn Silver, it is like BD and is progressive and not reversible, but it can be stopped.

Silver Nitrate is used to test for Chlorides, the
AgCL formed is what precipitates out of solution, not Ag by itself: NaCl + in H2O + AgNO3 = AgCl + Na + NO3. AgCl is dissolved, that is one of the basic reactions for processing photographic materials. The problem mentioned with silver next to a bronze coin is electrolysis not bronze disease and is totally different.

Bruce

'That said, I do not think that the crust is horn silver, but seems to me more lime (calcium carbonate)...
Anyway, both cases are easy to clean.

-I would suggest that finder touch the crust with vinegar. If he sees some bubbles, then it is calcium carbonate, and soaking with vinegar (having always an eye on the coin!) will clean the crust.
Perhaps some traces of silicate, that could be easily cleaned away with the trick of the pencil that Jerry explained to us (of course, could be erased also with the glass fibre pens from Commonbronze, but a pencil is easier to find....)

[Mark's note: this is a technique brought up on-list a while back - gently rubbing a #2 or softer pencil-point over roughnesses on coins to clean them - the graphite is softer than the coin metals so it's generally safe]

-If the crust does not bubble when touched with vinegar, then it could be horn silver.
I would suggest that finder tries hardness with a point...Horn silver is soft and do not resist a blade of a knife...
Horn silver is soluble in household aqueous ammonia (could be bought in a supermarket, or in a drugtsore). It smells very bad. Should wear glasses and gloves and better work outside..
Let the coin inside the ammonia, tel quel, and see if there any evolution: should see flowing lines as if sugar is dissolving in water, indication that horn silver is dissolving in the ammonia.
I could suggest to cover with butter the clean parts, to avoid attack by the ammonia.

Avoid also light as much as you can (only to see progress).

If a part is cleaned, then cover the cleaned part, and proceed till the whole is cleaned.

-Then could be that it is calcium silicate. If so, finder should clean it mechanically (the glass fibre pen works very well). The reagents to clean a silicate are too dangerous to be used if you have not a labo....

May you be so kind to tell me the progress on cleaning this coin?'

With best wishes

LLuís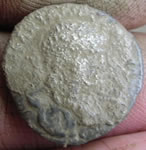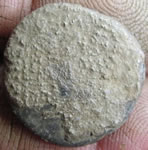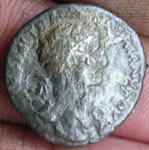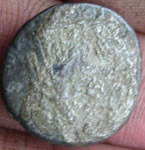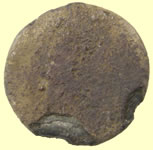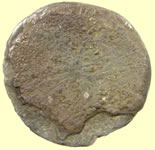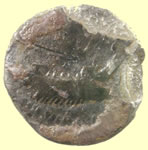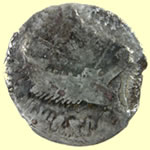 Roman silver coin Before and after pictures - still 'cooking' it
32 BC Mark Antony, Legionary silver Denarius. ANT.AVG.III.VIR.R.P.C Galley, Legionary Eagle between two standards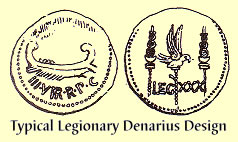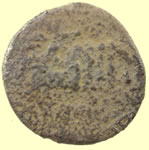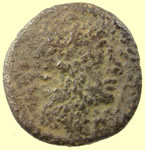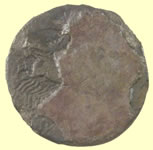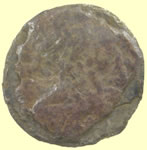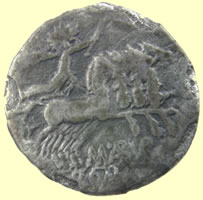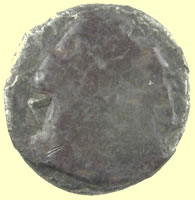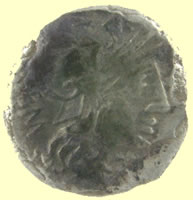 As dug to cooked'
It's clear enough now for a positive ID - it is definitely a Roman Republican Denarius - moneyer: M Aburius M.f. Geminus, 132 B.C.
RSC-Bab Aburia 6, SR 127, Syd-CRR 487.
You should, eventually, find the letters: "GEM", behind Roma's helmeted head on the obverse, and there should be an asterisk-looking mark under her chin which is actually a monogram of XVI - ie: 16 Asses to the denarius. On the reverse, you have radiate Sol driving a fast quadriga right and brandishing a whip, below the horses, you have M ABVRI with the AB and VR in ligate form, ROMA in the exergue.
Very interesting, as this piece dates to a century and three-quarters before Claudius' conquest of Britian. I'm going to guess that it originally came to the island in trade for tin, or was carried as a good-luck piece by a superstitious soldier all those years later. These certainly weren't normal, circulating pieces anywhere else in the Empire in the late 1st through early 3nd century era we associate with a significant Roman presence in Britain and circulating silver. These were "overweight" by the standards of the denarii at that time and after Nero's debasement, the silver was too pure also - these would have been pulled out of circulation wherever anyone knew that their silver value was well above their nominal denomination - the sort of information that any savvy merchant would have been aware of.
Mark