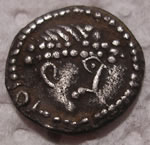 With the British pound very low historically against the dollar we are now even better value.
We do NOT count the day traveling in or out as part of your tour so you can get a full 70+ hours of detecting a week if the rest of your team wants to.
Your trip here includes transport to and from London Heathrow either to a self catering house or to the hotel type tour.
We are geared up totally for detecting, early starts, late finishes which are decided by the hunters. No traveling time to and from the sites, just maximum detecting time. There are NO planned tours of museums etc just detecting. However you can take an afternoon or morning off if you want to do any site seeing.
We are in a unique position where we have more land than we could possibly hunt in a life time. We add new sites every season and ditch old sites guys no longer want to hunt. With 300 + fields to pick, some of them are so huge we could spend all year on just one and not cover it. You can hunt just one or try to cover them all !!!
We do NOT hunt stubble but search cropped fields all year long, they are normally like pool tables to detect on.
When you come here the members pick the sites/fields they want to hunt each day, we just drive you there or in self catering tour your Barn leader drives you there with their own minibus.
We do not pick the sites but tell you what has been found where and you make a best guess as to the site you fancy hunting. You can try and cover all 300 or spend your trip on just one, you decide.
We have several different ways to stay here. Self catering Barn tours and hotels.
There are also hotel options if you would prefer.
Check out the daily hunt format to see what happens when you get here.
All the types of accommodation have the same 100% support with ID facilities, export paperwork service and hunt the same 300 + fields.
Max tour size is 6 guys + the driver
Contact me to book your slot after checking the availability of the accommodation you want.
If you want an unbiased view of hunting here then drop any member an e-mail via the forum or send one to these guys.
Contact Chicago Ron stateside for an American's view on hunting here ron guinazzo <rpg61@msn.com>
Contact Ark Gary for an American's view on hunting here goldeneggman@gmail.com
Contact Louisiana Sal stateside for an American's view on hunting here sal@historyhunts.com
Contact Min Mindy stateside for an American's view on hunting here luckymin@hutchtel.net
Standard terms and conditions apply see below