Detecting training - staying at a modern hotel.
I have been running this club for nearly 20 years now and before guys really started coming here I thought I was a the greatest detectorist since sliced bread, I was a legend in my own mind ! Looking back the honest truth is I was utter rubbish. I had read the machines instruction book once and off I went. Flapping my arm too fast, coil 3 inches off the deck, listening for only bang bang two way sounds, a tiny little foot assisted trowel to dig a hole. I must of walked over 100's of great finds over those years and would have never stopped to dig them.
Over the years I have learnt every trick in the book from the real masters that have joined our club, why you must dig only one way repeatable signals, how you can dig a Roman silver coin at 17 inches down using the 'dig and probe' technique. Gone are the days of the silly foot assisted trowel and now the long handled 'chain gang' type digger imported from the USA using the foot pivot style of digging is standard.
Because you may have been metal detecting for 20 years does not mean you are any good at it.
The best improver's are total newbies as they don't have years of ingrained poor techniques to over come first.
Minnesota Mindy is one of our top detectorists in the club, an original newbie that just listens and learns from all the top pro's.
All of us are constantly learning to try and get the extra edge out there.
---------------------------------------------------------
Being a world class metal detectorist is not as simple as just holding a machine, flapping your arm from side to side and running around like a headless chicken on a landowners field. Metal detecting is 80% skill and 20% luck. Firstly the psychology of metal detecting is paramount when heading out to search land for the first time. Massively overlooked the simple skills of how to dig the hole correctly and recover the target swiftly are a major factor in your success. Maths also plays a big role in the hobby. the guy that can dig 200 targets in a morning will have a far greater chance of success than a guy that can only manage to dig 20. Digging a hole should be robotic, ergonomic and repeatable.
Another classic failure of detectorists is how you hold the machine to prevent fatigue, setting the correct machines arm length for your height . How do you swing the coil keeping it flat on the deck across the whole of your swing to get the maximum depth. The effect that changes in inductance play on a machine.
The correct selection of a machine, its settings, your own testing on known items is critical to being able to 'hear' the right targets. Having a full simplistic appreciation of how a machine actually works enables you to understand what happens to a signal when you dig out the first plug. Why does the target sometimes disappear and how do you reacquire the signal again. Experts here use a proven 'dig and probe' technique when searching for targets beyond 15 inches down.
The bottom line is you cannot possibly learn how to metal detect successfully in a couple of hours or even a day. That is why we run a full weeks course so you can have theory and testing for an hour each morning , time out on fields for several hours practicing and honing your techniques. Lunchtime further discussions and questioning, more theory and back to detecting again for 4 more hours. You will get 7 hours full detecting each day on our sites.
You can select from thee 2 of our different types of ID machines or bring your own but not using cut down cheapy machines are not advisable as they cannot match the other machines for depth or sensitivity.
The top of the range pro machine the Minelab CTX 3030 which is heavy or the latest very light Minelab Equinox. Headphones, diggers, finds pouch and batteries are supplied.
I also have the Garret hoard hunter set up
Minelab CTX 3030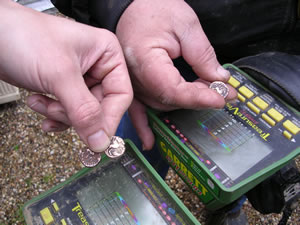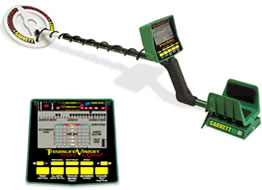 The week courses teach you all the basics and the more advanced techniques.
The training also covers:
The British Treasure Act - the law relating to finds you might make - What is the definition of a hoard or treasure.
PAS - The department where your finds are recorded
Celtic Coin Index and Fitzmuseum for reporting and logging Celtic coins and Early Medieval coinage
All the fundamental rules of detecting - filling in holes and taking your trash off the land.
The detecting course starts right from the basics so you do not need any prior experience:
How to set up the machine.
What to dig, how to dig. How not to not dig hot rocks and iron.
Pin pointing the target using the machine and use of a probe
Using the machine on test packages to learn the 'sounds' and what the meter tells you.
------------------------------------------------------------------
All finds are photographed and recorded and any treasures/hoards are reported by us to Colchester Museum under the Treasure Act. All ID's and export paperwork is included.
Drop me a mail if you want more info

RESPONSIBILITY:
Colchestertreasurehunting exercises every care possible. We can assume no liability for injury, damage, loss, accident, delay or irregularity in connection with the hunts of any airplane, automobile, motor coach or any other conveyance used in carrying out this tour or for the acts or defaults of any company or person engaged in conveying the passenger or in carrying out the arrangement of the tour. We cannot accept any responsibility for losses or additional expenses due to delay in air or other services, sickness, bad weather, strike, war, quarantine, acts of God or other causes beyond our control and reserve the right to make such alterations to the itinerary as may be deemed necessary for carrying out the tour. By forwarding the deposit, the passenger certifies that he/she does not have any mental, physical or any other condition or disability that would create a hazard for him/herself or other passengers. Baggage is the owner's risk entirely. Tour participants understand the hazards of traveling by foot over rural terrain and plowed fields and accept the responsibility and risks of this activity. In consideration of and as part payment for the right to participate in such tour, the participant agrees to assume all of the above risks and agrees that such payment shall also constitute consent to all provisions contained herein. In addition, it is understood that Colchestertreasurehunting makes no guarantee, explicit or implied, as to the number or value of artifacts, coins or jewelry which the participant might recover, but will endeavor to provide the very best locations and sites available to them to insure the continued success of their hunts.
Important note: By sending a deposit you agree to the terms and conditions on this site, treasure Act and correct exporting of finds. NO find over 50 years old can be taken home without an approved export license. All transportation to and from sites, museum visits, trip to the shops are all free and not included in the price of your trip. You can be using multiple vehicles during your stay, taxi hire, private hire from the airport, saloon car to the museum and even the farmer can drive you around his land. No exchange of money for any trip must be made as they are all free. Giving any driver of any vehicle a tip other then a registered taxi can invalidate the insurance as it now becomes for hire and reward.