Roman silver hoard coins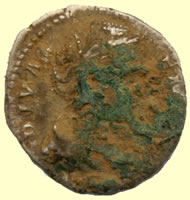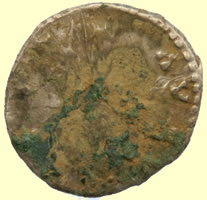 Hoard 1 - 3.17g, 17mm
Faustina the elder, wife of Antoninus Pius and mother of Faustina the younger. Posthumous issue by Antoninus pius, Faustina died 141 so it dates between 141-160. Reverse is too profoundly encrusted to determine type, although it might have the legend AVGVSTA (if so, the photo is upside-down) otherwise, it's a legend ending in "AVG" and could be any of literally dozens of types.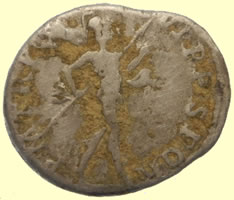 Hoard 2 – 2.89g,18mm
Trajan, 96-117, Mars advancing left carrying trophy and holding spear. Not enough of the reverse legend is clear to date it accurately, but the reverse reads something like this: P M TR P (xxx) COS (x VI) P P S P Q R – This seems to be the only piece which does not date to the Severan era in this batch.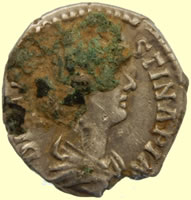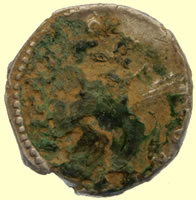 Hoard 3 - 3.46g, 17mm
Posthumous issue for Faustina the younger by her husband Marcus Aurelius – Faustina II died in 175 and M. Aurelius outlived her until 181 – so that's the time frame, 175-181. Again, the reverse is so profoundly encrusted that it's not possible to determine the reverse type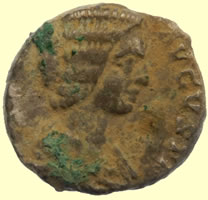 Hoard 4 – 2.48g,15mm
Julia Domna, wife of Septimius Severus and mother of Caracalla (and Geta) so her coins' time frame is 193-217. Obverse: [IVLIA] AVGVSTA. The reverse is IVNO [REGI]NA Juno standing left with peacock at her feet. This type was issued at both Rome and Laodicea (in the mid east) they can only be told apart by style – this appears to be a Rome mint product.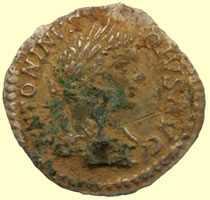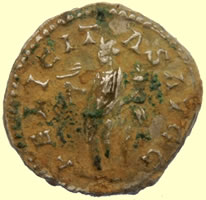 Hoard 5 – 3.28g,18mm
. (young) Caracalla ANTONINVS PIVS AVG / FELICITAS AVGG. Felicitas standing left holding caduceus and cornucopiae (the 2 G's indicates two co-Augusti, Caracalla and Septimius) Mint of Rome 205 A.D., RIC 124, RSC 64.
Roman 2nd/3rdC silver hoard
Mark Lehman's initial ID below with poor quality pictures taken on the guys cell phones. I just sent him larger pictures for better ID.
Okay, the top left (obverses) is Julia Domna, wife of Septimius Severus – probably issued by Severus, there is another group of coins in her honor struck by Caracalla. This appears to be the fairly common JVNO REGINA, Juno with peacock reverse, but the legend is only partial due to the smallish flan not presenting enough room to strike-up all of the reverse.
Top right is Trajan – I'm sure I don't need to go into detail about who he was and what he did.
The Trajan has a typical reverse of Mars walking right with spear and carrying trophy – it may be able to be dated fairly closely if I can get a little more detail since it has the typical "laundry list" of offices held and the number of times they had been held. Usually this is enough to place them within a year or two, but some combinations of offices which didn't renew at the same time of year allow them to be dated within months. It's quite worn and may be as much as a century earlier than the latest of the other four.
Bottom row left is a posthumous issue for Faustina the Elder – wife of Antoninus pius. The reverse is too obscured by encrustation for me to be able to tell what's happening, but there seems to be very good remaining detail on this piece in general so when cleaned it should be easy to read and identify.
In the middle is a very youthful portrait of Caracalla with the FELICITAS AVG reverse I noted in the earlier email.
On the right is another posthumous Faustina denarius – given the encrustation I can't be 100% certain whether this is the Elder or the Younger Faustina – I think it's the Elder. Like the other Faustina, the reverse is too encrusted to tell what's gong on there.
Something to keep in mind with these posthumus coins of the Imperial women of the Antonines is they were issued in a couple of different emissions, first under Antoninus Pius and then later by Marcus Aurelius. There are also both lifetime and posthumous coins for both Faustinas. That tends to make it a little complicated, so I would really need to be able to read the legends and see the details a good bit better to say exactly who issued these two and when.
I still look forward to better photos as and if they're cleaned.
Mark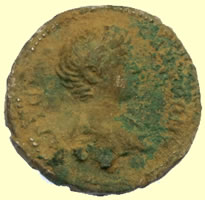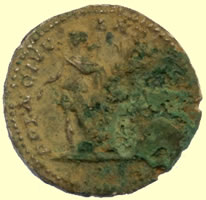 Hoard 6 - 3.06g, 18mm
Caracalla as Caesar – 195-198. Obverse legend is probably [M AVR ANTON] CAES PONTIF. The reverse is PRINCIPI IVV[ENTVTIS] Caracalla in military garb standing left holding baton and scepter, trophy to his right. Mint of Rome, 197, RIC 13, RSC 505.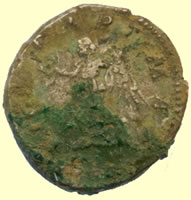 Hoard 7 – 3.18g, 18mm
Septimius Severus, 193-212. [SEVERVS] PIVS AVG / [VICT] PART MAX Victory walking left holding wreath and palm, Mint of Rome, 204.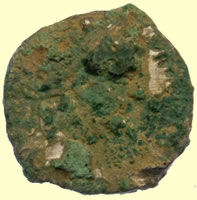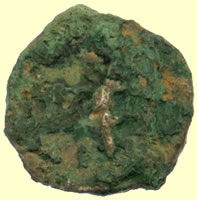 Hoard 8 - 3.17g, 17mm
. I think what little of the portrait is visible suggests Antoninus Pius, 139-161 – reverse totally obscured but seems to be a figure (possibly Victory) standing or walking left holding object (wreath?) in outstretched right hand.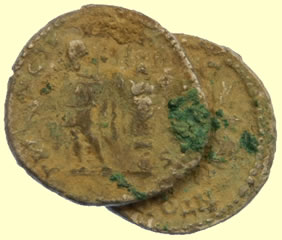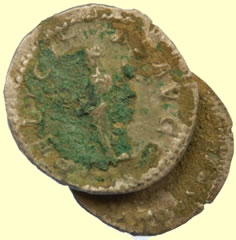 Hoard 9 &10 – 6.91g,17mm (one coin dia)
only part of one coin's obverse is visible, it looks like it may be "[A]NTON[…] indicating probably Caracalla, reverse is two standing figures and legend is too badly obscured to read, but I suspect it's a duplicate of # 6 and the reverse is PRINCIPI IVVENTVTIS. 9b reverse is FELICITAS AVG, Felicitas likely standing left holding caduceus and cornucopiae and obverse is too well covered by 9a to be readable at all. Both pieces are almost certainly from the Severan era since that's pretty much when all the others are on the time line, except for Trajan, of course, and Antoninus Pius. The Severan era included quite a few individuals, both male and female, between 193-238.
Mark Lehman's initial ID below with poor quality pictures taken on the guys cell phones. I just sent him larger pictures for better ID.
Okay, the top left (obverses) is Julia Domna, wife of Septimius Severus – probably issued by Severus, there is another group of coins in her honor struck by Caracalla. This appears to be the fairly common JVNO REGINA, Juno with peacock reverse, but the legend is only partial due to the smallish flan not presenting enough room to strike-up all of the reverse.
Top right is Trajan – I'm sure I don't need to go into detail about who he was and what he did.
The Trajan has a typical reverse of Mars walking right with spear and carrying trophy – it may be able to be dated fairly closely if I can get a little more detail since it has the typical "laundry list" of offices held and the number of times they had been held. Usually this is enough to place them within a year or two, but some combinations of offices which didn't renew at the same time of year allow them to be dated within months. It's quite worn and may be as much as a century earlier than the latest of the other four.
Bottom row left is a posthumous issue for Faustina the Elder – wife of Antoninus pius. The reverse is too obscured by encrustation for me to be able to tell what's happening, but there seems to be very good remaining detail on this piece in general so when cleaned it should be easy to read and identify.
In the middle is a very youthful portrait of Caracalla with the FELICITAS AVG reverse I noted in the earlier email.
On the right is another posthumous Faustina denarius – given the encrustation I can't be 100% certain whether this is the Elder or the Younger Faustina – I think it's the Elder. Like the other Faustina, the reverse is too encrusted to tell what's gong on there.
Something to keep in mind with these posthumus coins of the Imperial women of the Antonines is they were issued in a couple of different emissions, first under Antoninus Pius and then later by Marcus Aurelius. There are also both lifetime and posthumous coins for both Faustinas. That tends to make it a little complicated, so I would really need to be able to read the legends and see the details a good bit better to say exactly who issued these two and when.
I still look forward to better photos as and if they're cleaned.
Mark
I'll do what I can to describe and date them on a coin-by-coin basis, but the ones that are totally obscured by deposits and/or corrosion products that weren't able to be ID'd before are still obscure.
- 1. Faustina the elder, wife of Antoninus Pius and mother of Faustina the younger. Posthumous issue by Antoninus pius, Faustina died 141 so it dates between 141-160. Reverse is too profoundly encrusted to determine type, although it might have the legend AVGVSTA (if so, the photo is upside-down) otherwise, it's a legend ending in "AVG" and could be any of literally dozens of types.
- 2. Trajan, 96-117, Mars advancing left carrying trophy and holding spear. Not enough of the reverse legend is clear to date it accurately, but the reverse reads something like this: P M TR P (xxx) COS (x VI) P P S P Q R – This seems to be the only piece which does not date to the Severan era in this batch.
- 3. Posthumous issue for Faustina the younger by her husband Marcus Aurelius – Faustina II died in 175 and M. Aurelius outlived her until 181 – so that's the time frame, 175-181. Again, the reverse is so profoundly encrusted that it's not possible to determine the reverse type.
- 4. Julia Domna, wife of Septimius Severus and mother of Caracalla (and Geta) so her coins' time frame is 193-217. Obverse: [IVLIA] AVGVSTA. The reverse is IVNO [REGI]NA Juno standing left with peacock at her feet. This type was issued at both Rome and Laodicea (in the mid east) they can only be told apart by style – this appears to be a Rome mint product.
- 5. (young) Caracalla ANTONINVS PIVS AVG / FELICITAS AVGG. Felicitas standing left holding caduceus and cornucopiae (the 2 G's indicates two co-Augusti, Caracalla and Septimius) Mint of Rome 205 A.D., RIC 124, RSC 64.
- 6. Caracalla as Caesar – 195-198. Obverse legend is probably [M AVR ANTON] CAES PONTIF. The reverse is PRINCIPI IVV[ENTVTIS] Caracalla in military garb standing left holding baton and scepter, trophy to his right. Mint of Rome, 197, RIC 13, RSC 505.
- 7. Septimius Severus, 193-212. [SEVERVS] PIVS AVG / [VICT] PART MAX Victory walking left holding wreath and palm, Mint of Rome, 204.
- 8. I think what little of the portrait is visible suggests Antoninus Pius, 139-161 – reverse totally obscured but seems to be a figure (possibly Victory) standing or walking left holding object (wreath?) in outstretched right hand.
- 9a. only part of one coin's obverse is visible, it looks like it may be "[A]NTON[…] indicating probably Caracalla, reverse is two standing figures and legend is too badly obscured to read, but I suspect it's a duplicate of # 6 and the reverse is PRINCIPI IVVENTVTIS. 9b reverse is FELICITAS AVG, Felicitas likely standing left holding caduceus and cornucopiae and obverse is too well covered by 9a to be readable at all. Both pieces are almost certainly from the Severan era since that's pretty much when all the others are on the time line, except for Trajan, of course, and Antoninus Pius. The Severan era included quite a few individuals, both male and female, between 193-238.
That's about all I can do with these photos, I hope it's enough for you.
Mark