Nationally important find - only one of it's type ever found in Britain - Donated to Colchester Museum by Nova Scotia Andy
'It is probably an insular copy of a Carolingian style, or it could even be the product of a workshop located on the fringes of the Carolingian continent, maybe somewhere like Domburg on the coast of Frisia. 10th - 11th century in date'.
C10thC Saxon Lion headed strap end donated to Colchester museum by Ill Mark and landowner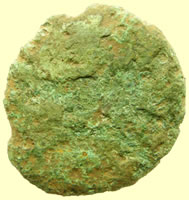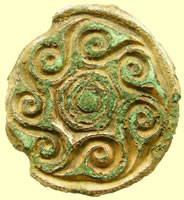 5th-6th century AD Saxon gilded saucer brooch - running spiral design East Anglian type
Donated to Colchster museum by Ark Gary and landowner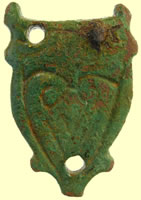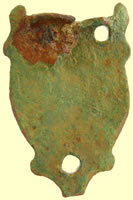 Saxon stirrup strap mount - top fixing Type 2A
Similar to a design found at Swafield Norfolk
Donated to Colchster museum by Ill Gene and landowner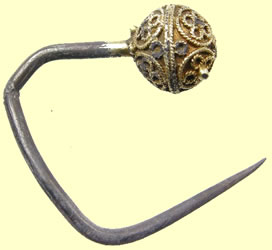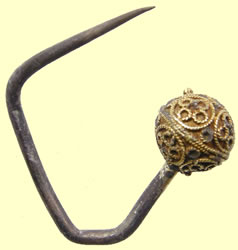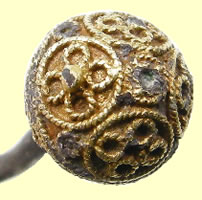 Tenn Brad's - Stunning 16thC Tudor gilded silver pin - aquired by Colchester museum
Pin dia 10.88mm, 4.68g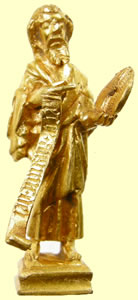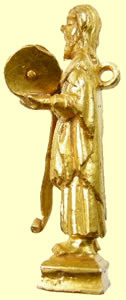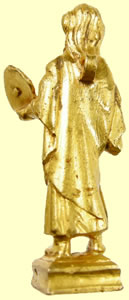 Tenn Brad's
Medieval gold figurine
PAS no: ESS-49E265
Treasure Report: 2008 T581
Parish/County: Tendring District, Essex
A medieval figure of John the Baptist. The saint is shown not in his usual attribute of a camel skin, but in the robes of a prophet. He gestures with his right hand to a salver, which he holds in his left. This was originally designed to carry a lamb, signifying the Lamb of God. A scroll issues from the Saint's left hand and is inscribed with the words
: ECCE +ANGUS+DEI
(Behold, the Lamb of God)
The figure stands on a small plinth with a finished base. It is designed to be seen in the round and on its back there is a loop for attachment to an object. It would probably have been entirely enamelled, but no traces of enamel survive on the figure.
The figure is gold and dates from the late fifteenth or early sixteenth century.
Dimensions: height 33 mm, width 11 mm, depth 10 mm.
Consequently, in terms of age and as the object contains a minimum of 10% precious metal it qualifies as Treasure under the stipulations of the Treasure Act 1996.

J P Robinson
Curator of Medieval Collections
30th March 2009
Aquired by Colchester museum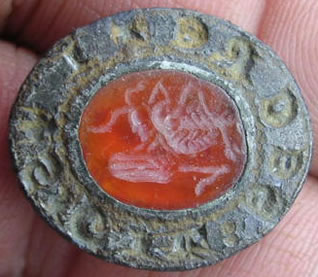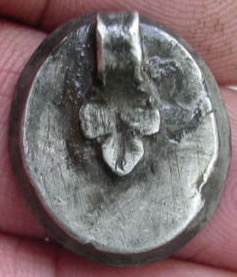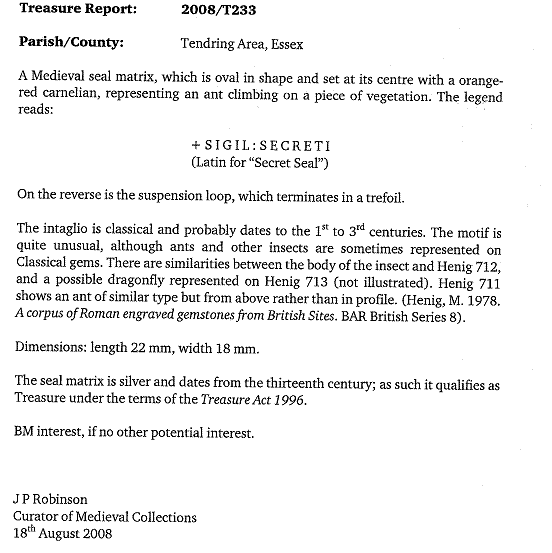 Ill Gene's - c 13thC Solid silver medieval vessica seal 62.1g, 21.96mm L x 18.81mm x 5.51mm W (excluding hanger)
Roman intaglio red stone
Aquired by Colchester museum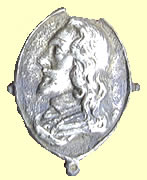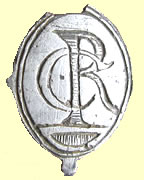 1625 Charles 1st bust - 0.58g, 13.54mm L
Aquired by Colchester museum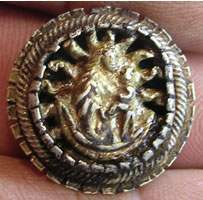 Aquired by Colchester museum
572. Tendring Area, Essex:
Post-Medieval silver hat badge (2006 T482)
Date: Early 16th century
Discovery: Found by Mr E Zschernitz while metaldetecting in October 2006.
Description: A circular hat badge, gilt front and back, with the remains of a pin on the back. The
badge comprises a pinked backplate with thick cable decoration at the edge and a band of pinked decoration enclosing a built-up cast element at the centre with the Virgin and Child sitting on a crescent moon. There are sun rays behind the figures. Diameter: 19.9mm; weight: 6.54g.
Discussion: The form and iconography indicate that this is a hat badge, as fashionably worn by men on the upturned flap of a hat around 1500–25. See for example a Crucifixion scene from Raydon, Suffolk (Treasure Annual Report 2003, no. 240), which indicates the original shape of the hook, i.e. with two sharp Ubends and sharp tip.
Disposition: Colchester & Ipswich Museums Service.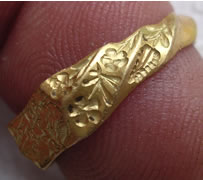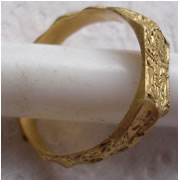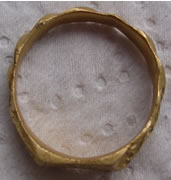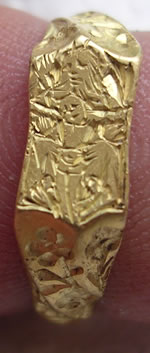 NH Dave's
431. North of Colchester, Essex: Medieval gold iconographic finger-ring (2006 T445)
Date: Late 15th–early 16th century
Discovery: Found by Mr D Bailey in September 2006.
Description: A finger-ring of iconographic type, the bezel is hexagonal and contains a depiction of God the
Father holding the figure of Christ on the Cross. This
was the conventional way to portray the Trinity in the late Medieval period, though the dove representing the Holy Spirit seems to be absent.
The hoop of the ring is twisted. The twists closest
to the bezel are engraved with seven five-petalled flowers and possibly a lupin. The five-petalled flower
is a recognised reference to the five wounds of Christ and the number seven may be an allusion to the seven
sorrows of the Virgin Mary. Diameter: 18.9mm; weight: 2.96g.
Disposition: Colchester & Ipswich Museums Service.

9thC Saxon period silver decorated strap end 5.82g, 44.44mm L x 11.91mm W - donated by Colchestertreasurehunting to museum


Virg Brian's Celtic gold hoard - From left to right - Aquired by Colchester museum
CCI 04.0477 'classic A' series, VA 2027-1. Generally believed to have been the last major series of his gold, so probably dating from the 30s AD. There are three or four matches for this particular pair of dies in the CCI, among the c. 100 of the basic type. The decoration at the base of the corn-ear is a bit more showy than usual.
CCI 04.0478 'plastic A' series, VA 2010-3. Believed to have preceded the classic type, so perhaps from c. 25 - 35 AD. About ninety of these are recorded here, and again there are a number of matches for both of these dies, including at least one coin in the British Museum (BMC 1819 in Hobbs's Catalogue of Iron Age coins in the BM).
CCI 04.0479 'linear' series, VA 1925-1. The earliest of these three, perhaps from c. 20 AD, and a little rarer, with about 60 recorded here. Again there is a coin in the BM from the same pair of dies, BMC 1783. There are a couple of rather unusual features to the dies - although not clear on your example because of the position it has been struck, there appears to be no V on the end of CAMV, and there's also a mark - perhaps some kind of privy mark - after the CVN on the reverse, you can just see the top of what looks like a letter I between the N and the On display in Colchester museum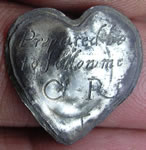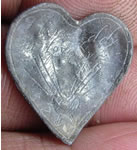 Mid 17thC Mourning silver token
Obv 'Prepared be to follow me' CR T
Rev 'I live and dy m loyal ye'
19.88mm L x 19.02 mm W 1.14g
Aquired by Colchester museum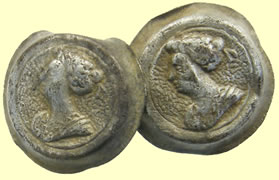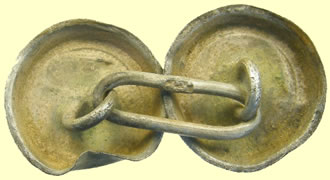 Stunnning 1704 Queen Anne commemorative silver cufflinks - reported as treasure to museum and donated by Mary Sparks