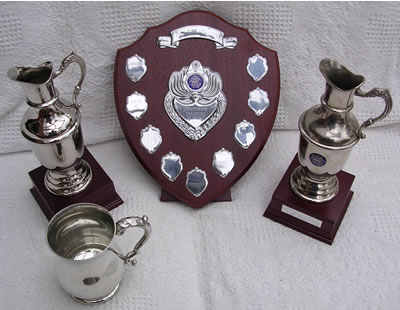 At the end of the season every guy that comes here gets to vote for his personal favourite find throughout the season (not his own finds of course) The find with the most votes gets the holder a free weeks full board detecting next season and the engraved Roman jug, not forgetting his name on the role of honour shield !
These are not the definitive list but are a few of my current favourites, guys can vote for any finds that are on our club site for the season 2011/2012.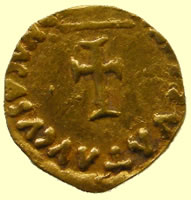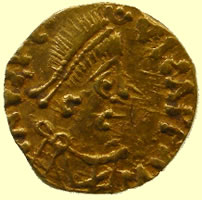 Merovingian tremissis of the 7th century
Saxon gold coin - this is part of an existing hoard and reported as hoard to the museum
Sent to Fitzwilliam museum for ID and recording
1.18g, 11.73mm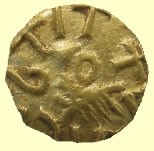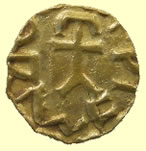 Merovingian tremissis of the 7th century
Saxon gold coin - this is part of an existing hoard and reported as hoard to the museum
Sent to Fitzwilliam museum for ID and recording
This sucker is tiny and mint 1.30g, 10.21mm, totally different from the others
Many thanks. A preliminary trawl of the works of reference has not yet
produced any result unfortunatetely.

Best wishes,

Martin
I have not recorded this in EMC as it is probably not a single find.
There have to be a proper hoard publication in due course, but while the finds are still appearing that may be rather premature.
Best wishes,
Martin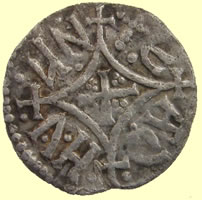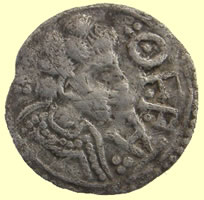 Cleaned
8thC Saxon Offa Rex silver penny - in 'cooker' to remove crust
sent to Fitzwilliam museum for ID and recording
Different type pf the other we have found
16.22mm,1.31g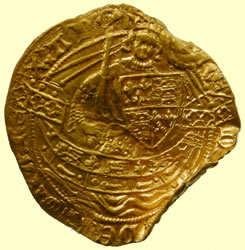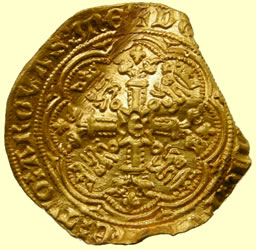 1327 Edward III hammered gold half noble - Cross 3 - E in centre of reverse cross
Obv EDWARD DEI GRA REX ANGL
24.79mm, 3.89g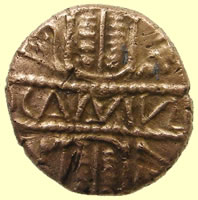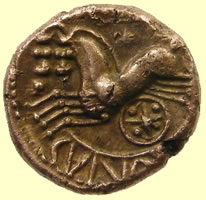 10-40 AD Cunobelin Celtic gold full stater - very rare bigga type
5.51g, 16.86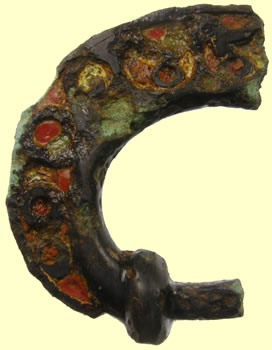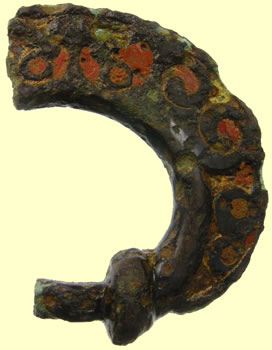 Monster find Romano/British Chariot top Terret ring - this is enormous with gold, red enamelled
65mm high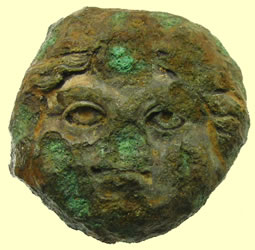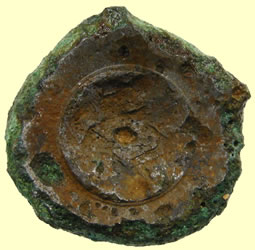 Stunning Roman mount with face decoration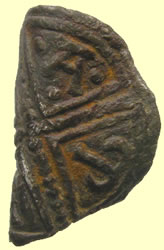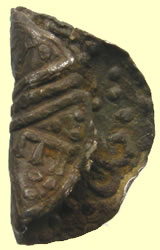 Saxan Offa Rex penny
This is a very interesting find, providing a new type for the Heavy Coinage of Offa. It is a coin of the London moneyer Eama, with some similarities to Chick type 207 (Blunt 90; a unique coin from the Delgany hoard), but the triple-stranded cross is new. The first three letters of the moneyer's name (EAM) are clearly visible in the images, and you might be able to see whether the final A is visible on the coin itself.
Presumably the obverse, which almost entirely obscured by the bending of the coin, has M / OFFA / REX in three lines, of which the M is visible in the images.
I have recorded this as EMC 2012.0121.
Best wishes,
Martin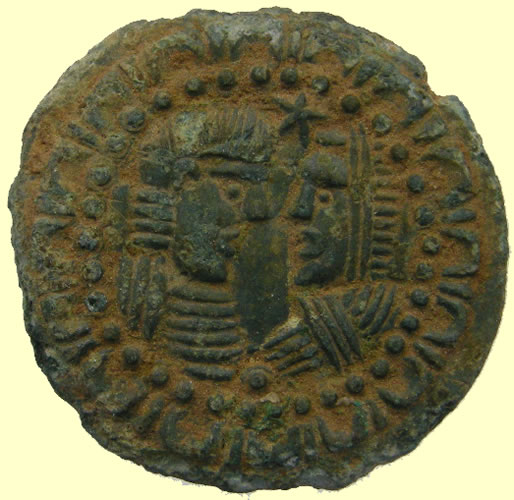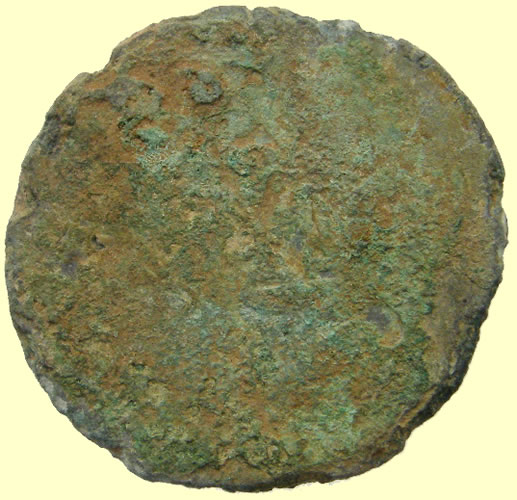 Another staggering find - Huge Saxon/Viking medallion
11.20g, 27.95mm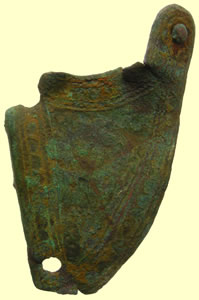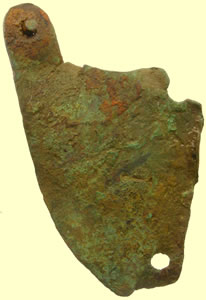 C 8thC Saxon decorated and gilded helmet
75.02mm L
Huge C 9thC Viking 'Ladder of life' strapend - these are well known for being unusually large
70.23mm L x 28.15mm W, 43.24g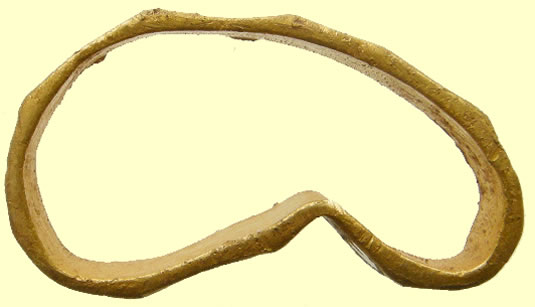 Monster find - Early medieval and possibly Saxon gold ring - reported as treasure to museum
"DEBAL GUD GUDANI +" which is Gothic, meaning "God of Gods"
Interesting hand punched lettering which has a barred A with additional top bar like on short cross coins of Class7 and an unbarred A also on the ring.
4.22g, 4.49mm H x 22.59mm W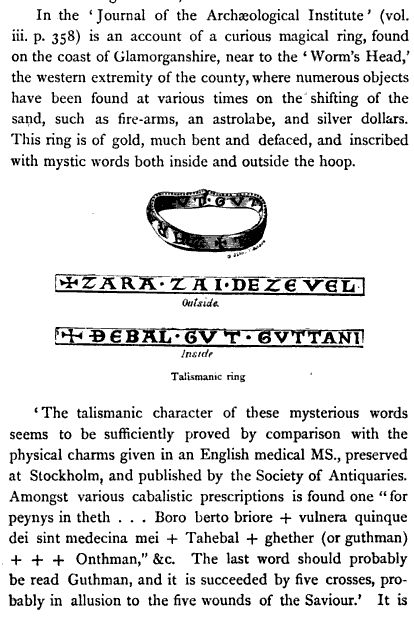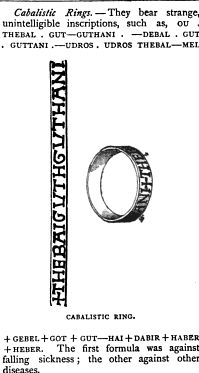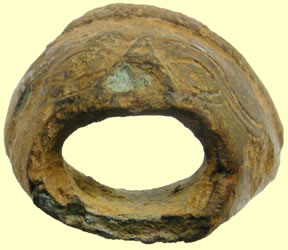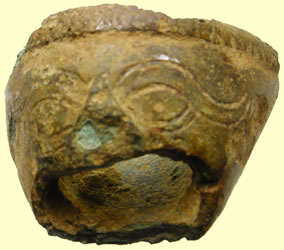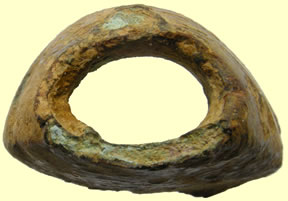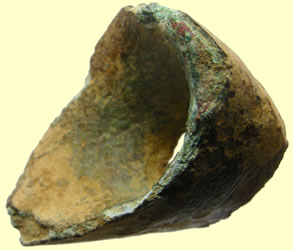 C 1stC AD Celtic drinking vessel spout - face decoration
34.94mm W x 20.63mm L - 27.20g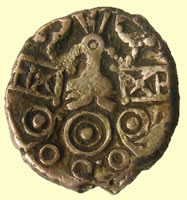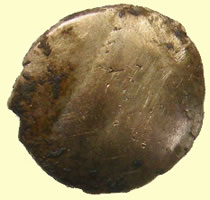 50 BC Canti - 1/4 Celtic gold coin -2.06g, 10.43mm - - Uninscribed 'P' gold -'Trophy' type VA147
Cantiaci / Cantii
This Celtic tribe occupied the south-eastern corner of Britain, probably from the second century BC. Its territory traditionally comprised Kent, eastern Surrey, East Sussex and London south of the Thames. The Cantiaci, or Cantii, were bordered across the Thames by the Catuvellauni and the Trinovantes, although the former may only have expanded to the Thames between 54-30 BC. It is unclear who controlled the north bank of the Thames before that - perhaps a minor tribe that was later absorbed by the Catuvellauni. To the west were the various peoples that made up the Atrebates, including the Regninses.
Like many of their neighbours in the south-east, the Cantii were Belgic people from the North Sea or Baltics, part of the third wave of Celtic settlers in Britain. They formed a recognisable territory which may not have been a single unified kingdom until the start of the first century AD, but which instead appears to have been several smaller kingdoms which operated as a confederation in times of trouble. The four individuals who flourished around 55 BC may have been rulers of each of the Cantii kingdoms, perhaps operating together under the authority of Cassivellaunus of the Catuvellauni. Certainly Julius Caesar recorded the Cantii as having four leaders who were kings in their own right.
The Cantii at this time were strongly influenced by their Belgic neighbours, the Atrebates, who were more recent arrivals in the country. Their customs were also much the same as the Celts of Gaul, and they were wont to die their skins with blue woad which made them look more terrifying in battle. This custom died out south of the Antonine Wall following the Roman Conquest. That conquest may have caused some of the Cantii to flee northwards where a tribe called the Decantae was noted, just once, by the Romans in Pictland around AD 140.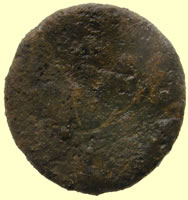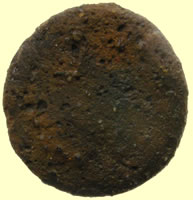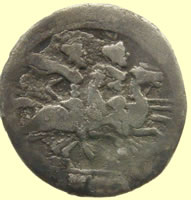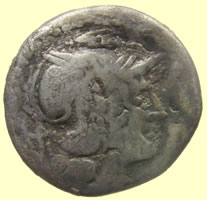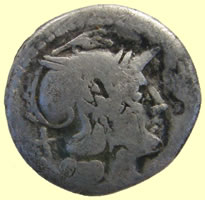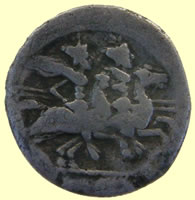 211 BC Roman silver coin - equals the oldest ever coin found in Britain
This dates, as far as I can tell - since no trace of symbol has become visible beneath the horses or between the heads of the Dioscuri - to the earliest issue of actual Denarii, as distinct from the earlier Drachma-denominated silver coinage. It dates to the period 211-206 BC (according to the most recent scholarship on dating) and would be RSC # 2 (Roman Silver Coinage) - if that catalog number gives you some idea of how close to the beginning of the book it's found. This first coinage was anonymous, lacking even symbols to potentially indicate via association (or pun) the names of the families of moneyers. This is actually the 3rd type produced (so far as I can tell) "ROMA" in the exergue of this specimen appears to be in relief. On the very earliest ROMA was incuse, and a transitional type had ROMA partially incuse and partially in relief.
The general types, however, the helmeted head of Roma, inspired by (and, frankly, copied from) the helmeted head of Athena on Corinthian didrachms) with "X" mark of denomination (10 Asses of bronze to the silver Denarius - later it would be re-tariffed at 16) and the Dioscuri, Castor & Pollux, galloping right with levelled lances would be among the very most common devices used on denarii over the next 150 years. When there was no specific bit of history or family fame being related on a moneyer's denarii, this was one of the 3 main "stock" types, along with Jupiter driving a quadriga and Victory driving a biga.
I believe this is the earliest Roman coin you folks have turned up, to date. It is, at least, the earliest I recall being forwarded to me for identification. With the exception of the slightly earlier (and very much more rare) "Romano-Campanian" Quadrigati (Didrachmae), Drachmae and Semes, this is about as early as you can go in the "Roman" coin series.
Mark
17.81mm, 3.28g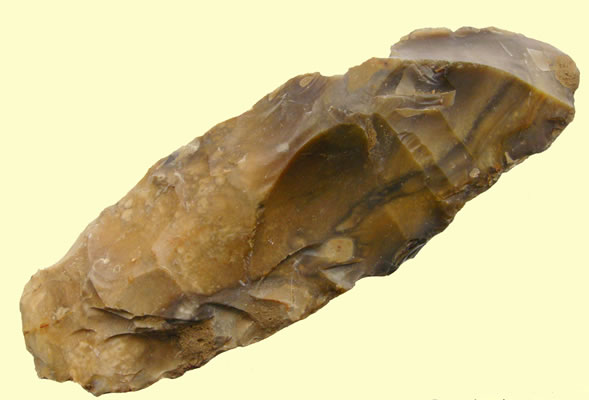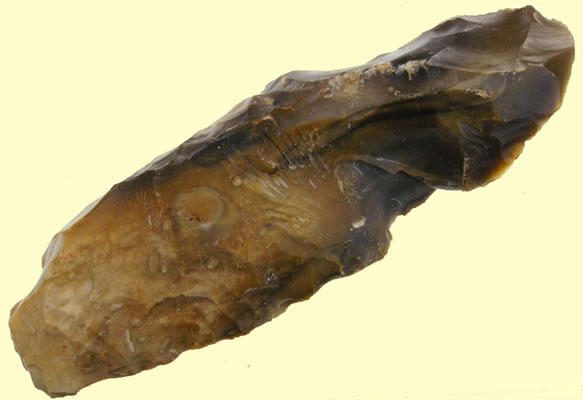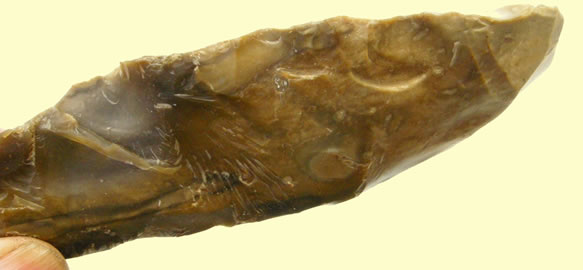 Amazing huge 11,000 Stone Age flint axe head - this is beautifully crafted with a thumb slot for easy holding
155mm L x 48.63mm W
------------------------------------------------------------------------------------------------------------------
Winner of season 2010/11 Ill Mark's Roman gold coin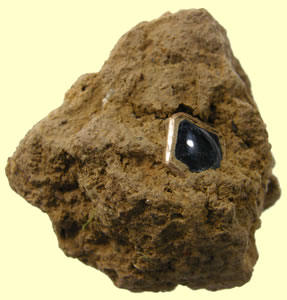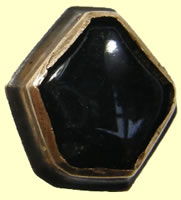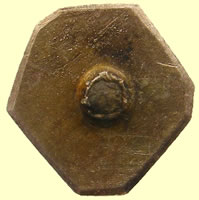 13thC Medieval gold ring bezel with black sapphire - reported as treasure to museum
1.05g,11.13mm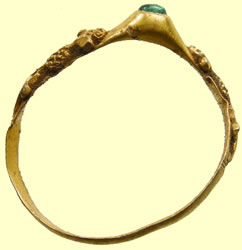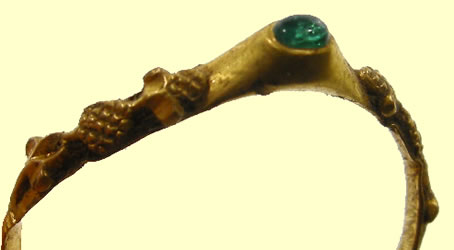 1st to 4thC Roman decorated gold ring with green stone - reported to Colchester museum as treasure
20.01mm,1.43g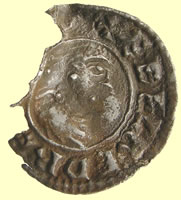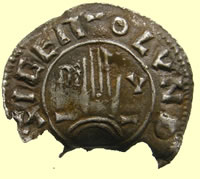 Saxon silver penny of Æthelred II 978 AD sent for recording and ID
1.22g,20.34mm
This coin (EMC 2011.0084) belongs to the First Hand type (note the absence of a sceptre on the obverse and the plain sleeve without a curve at each side). The Benediction Hand type has two fingers bent in blessing.
The moneyer is probably Eadsige or Wynsige.
With thanks,
Martin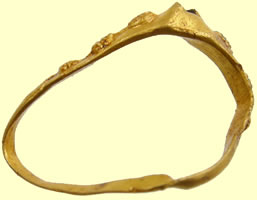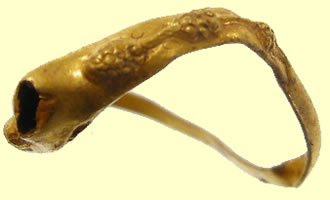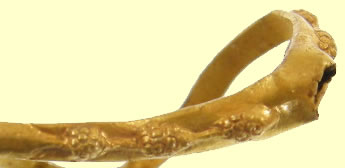 Roman gold ring -decorated with hanging fruit and vine - reported as treasure to museum
1.46g, 24.49mm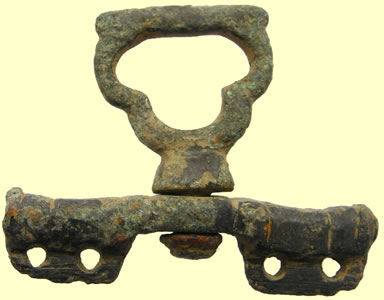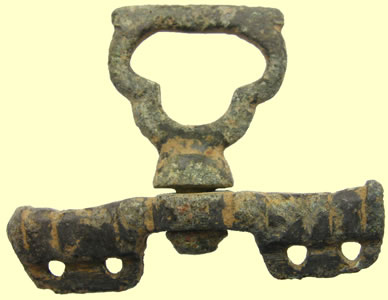 Stunning complete medieval decorated purse bar and swivel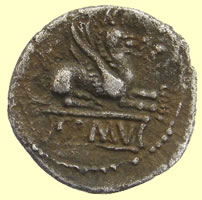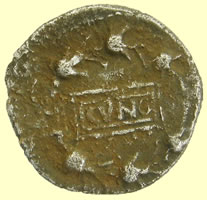 10-40 AD Northern silver of Cunobelin - AR unit Hobb 1868
Obv 'CVNO' inside double rectangle, all inside wreath pellet boarder
Rev winged griffin r.,below 'CAMV' inside quad.o,pellet boarder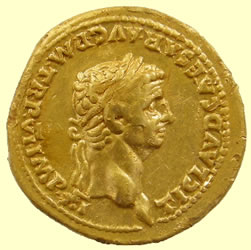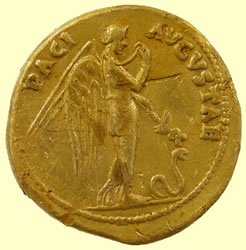 Roman gold coin - sent for ID 19.6mm, 7.81g
Oh man, is that ever beautiful!
That is, of course, an Aureus of the emperor Claudius (41-54 AD) the presumed-to-be "simple-minded", somewhat disabled uncle of Caligula. He was seized upon by the Praetrorian guard as a tractible replacement after they had murdered Caligula, his wife and child. It turned out that Claudius was smarter than most of the Julio-Claudians and had merely allowed everyone to think he was simple-minded. This allowed him to hide in the background, out of the way of the endless palace intrigues. The successful ruse evidently kept him from suffering the sort of "mysterious" death which seemed to stalk all the other Julio-Claudians who might be in-line for or have some claim to being emperor. Once in power, he showed that far from being "simple", he was a shrewd and canny politician and proved to be a benificent ruler as well, righting a lot of the wrongs perpetrated by his evil nephew. Eventually, however, his love of women was his downfall. Marrying his neice, Agrippina Jr., the last of his succession of unfortunate marriages, he had inadvertantly adopted and brought into his home one of the true vipers in the Imperial nest, her son, the future emperor Nero. It is assumed that Agrippina, on her son's behalf, (or possibly even Nero himself) was responsible for feeding him a dish of deadly poisonous mushrooms. This removed the last impediment and cleared the way for Nero to become emperor.
This is one of the more common reverse types for Claudius' aureii, the PACI AVGVSTAE or "The Emperor's Peace". It has an interesting reverse type, too. Rather than Victory, whom you might assume was the winged character on the reverse, this is "Pax-Nemesis" performing a gesture associated with a uniquely Roman bit of superstition. She is drawing out a fold of her gown in what is called in some delicate circles an "Apotropaic gesture" - in other words, she's spitting on her own breast, which, like throwing a pinch of spilled salt over one's shoulder or touching wood, was a common superstitous custom among Romans and meant to deflect bad fortune.
This piece was struck in 41-42 AD at the imperial mint for precious metal coins, which happened at the time to be in the provincial capital at Lugdunum (modern Lyons) and coincidentally was also where the future emperor Claudius had been born.
This is actually one of the more common types of early Roman Imperial Aureii, but "common" here is all relative - particuarly in recent months, Roman Aureii have been bringing astonishing amounts of money - I wouldn't even venture a guess as to what the current market value of this piece might be - most likely at least in the 5-figures range of GBP's, Euros or Dollars.
Mark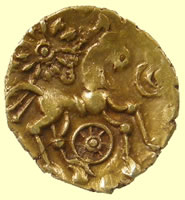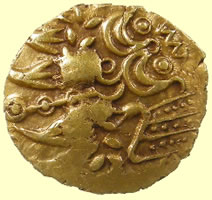 Early 70BC uninscribed 'Q' Gold - 'Remi 'Type Celtic gold qtr stater
Rev .horse r.,from neck pellet ring var.d above pellet in ring,flower j & pellet-in-ring,before 4 pellet-in-rings,below wheel f & pellet, below & above tail pellet-in-ring triangle
1.34g,14.86mm Hobbs 482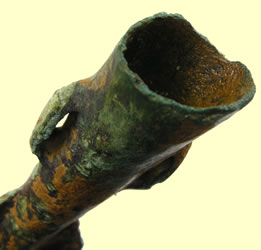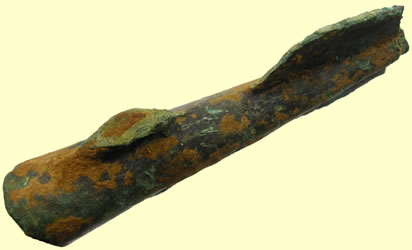 Middle Bronze age socket spear head 1500-1100 BC
85.26mm L x 25.57mm W - socketed dia 18.88 mm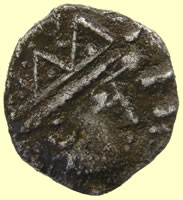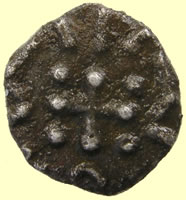 Saxon C600-775 AD Silver Sceat - sent to Fitzwilliam museum for recording and ID
1.23g, 12.22mm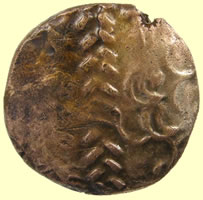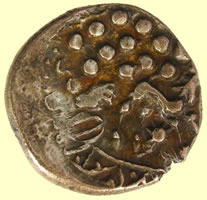 Excellent heavy full stater - 70 BC Early uninscribed British 'A' Gold stater Westerham type
Disjointed horse, pellet below
19.76mm, 6.13g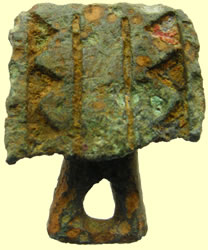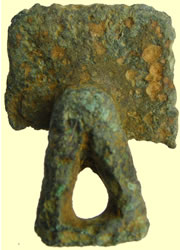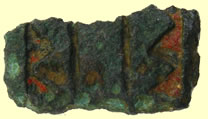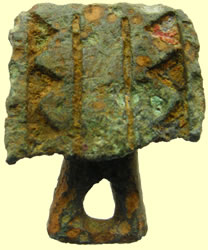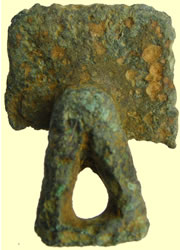 Missing part of the Stunning 1stC BC to 1stC AD Iron Age Celtic enameled clothing fastener found last week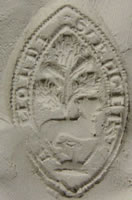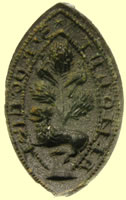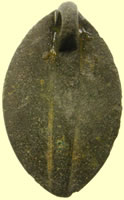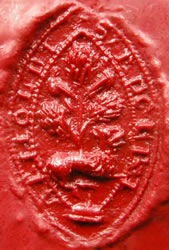 Mint 13thC vessica seal matrix
Lamb and tree of life
S' ROGER' ( seal of Roger)
ALEE ODOC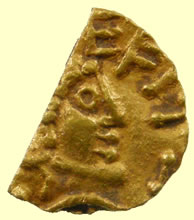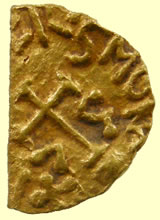 As usual this coin (EMC 2011.0059) is Merovingian and not Anglo-Saxon, but an important find nonetheless.
We have recorded two cut halves of Anglo-Saxon gold shillings in recent years, and a cut half of a Series B sceat, but this coin is noticeably more than a half (between two-thirds and three-quarters), so it may have been cut up as bullion.
This is developing into a really interesting hoard.
Best wishes,
Martin

I should have mentioned that there is no obvious match in the works of reference on Merovingian coins, but the inscriptions are legible, which gives some hope of identification eventually.
Martin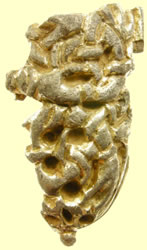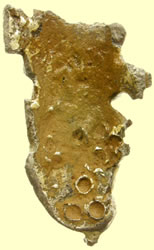 Monster find - 9th/10thC Saxon/Viking sword scabbard chape- gold on silver
This style better matches known Viking types
11.96g, 39.58mm L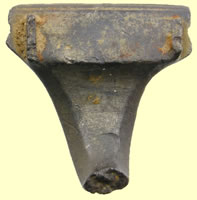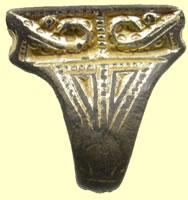 Saxon gilded silver T brooch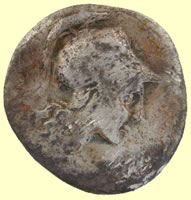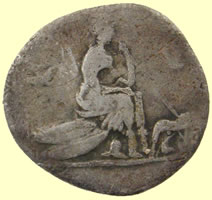 BC Roman republican silver - sent for ID 3.23g,20.52mm
If these great ID's were not enough Mark Lehman sends back the ID of the Republican silver Roman coin found by Dave and it is a real oldie at 115BC
This is a very interesting piece - both for the un-encrusted condition in which it was dug, and as a type. Dating to about 115/4 BC., this was an anonymous type produced well after the time when moneyer's names had become standard on the coins. The obverse is Roma wearing the typical winged and crested Corinthian-style helmet; an "X" to indicate denomination (a silver Denarius was worth 10 Æ Asses at the time) behind the head and ROMA beneath. The reverse shows Roma seated right on a pile of shields and holding a transverse spear. Birds, one per side, fly in the field; and to the right, the she-wolf suckles the twins, Romulus and Remus, so there's a lot going on here, symbolically.
David Sear writes in RC&TV, 2000: "An issue lacking the moneyer's name is surprising and noteworthy at such a late date. The omission must have been his own decision and not the result of a change in government policy. Remarkably, this distinctive reverse type was revived almost 200 years later on an aureus of Titus."
So, it's not the earliest piece your diggers have found, but it's still pretty early. Moneyers' names had become standard on the denarius coinage around 155 BC. and for the previous several decades most coins had born symbols relating to the moneyer's name or family in some way. This isn't a particularly rare piece, overall, but it is an unusual type.
The references for this piece are: RSC 176, CRR 530, RCC 287/1 & SR 164.
Mark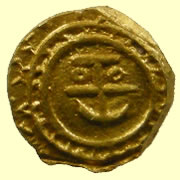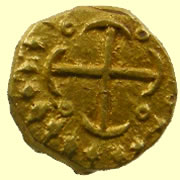 c 8thC Saxon gold coin - sent to Fitzwilliam museum for recording and ID
Unusually thick coin for a Saxon
1.31g,9.51mm x 1.61mm thick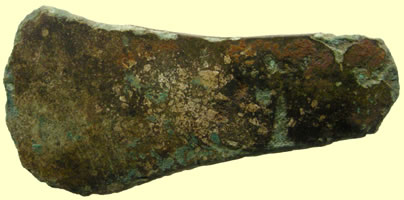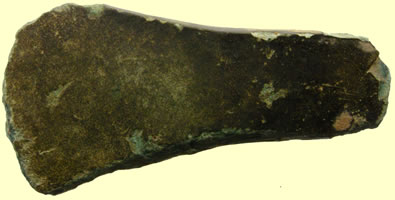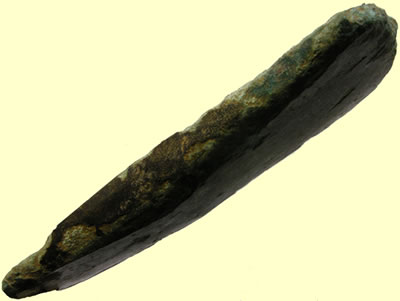 2000 BC Early Bronze Age flat axe - 95.92mm L x 43.11mm W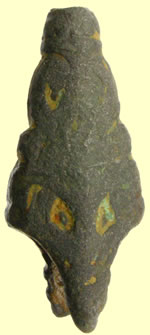 Open mouthed beast zoomorphic type - red eyes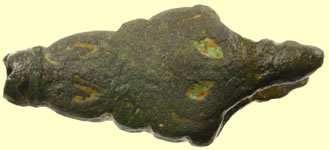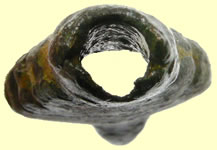 C8th to 10thC Viking style zoomorphic dagger chape 54.08mm L, 29.85g - red and green enamel remains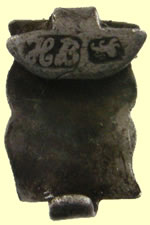 1761-1780 18thC decorated silver clog fastener
Hester Bateman
First recorded English woman silversmith
maker's mark in cursive
London Assay office
Hester Bateman is without doubt the most popular and renowned of all women silversmiths. Yet Hester's career as a silversmith was never intended. Widowed at the age of 51, she inherited her husband's small workshop practice and for the next thirty years, this unlikely shrewd business woman, grew the workshop into a thriving silver manufacturing firm. Hester Bateman was born in 1704 in Clerkenwell, London (England), and married John Bateman (a goldsmith) in about 1725. They had six children; John, Letticia, Ann, Peter, William, and Jonathan. The family lived at 107 Bunhill Row in the Parish of St. Luke in North London for more than a century. John and Hester purchased the houses on both sides of theirs, and two of the children occupied those homes in later years. Although his sons Peter & Jonathan were both doing their silversmithing apprenticeships, when John Bateman died in 1760, he bequeathed all his tools to Hester suggesting that she was already an accomplished silversmith. However, even with the skills of the trade, Hester had no small task ahead of her to continue the business. In these times, women-owned businesses were generally not accepted, and the industry was highly competitive. Unperturbed, Hester registered her mark of a scroll HB at Goldsmiths Hall in 1761 and aided by her son's Peter and Jonathan along with Jonathan's wife, Ann, the business boomed. In 1790, Hester finally retired at the grand old age of 81. Sadly, the following year her son Jonathan died, leaving Peter without his two long term partners. He turned immediately to his sister in law Ann, making her a partner in the business and registering their joint mark in 1791. From then Ann became the driving force in the business until her retirement in 1805. In 1800, Jonathan and Ann's son, William, became a partner in the family business, completing possibly the most famous of all silversmithing dynasties. Unlike most silversmiths who specialised in just one area of production, the Batemans were masters of many, producing fine wares right across the board. The main reason for their success was due to Hester's attention to design, detail and quality. All the pieces that left the workshop would be inspected to the highest standard and with this attitude the business grew. Many pieces of Hester Bateman's silver show identifying characteristics such as bead detailed edges and fine designs of bright-cut engraving. They received many commissions from The City Guilds, various religious establishments, and private individuals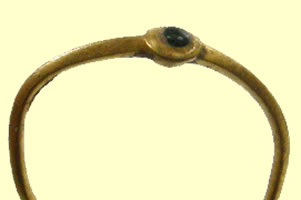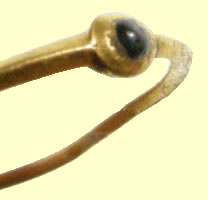 C14thC medieval emerald gold ring - reported as treasure to the museum 0.48g, 14.54mm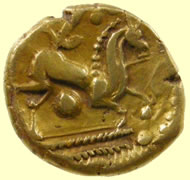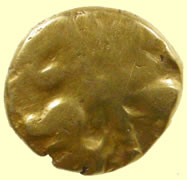 1stC BC Uninscribed 'L' 'Waddon Chase type' Celtic gold full stater - sent to CCI for recording
5,86g, 1.6mm
'These coins are probably not very much earlier than the Addedomaros staters - it all depends really on when one dates the Addedomaros issue. It seems fairly certain that the Whaddon Chase staters could be from the later stages of the Gallic War, say about 54 BC at the earliest; they could be a little bit later, but are unlikely to be after say 40 BC at the very latest.'
Dr Philip de Jersey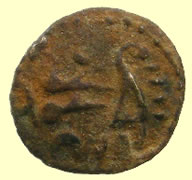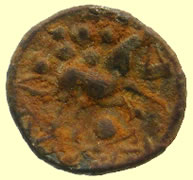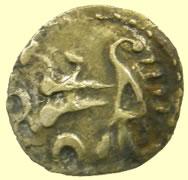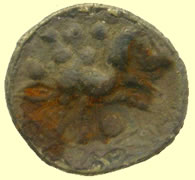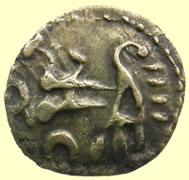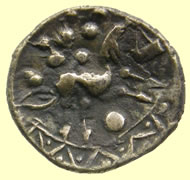 1stC BC Celtic gold 1/4 stater- sent to CCI for recording and ID
Pictures as dug and after partial 'cooking'
14.46mm, 1.40g
This one has been allocated the CCI number 10.1044.
It is a British G "Clacton" quarter, Hobbs 192 (he mis-identified it as an H quarter for some reason). At least 44 known before this – from right across the area most people would label as territory of the Trinovantes...
Ian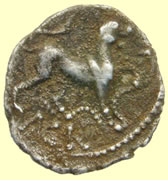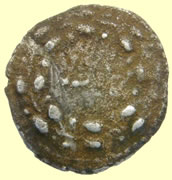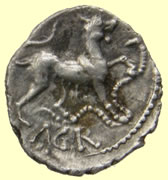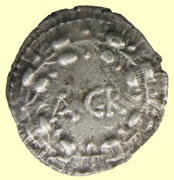 Almost cleaned - still 'cooking' it
outh Eastern Celtic silver unit of Amminus circa 1stC - sent to CCI for recording
1.33g,1.5mm
Adminius was probably the eldest son of Cunobelin, who was given the administration of Cantium by his father c.AD30. Inscribed coinage has been found throughout the canton, bearing the name AMM INVS, and a mint mark DVN, probably indicating an administrative centre at Durovernon
Dvrovernvm Cantiacorvm (Canterbury, Kent)
Native pre-Roman settlement on the Stour in East Kent, later cantonal capital served by a port three miles down the Stour at Fordwich. Amminus (Adminius) minted coin bearing a mint-mark of DVN, which is thought to be an abbreviation of Durovernon, with the implication that he had a mint here.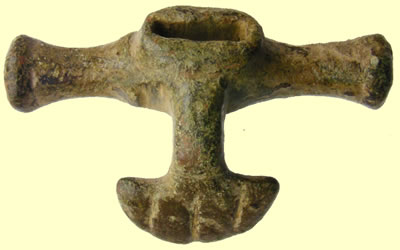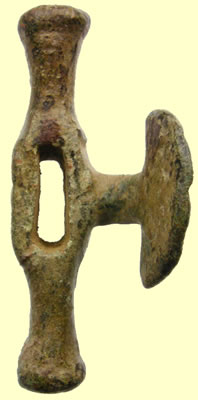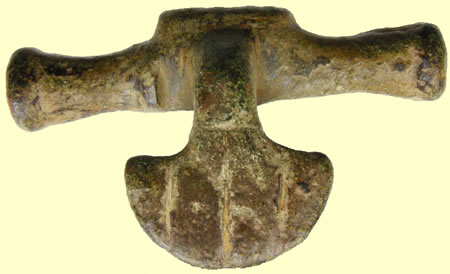 61.54mm L x 35.8mm W, 54.89g
Stunning early medieval dagger quillion - finger guard is decorated with a runic inscription
I checked all the runic styles and it matches Norwegian the best - one for the museum
Norwegian Futhark
Saxon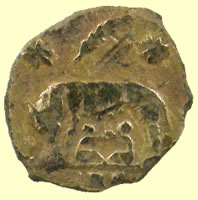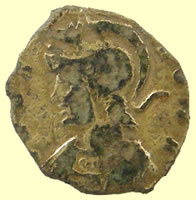 Monster relic - 4thC Roman gold coin contemporary forgery 1.28g, 17.59mm
That's a very interesting piece - however, even though counterfeits came into existence about 3 hours after coins were invented, this isn't a counterfeit. It's not an ancient forgery or counterfeit made to deceive, at any rate. It's also not an "official forgery" (like the plated Athenian Owls) and is unlikely to be a simple contemporary copy with some local, semi-legitimacy, because there simply was no gold coin of this type.
Typically, fourres of Roman gold coins date to a somewhat earlier time - primarily the 1st century - I don't think gold circulated much after that time. It was used as a store of value or for major transactions like land purchases, but people weren't carrying it around as a regular thing in the 4th century. The fact that almost all the gold of this era ever found is virtually uncirculated attests to the lack of circulation. Those 1st century BC & AD fourres were typically made by wrapping a base (generally copper) core with a fairly thick foil of silver (the vast majority of fourres are silver) or gold which was "soldered" to the core by introducing a layer of a powdered flux and heating the resulting blanks before striking. Except when the die-sinking was so amateurish that it's impossible to miss, or the core becomes exposed, these are fairly believable - except that their weight is generally low for the type. However, this expensive, labor-intensive foil-wrap technique had gone just about totally out of existence in the late 2nd, early 3rd century, since the silver it was made to copy had become so debased that the official "silver" itself had to resort to surface-enrichment techniques to pass for silver. Those same techniques were a lot cheaper and easier for the forgers, too, so you find "silvered" fourres beginning at this time.
However, this appears to have been plated by electrolysis (possibly a pre-electric, strictly chemical process) or some other type of plating, rather than wrapping or selective reduction (surface enrichment) technology. It's obviously been buried a while - the edge-chipping seems consistent with contemporary types you find (these date to the period 330-340) and the host coin appears to be a completely legitimate piece - RIC VII 561 from Trier. This puts it in an "after-market plating" situation. And the reasons people plate coins are numerous, and being personal, are seldom easily explained. This doesn't seem, strictly speaking, to be a "modern" plating job (post 1500), but it really could have been done at any time and for any reason - except to be a "counterfeit" by the strict definition of a counterfeit.
The VRBS ROMA / shewolf & twins reduced folles were silvered when issued - although the silvery coating seldom survives to the present day. We nevertheless need to be sure this isn't discolored silvering. If it was definitely an applied, "golden" coating (gold or otherwise), it could have been done at any time.
Mark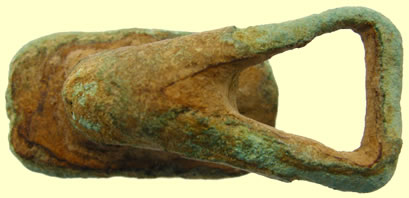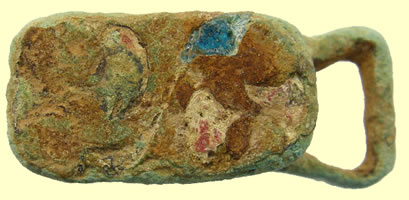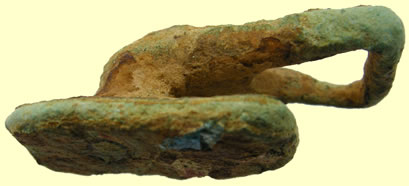 1stC BC to 1stC AD Celtic enameled clothing fastener - 36.64mm L
Date from: 100 BC
Date to: AD 100

--------------------------------------------------------------------------------------------------------------------------
2009/10 Season with winner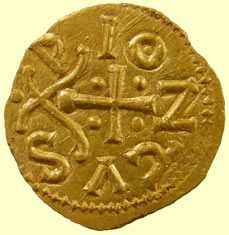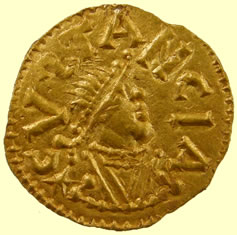 Merovingian tremissis of the 7th century ( Find of the year winner 2009/10)
1.26g,15.08mm
This coin (EMC 2010.0131) is a Merovingian tremissis of Coutances (dep.
Manche), moneyer Piontus, from the same dies as Belfort 1681, Prou 299.
The obverse names the mint *CVSTANCIA [S reversed] and the reverse names the moneyer PIONtVS. Priou reads the moneyer's name as tVSPION but Belfort's reading PIONtVS is now accepted as the correct one.
Keep looking.
Martin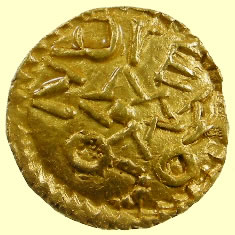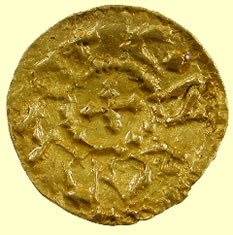 c 600/800 AD English Saxon gold coin send to Fizwilliam museum for ID and recording
Not shown in any book I have ???
1.35g, 13.87mm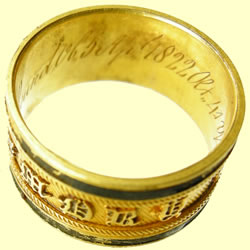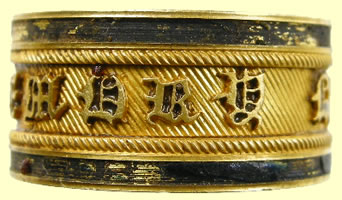 18.74mm, 5.62g
Outer Band - In memory of
Inner inscription - Anna C Round Ob 5th Ap 1822
Maker TM -18 carat Sheffield hallmark 1829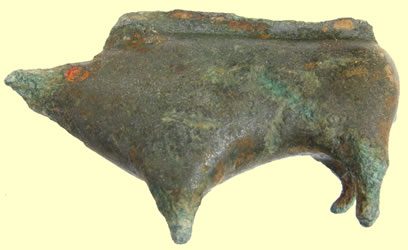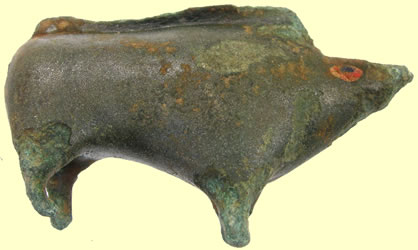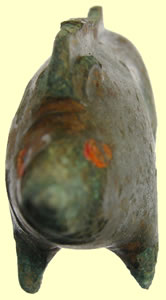 Stunningly beautiful - Romano/British bronze razor back pig/hog offering ? red enamelled eyes - 65.56mm L x 39.9mm H 148g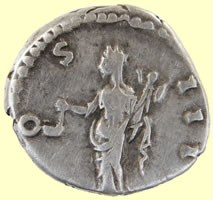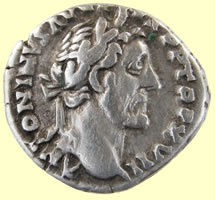 Best condition Roman silver I have ever seen dug- next to fresh water spring ! Probably an offering
Sent off for ID
16.3mm,3.39g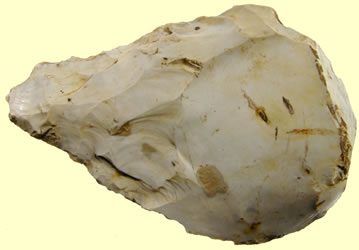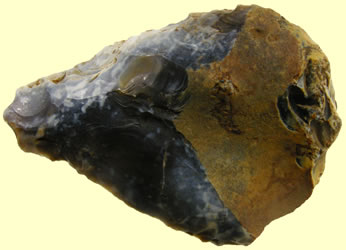 Ark Gary's 11,000 BC flint hand axe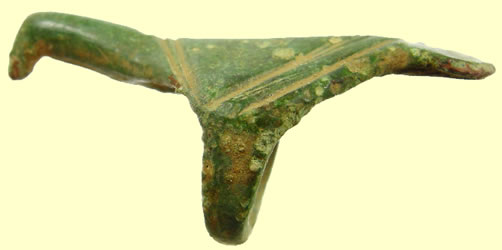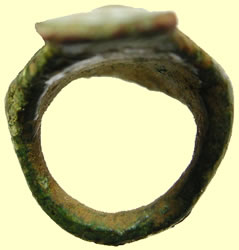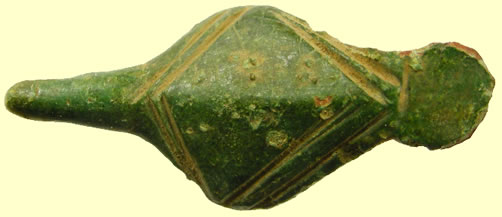 Fantastic find 1stC BC Celtic bucket mount - The bird probably a raven would be one of a series used as decoration around the top of the bucket. The bucket was used in sacrificial or religious ceremonies
In Celtic mythology birds were represented as the messengers of the gods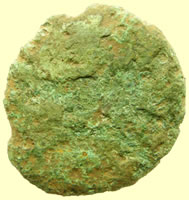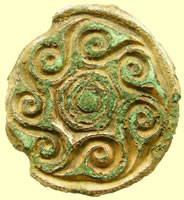 5th-6th century AD Saxon gilded saucer brooch - running spiral design East Anglian type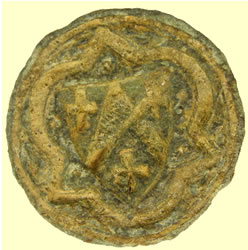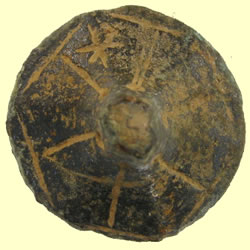 Fantastic circa 13thC Medieval seal matrix with heraldic shield impression - this seal is first I have seen with additional decoration on the 'bell' top
It will be interesting if we can find the family crest and who it belonged to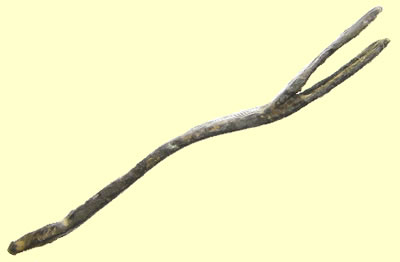 7th century Saxon dragon headed silver strap end - reported as treasure to museum
35.89mm L, 2.61g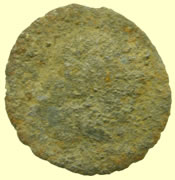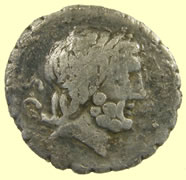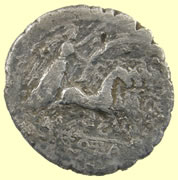 As dug and nearly cooked - 3.40g, 18.81mm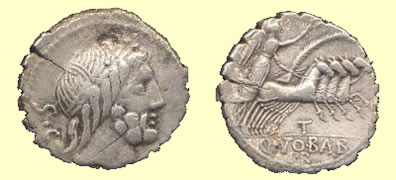 AR Denarius Serratus, 82 B.C.
Q. Antonius Balbus
18mm, 3.69gm, axis: 4:00
Obv: Laureate head of Jupiter right, SC behind.
Rx: Victory in quadriga right, holding wreath and palm; beneath: T / Q ANTO BALB (ligate) / PR.
Coinage of the faction opposed to Sulla – along with the Senate who, unusually, approved this issue.
Syd-CRR 742, RSC-Bab Antonia 1, SR 279.