I took a couple of snapshots from the 'New land sucks' video I uploaded which does not show how cold and festering the day was. We got to the new site and the wind was howling and it was biting cold, I sat in the bus with the heater running as it was truly horrible out there !!. There were half a dozen fields in wheat but the rain made it a total boot sticker. Guys were just finding greenies and trash and were ready to have an early lunch at 11am. NH Dave, one of our most dedicated hunters, even came back to the truck and asked me to hand him a rope as it just sucked his brains out. We were all munching the chow when Oregon Clarence, who was the last to come in, walked up and said I found a hammered silver coin. Expecting an Elizabeth or Charles, Clarence opened up his little plastic finds box, ***** hell Saxon !! The farmer was with us and he said is that good ? Is that good, find of a lifetime and although black you could see the full detail showing through. After sending it off to the Fitzwilliam museum it turns out to be a rare Saxon 1050 AD Edward the Confessor penny that won 3rd place in our find of the year vote. Just goes to show that one swing of the coin makes all the difference to how we view a site.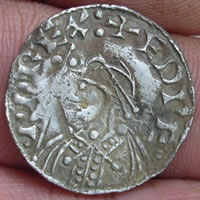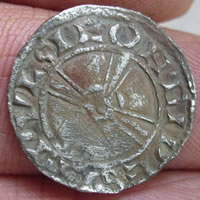 1050- 1053 Saxon - Edward the Confessor hammered silver penny - expanding cross type - heavy coinage
Obv EDWERD REX : +
Rev (Wulfsige) ON GIPESWIC (Short cross voided with expanding limbs) - IPSWICH MINT (GIPESWIC)
EMC 2008.0136.
1.63g, 19.87mm
'I have recorded it as EMC 2008.0136.
The portrait with two toggles on the mantle certainly differs from the types illustrated in North, but these illustrations were drawn in the the early 1960s to show the main types only. There are many variants, and the three other coins of this type, mint (Ipswich) and moneyer
(Wulfsige) in EMC/SCBI also have this portrait variant. I can send images of the coin to Gareth Williams, who is compiling a die study of the Expanding Cross type, and pass on his comments.'
'This is extremely interesting. It is very promising.
Gareth Williams has commented that the Ipswich coin 'seems to be from the same dies as one of our [British Museum] coins (1950,6-5, 1) and the same variation in the design is also found on two different obverses of Bruninc of Ipswich. However, it isn't a purely local variation, as the same bust appears on selected coins of Colchester, Gloucester and London, and a related variation at Dover, although these represent the minority of dies from the mint in each
case.'
Martin