9th March 2019 - Amazing hunting and more beauty gold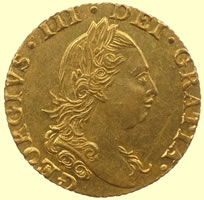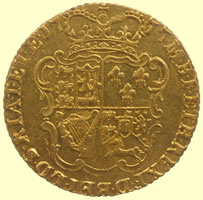 Simply stunning 1777 George III milled gold half guinea
4.20g,20.61mm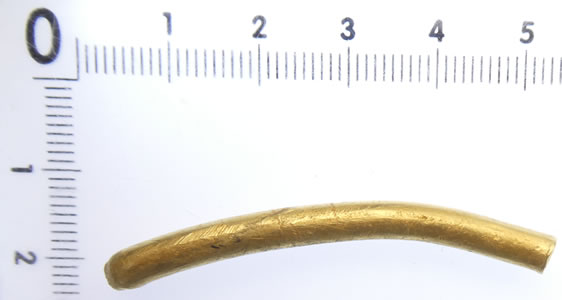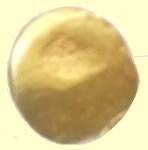 Ancient gold band - possible wrist torc fragment - reported as treasure to museum
11.16g, 4.33mm dia x 49.12mm L
The 2nd team of the season have been having an amazing hunt having set a club record on hammered silver coins found by any team, I have posted dozens of them on to the latest finds page. March 2019 finds page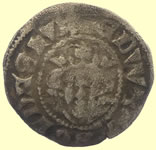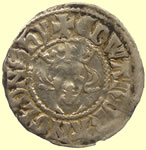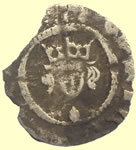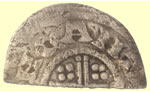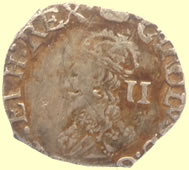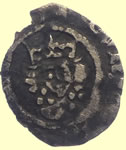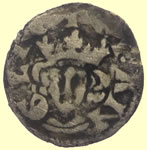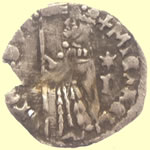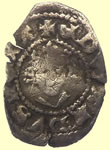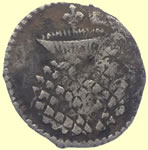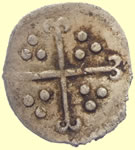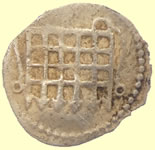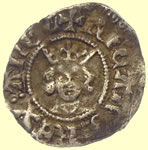 They have also popped two more really crisp Roman silver hoard addendum coins below taking the total out of the 'pot' to 46 now . Big tanks to Mark Lehman our Roman expert for his great ID's. I have not had any feedback yet with the 44 other Roman silver coins lodged with the British Museum. We have been trying our hardest to locate the actual pot with no success yet. Italy Nick also found another coin to add to the Saxon silver sceat hoard we found in Sept taking the total now to 11. This one is well crispy and cannot be cleaned as hoards have to be taken to the museum in the condition they are dug. Can Bill also found another Saxon sceat on a different site that Dr Martin at the Fitzwilliam museum has ID'd and recorded on the EMC database below.
Ill Mike, who has been hunting here for 12 years, finally got the monkey off his back with one of the best looking milled gold coins I have ever seen dug. They were out searching for another one of those 'duck egg sized' gold ingots and he popped the beauty, sucker it mint. Org Stuart popped another Celtic hoard addendum gold coin a mint 70 BC Morini boat tree Celtic gold qtr. Fl Paul added a thick chunk off a possible wrist torc to the gold count which has been reported as treasure to the museum.
Check out this years gold finds Gold page
It will be interesting to see what the curator at the BM makes of this find. There have been too many neat finds to post on the news page so check out the rest I have posted on the March 2019 finds page.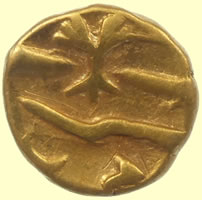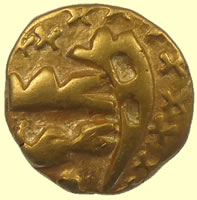 70 BC Morini Celtic gold qtr stater- reported as hoard addendum to museum
1.47g,10.79g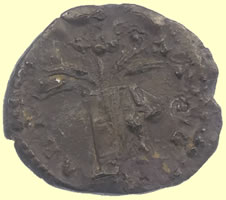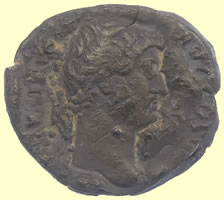 Crisp Roman silver coin sent for ID
2.62g,18.35mm
Hadrian, 117-138 A.D. AR denarius, Mint of Rome, 135 A.D.
Obv: HADRIANVS AVG COS III P P laureate head of Hadrian right
Rx: ANN-O-NA AVG modius containing grain-ears and poppy
RIC II 230, RSC 170a
Nice one for a dugup in agricultural fields. You got this one more or less just in time before it suffered more significant degradation from the fertilizers and pesticides.
I don't have one of this type myself (actually, I have little more than a sparse representative run of denarii/antoniniani/siliquae – I've always favored the larger Æ denominations
Mark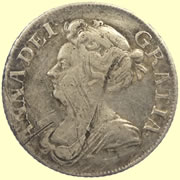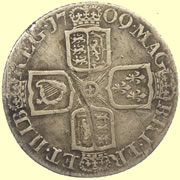 These are hard to find 1709 Anne milled silver shilling (12 pence)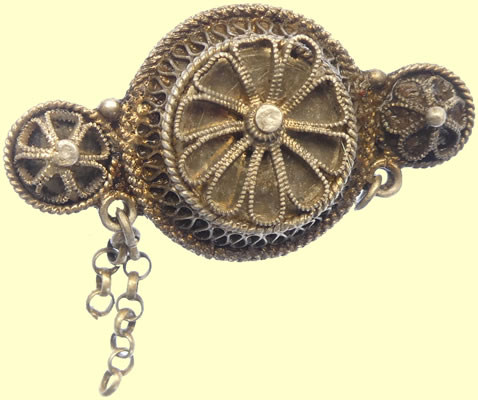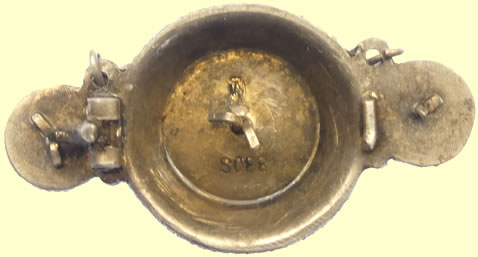 Huge Victorian silver jewelry item - registered number 330 S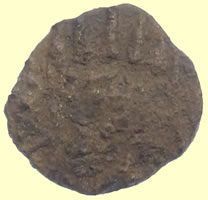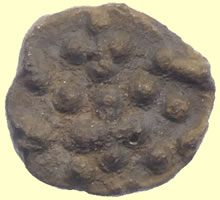 C600 -775 Saxon silver sceat - sent for recording and ID to EMC
1.09g,12.28mm
Thanks for this Series D (Type 2c), which I have recorded as EMC 2019.0088.
Best wishes,
Martin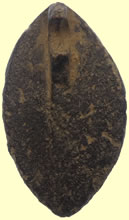 13thC vessica seal matrix
It's our old friend CREDE MICHI -- "believe me" -- i.e. you can believe what is written beneath this seal as being genuine. The lettering is not perfect however! I'd transcribe CREDE [M]IChI. -- possible that the letter before the final C is meant to be MI ligatured, but if so, it's been bungled!
Keep 'em coming -- and, ideally, nice easy ones like this!
regards,
Malcolm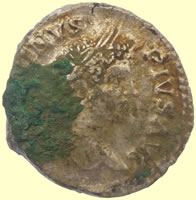 Roman silver hoard coin addendum No46 - reported to museum and sent for ID
2.79g,18.68mm
Continuing with the theme of less-than-pleasant emperors:
This is Caracalla – son of Septimius Severus - also a feared, as well as probably deranged character. He was somewhat successful in terms of military conquests, but more typically by means of subterfuge, like inviting the opposing king and generals to a treaty parlay and killing them all as he did with the Parthians. He also introduced the debased silver double-denarius denomination we call "antoninianus", a 2-denarius coin with 1.5 denarii worth of silver in it, setting the stage for the massive debasements of the later 3rd century.
Caracalla (198-217 AD), as co-emperor with Septimius Severus, 198-209 AD. AR denarius, issued 207 AD.
Obv: ANTONINVS PIVS AVG laureate head of Commodus right.
Rx: PONTIF TR P X COS II securitas enthroned right, at her ease in seat with cornucopiae as arms; head propped on right hand, holding scepter with left; small altar before her.
RIC IV 92; RSC 434; SRCV 6863
Mark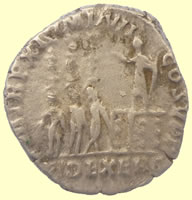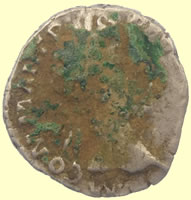 Roman silver hoard coin addendum No45 - reported to museum and sent for ID
2.56g,17.03mm
Commodus. Son of Marcus Aurelius, his sole reign marked the end of the era of "The Good Emperors". He slowly went crazy, and by the end of his reign/life had convinced himself he was the reincarnation of Hercules and was regularly fighting wild beasts in the arena. This was not considered correct or appropriate behavior for an emperor, to say the least – plus he was an all-around shit to everyone, highly paranoid, and tended to have any foe, real or imagined, executed. He was portrayed, extremely inaccurately from an historical standpoint, as the main antagonist in the movie "Gladiator". They made him evil enough, but nowhere nearly so bat-poo unhinged as he was in real life.
It's a very interesting reverse – a far more ambitious composition than one typically sees on a denarius – platform scenes are far more usually seen on sestertii.
Commodus, sole reign, 180-192 A.D. AR denarius issued 186 A.D.
Obv: M COMM ANT P FEL AVG BRIT laureate head of Commodus right
Rx: FID EXERC (in exergue) P M TR P XI IMP VII COS V P P Commodus standing left on platform haranging three soldiers standing right before him; each holds a legionary eagle and shield.
RIC III 130; RSC 143; SRCV 5639
his reign came just before the beginning of the Severan dynastic era, so it's in the right general time-frame for the hoard, so far.
Mark