8th August 2019 More applications and exports
Just over 3 weeks before the kick off to the new season !!
At this time of the year, while the crops are being harvested, I am just beavering away behind the scenes compiling export applications for all the guys pouches last season. I keep posting any missed un-photographed finds to the last hunt page including a huge English Civil War cannon ball a guy found. Latest finds page
There were also a couple more pieces of gold missed during the hunts that I cleaned up which takes this year gold total to 65, our 2nd best ever gold total for a season in 15 years. Gold page.
Loads more of approved export licenses have arrived and the names posted on the closed members forum.
As I process each guys pouch I update last years forum competition to win a free weeks trip next season. Check out the latest total updated today to see if you are still in the running. http://www.colchestertreasurehunting.co.uk/F/forumcompetition.htm
Back to processing more applications. !!
2nd July 2019 Find of the year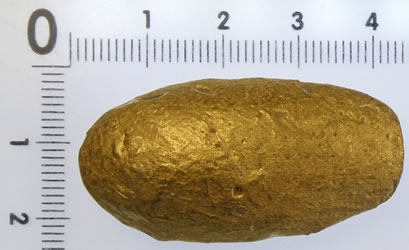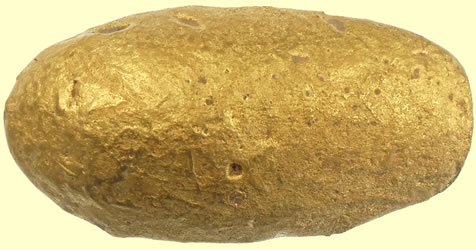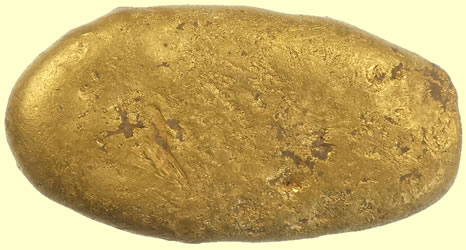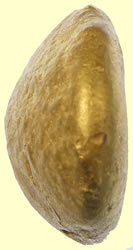 Monster ancient gold ingot - 81.54g,40.82mm L, 21.05mm W, 10.02mm T - reported as treasure to museum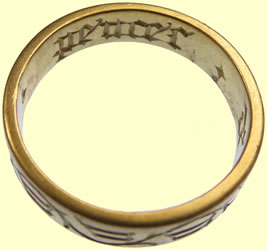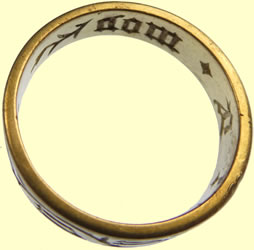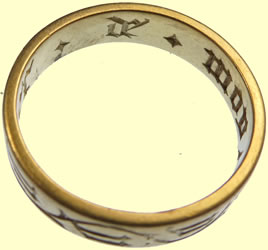 Stunning medieval gold ring - decorated outer band - full inner inscription in Lombardic script
Pencer De Moy ?
3.77g.19mm dia
Note
"I found this expression, 'pencez de moy', which means 'think of me', engraved in a 14th century French ring at the National Museum in Stockholm. It is a precious gift to have someone thinking of you."
- Efva Attling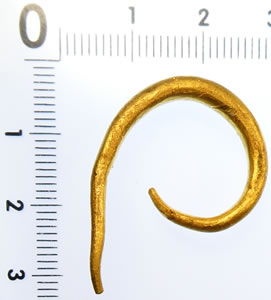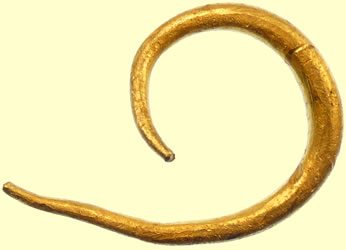 Celtic gold votive offering as ring money
Gold ring money- 1st C BC
Smooth ring with blunt ends Van Arsdell 1-3 Taylor pl33 Hobbs-- SCBS-- CE4244
6.86g, 32mm L
The members have completed the voting for their favourite 'Find of the Year' and it was a landslide victory for Wis Tim's monster gold ingot find. Min Mindy's stunning medieval gold ring was 2nd with Alaskan Steve's Celtic votive offering in 3rd place. All 3 finds are currently with Colchester museum going through the treasure process. It will be fascinating to see what date is attached to the gold ingot after it is tested by the museum experts.
I have been updating the free forum competition page with the latest competition count as I process the export pouches. Make sure you have a guess at the new competition after voting for your favourite find of the year.
http://www.colchestertreasurehunting.co.uk/F/forumcompetition.htm
More approved export licenses have arrived and names posted on the closed members forum.
I have a meeting this week with the museum to take in more treasures and hoard coins and hopefully I will pick up more disclaimed treasures items.
13th June 2019 - More updates and exports
I have been busy updating the individual find pages below with finds from the 2nd half of the season. Lots more export license application have been made and full find lists and pictures posted on the closed members forum.
I have been updating the free forum competition page with the latest competition count as I process the export pouches. Make sure you have a guess at the new competition after voting for your favourite find of the year.
http://www.colchestertreasurehunting.co.uk/F/forumcompetition.htm
8th May 2019 Last hunt of the season and they smashed it again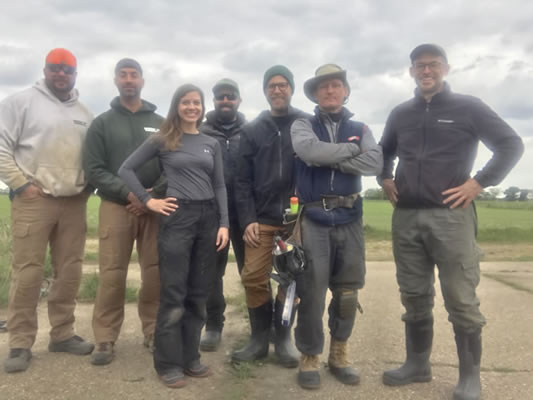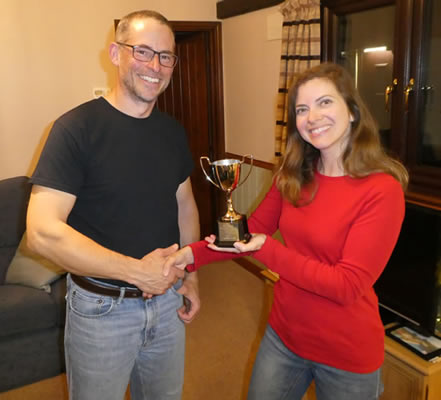 Top team - Va Brian, Va Phill, Lo Ashely,Tx Ali,Tx Josh, Tx Scott W and Texas Scott J
Ashley presents Tx Scott J for last years 'Pouch of the Year' award.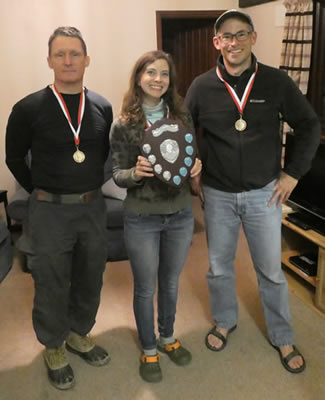 Tx Scott W, Ashley and Tx Scott J for last years 'team winners' medallion and shield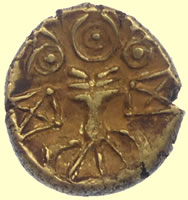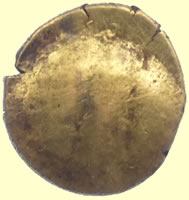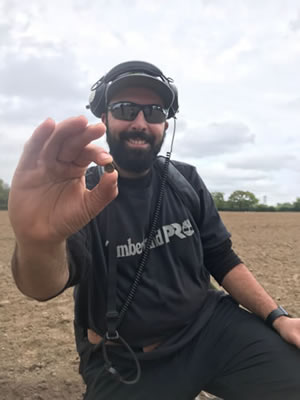 Tx Ali's 50 BC Uninscribed 'P' gold - 'Trophy' Type - 1/4 Celtic gold coin - 1.35g, 11.31mm - sent to CCI for recording
Beaded trophy quater, ABC 2243, BMC 435, not in VA. Extremely rare, 10 others known. An interesting Essex type because of its Kentish associations (derived from the Kentish trophy issue but a separate type), it may have been struck by an otherwise unknown offshoot of the Cantii.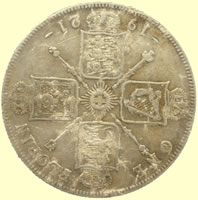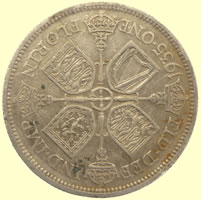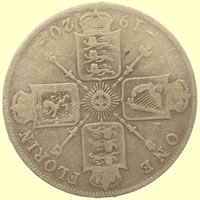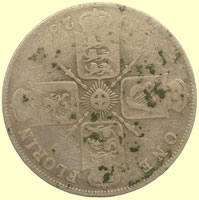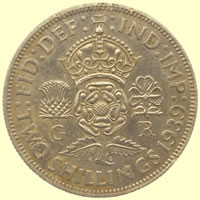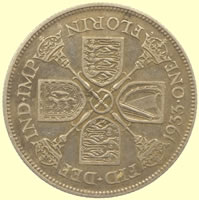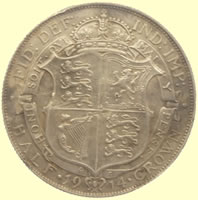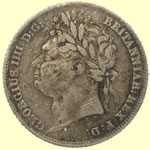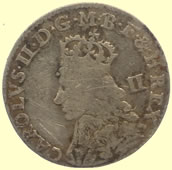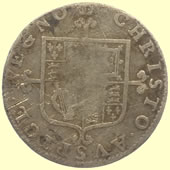 Early 1660 -2 Charles II milled silver half groat - this legend CAROLVS.II.D.G
For the 3rd season in a row Louisiana Ashley's last late season hunt has earned them the club's 'team of the year' award. This team has their own bus and stay in self catering accommodation, they always come in late April when everyone and his mum in the club has hunted the land from Sept. On most of the 300 + fields we have to search the wheat is too high this time of year to detect on so they have a very restricted land choice of just brown fields. No new land was available but they had the odd field here and there on some of our great old Celtic sites we have had as a club for 14 years. These guys made it look like no one had ever hunted them and smashed our 2nd best ever gold count with 5 pieces to make the total for the year 63. Gold page. Not content with the gold they found, they also popped 2 Saxon silver sceats and a loads of hammered silver coins and widgets. I have posted a load of them on to the last hunt page and still have loads more to upload yet. Latest finds page

They searched sites where none of the members ever want to go on any more and banged in loads of great widgets. Their most outstanding day for me was on a 15 year old field that most of the club have dismissed in the past and they found 40 milled silver coins including 7 big ones, Florins and Half-crowns. I have never seen that many big silvers dug in a day, amazing hunting. Most were George V's but amongst them was a nice George IV, Victoria and a rare 1660's Charles II silver half groat. Tx Ali found a mint Trophy Celtic gold on that field, our first ever from that area. On the field next door Va Phil popped his first ever gold coin, a sweet 1762 George III milled gold love token below. Ashley got her first gold coin, part of an early French hammered gold and Tx Ali popped another monster sized gold coin, a Elizabeth 1st gold half pound. Our jeweler with have to work his magic on it.
So that's it for this season and now I have to get on with all the export license application preparations. I have launched the new free forum competition for the coming season to win another free trip and it is also time for members to vote for their favourite 'find of the year'. More details on members forum.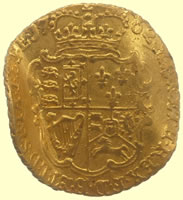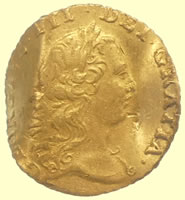 1762 George III milled gold half guinea - love token
2.08g,15.44mm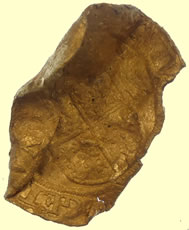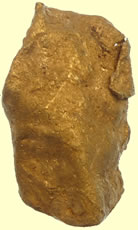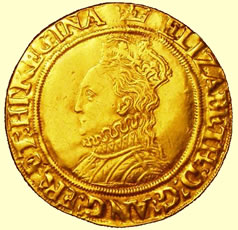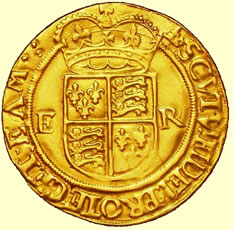 1560-1 Elizabeth 1st hammered gold half pound coin - (10 shillings, 120 pence)
28.8mm,5.11g
78gn
Spink ref S2520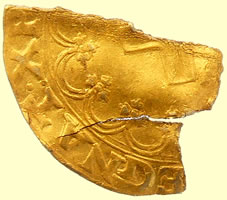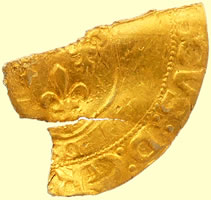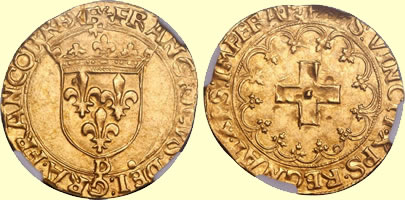 1 Ecu d'Or 1494-1547 France Ecu d'Or au Soleil, François Ier à la Croisette
Obverse legend : (SOLEIL) FRANCISCVS: D: GRA: FRANCOVM REX. (MM). (TRÈFLE).

Obverse description : Écu de France couronné ; lettre d'atelier à la pointe de l'écu.

Obverse translation : (François, par la grâce de Dieu, roi des Francs).


Reverse

Reverse legend : + XPS VINCIT. XPS. REGNAT. XPS IMPERAT (MM) (TRÈFLE).

Reverse description : Croix plaine alésée dans un double polylobe tréflé (11 lobes).

Reverse translation : (Le Christ vainc, le Christ règne, le Christ commande).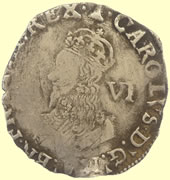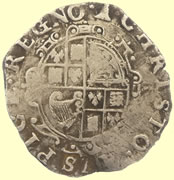 1634-5 Charles 1st hammered silver sixpence - bell mint mint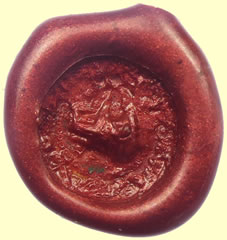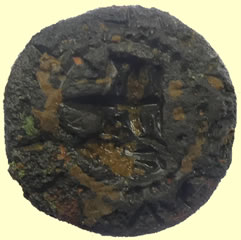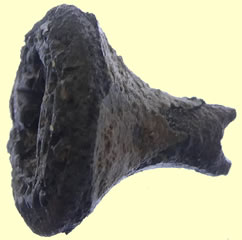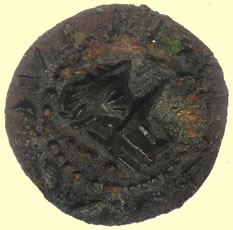 Medieval seal matrix - cleaning in order to take a wax impression
By my count on the database there are 4 boars' heads coouped with legend CREDE MICHI, 2 with PRIVE/PREVE SV, 1 LEGE TEGE and 1 "IE SV CEI IEL" [which must be IE SV SEL LEL] -- if you orient it so that the head is exactly horizontal, you'll see the "New Readers start here" star exactly at 12 o'clock where it should be, and then one of the few letters I can make out is the prominent V -- exactly where it should be for PRIVE/PREVE and I think I can see the following SV ... BUT! the lettering seems to continue, so if it is PRIVE SV or PREVE SV, there must be another word or two after that, e.g. E LEL (and loyal/faithful) which I think does sometimes occur as an extension of the simple PRIVE SV -- I'm not saying yours DOES say E LEL -- merely quoting that as an example!
Malcolm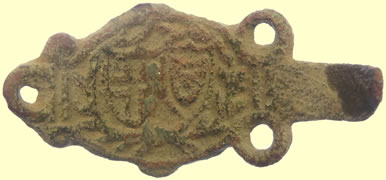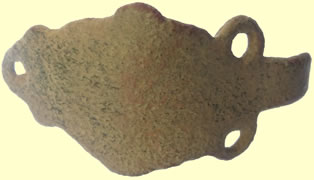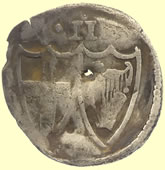 What a rare relic - 17thC clothing fastener with the 1649 Commonwealth double shield design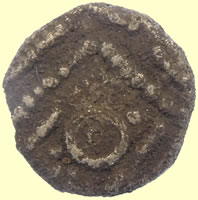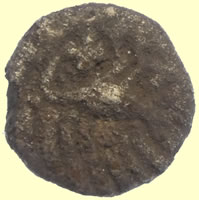 Primary Saxon silver sceat 600- 700 AD - sent to Fitzwilliam museum for recording and ID
12.58mm,1.17g
(EMC 2019.0156) is Series E, Plumed Bird variety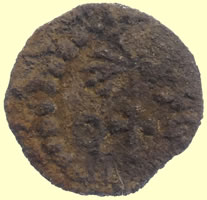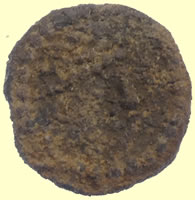 Primary Saxon silver sceat 600- 700 AD - sent to Fitzwilliam museum for recording and ID
11.66mm,1.18g
Series B II (Type 27b) as EMC 2019.0155.
12th April 2019 - Rare Dragon type Celtic found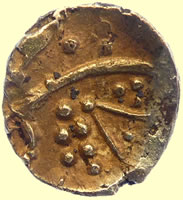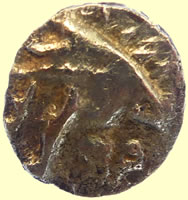 Celtic gold qtr stater - not certain of tribe yet- send for recording and ID
1.38g, 13.42mm
50 BC Clacton Dragon type

Rev Traces of 'three men in a boat' design

Obv Central bar with appendages forming 'dragonesque' motif
Great find, it's a new reverse variant of the British F 'Dragon' type, ABC 2353 for an earlier version with open-mouthed beast clearly visible and DK 422 for a later, jumbled variant; all the known examples are from the same obverse die, here seen quite worn.
All the best
John
Georgia Doug, hunting new land, popped our first ever Dragon type Celtic gold qtr stater above, amazing find. Lots more great finds posted to the latest finds page. 2018 March finds page.
Also check out this years gold finds Gold page.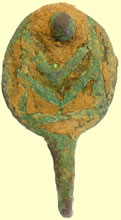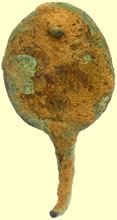 Early medieval hooked hanger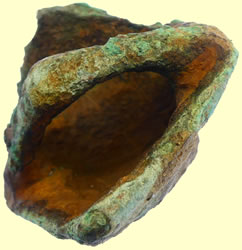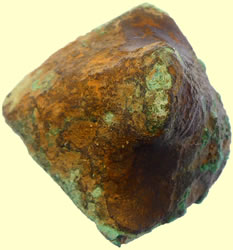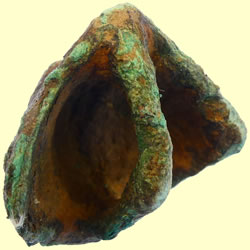 Romano-British protected loop terret
'Protected loop terrets are usually considered to be Roman and dating to the late first and second centuries AD'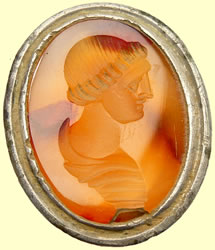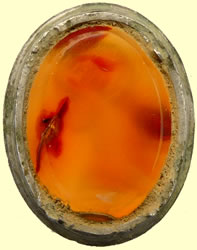 Stunning silver mounted Georgian intaglio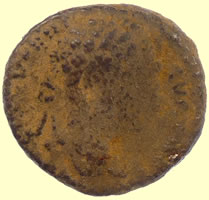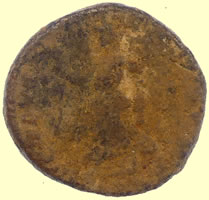 2ndC Roman silver coin - hoard addendum reported to museum
2.16g,17.34mm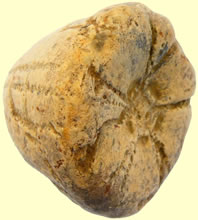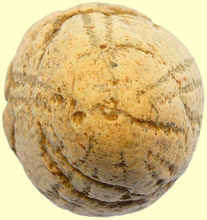 450 million year old fossil
Sea Urchin Echinoid
2nd April 2019 - More amazing gold finds and silver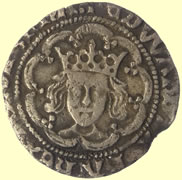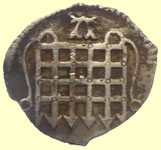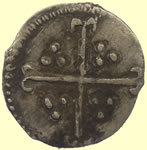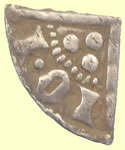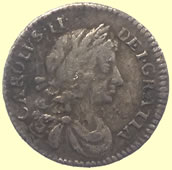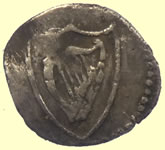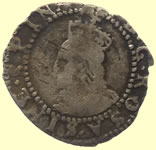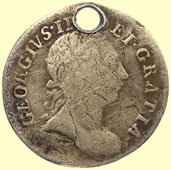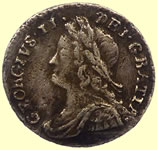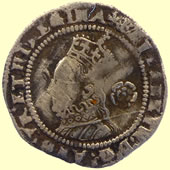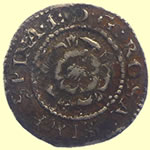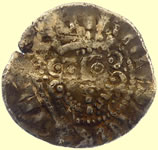 The guys are on fire and are close to beating our 2nd best ever gold season we have had with 57 pieces found so far. Check out this years gold finds Gold page.
I have posted a lot of Roman silvers and hammered silver coins to the latest finds page and some great excellent relics.March 2019 finds page.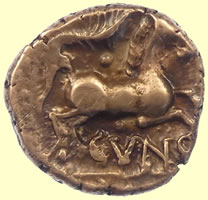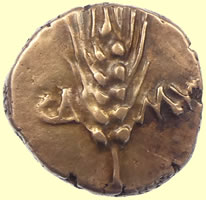 c25-35 AD Cunobelin Celtic gold full stater - reported to PAS
'plastic A' series, VA 2010-3. Believed to have preceded the classic type, so perhaps from c. 25 - 35 AD. About ninety of these are recorded including at least one coin in the British Museum (BMC 1819 in Hobbs's Catalogue of Iron Age coins in the BM).
5.45g, 16.88mm
CCI 19.1423 - Cuno Plastic stater: this is the ABC 2786 type, which comes in two common varieties, one with a ringed pellet below the horse and the other with a pellet only (as on this coin). The rare ABC 2789 type reads CVNOB, unlike this one, which reads CVNO on other examples from this reverse, with no B.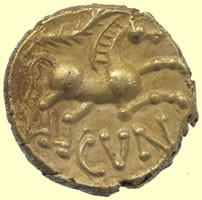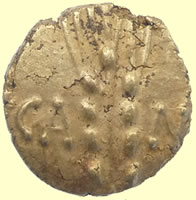 10-40 AD Cunobelin Celtic gold Linear type qtr stater - reported to PAS
Ladder main - branch above
11.36mm,1.28g
Ref ABC 2810 - Rare
CCI 19.1424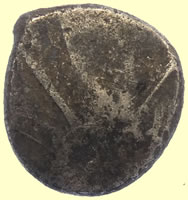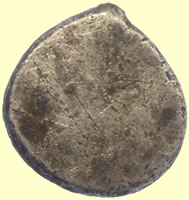 Weird tiny debased gold coin - Celtic ?? sent to Fitzswilliam museum for their views
0.88g,9.07mm
CCI 19.1426 - base AV ?blank
The side with the lines resembles the 'design' on Gallo-Belgic Bb Crossed Lines quarters, but the weight is barely half what it should be and it looks much too base.
It's most likely to be a blank for an unknown, possible Iron Age, type, or perhaps an early Saxon issue if the weight and fineness corresponds to any of them.
All best
John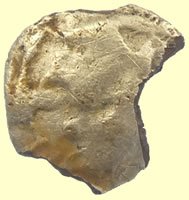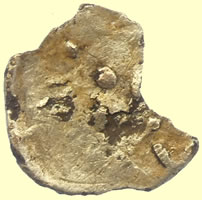 Trinovantes Clacton type Celtic gold 1/4 stater 50BC - reported as hoard addendum
0.83g,12.35mm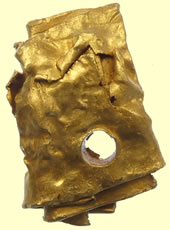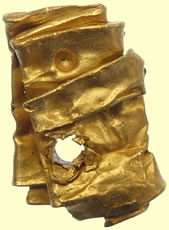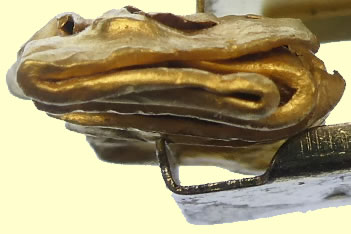 Ancient looking bright yellow rolled gold sheet reported as potential treasure to museum
3.11g,17.38mm L x 3.47mm T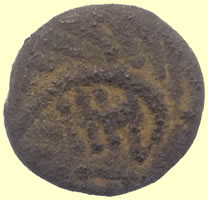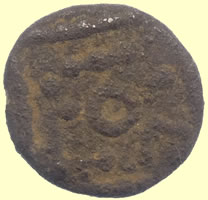 C600 -775 Saxon silver sceat - sent for recording and ID to EMC
1.14g,11.98mm
Many thanks for this very helpful information about the find, which is EMC 2019.0125.
This is Series E Primary Phase, VICO variety 1, with reverse oriented as in the attached adjusted image.
Best wishes,
Martin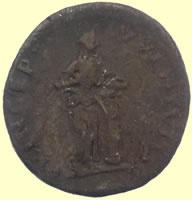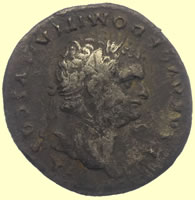 2ndC Roman silver coin - sent for ID
2.88g,17.41mm
Very nice – I'm sure I don't need to tell you this is Domitian since the name is so clearly readable on the obverse. He was Vespasian's younger son and the last of Suetonius' "12 Caesars", that's Gaius Julius through the Flavian dynasty, ~ the end of the 1st century AD. He also came to be hated and feared nearly on a level with folks like Caligula and Nero due to his increasing paranoia and reactionary policies.
Domitian, (81-96) as Caesar under Vespasian, 69-79 AD. AR denarius, Mint of Rome, 79 AD.
Obv: (legend CCW.) CAESAR AVG F DOMITIANVS COS VI laureate head of Domitian, Caesar, right
Rx: PRINCEPS IVVENTVTI Salus standing facing, head right, resting on short column and feeding from patera a serpent she holds in her arms.
RIC II 1084, RSC 384
My advice is to be careful not to overclean this piece – a little thinning of the deposits would help, but you'll ruin this moderately valuable piece if you try to make it "shiny".
Mark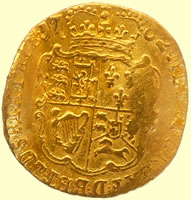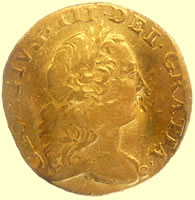 1762 George III milled gold qtr guinea love token
2.07g,15.35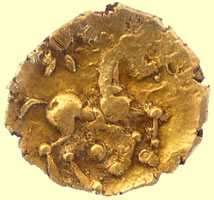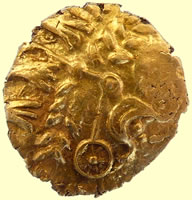 Not sure of this type yet - similar to 50 BC Maldon Wheel type sent for recording and ID from PAS
1.35g,13.66mm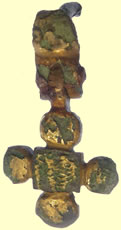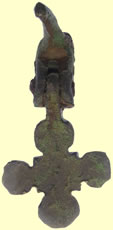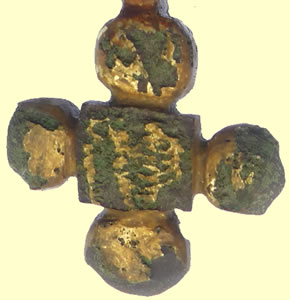 Stunning gilded Viking type bronze harness pendant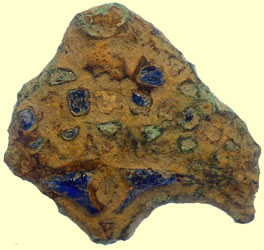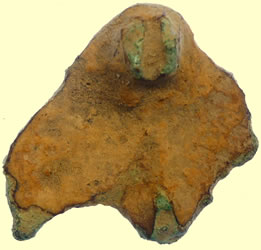 2ndC Roman Zoomorphic enamelled brooch - bird type
17th March 2019 - More amazing super rare coins found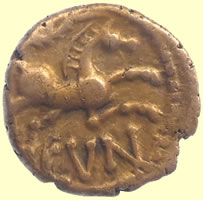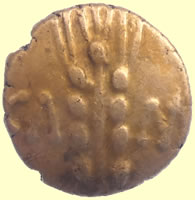 10-40 AD Cunobelin Celtic gold Linear type qtr stater - reported to PAS
Ladder main - branch above
11.19mm,1.34g
Ref ABC 2810 - Rare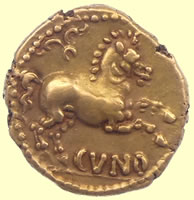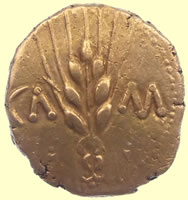 10-40 AD Cunobelin Celtic gold Classic Bow type qtr stater - reported to PAS
1.32g,11.38mm
Ref Rudd 75 57 - Excessively rare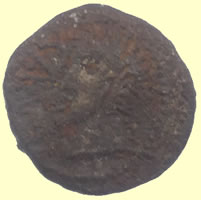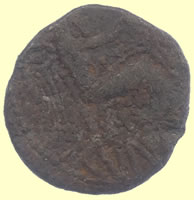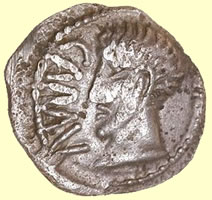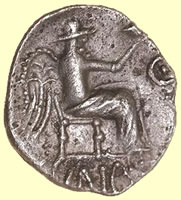 10-40 AD Cunobelinus 'Spiky' silver unit
Obv Head L, spiky hair CAMV in front,occ CAM with VL behind/Seated victory r,holding bowl or wine cup int,hand.CVNO below chair
Ref ABC 2855 VA 2045 - Very rare
1.36g,14.04mm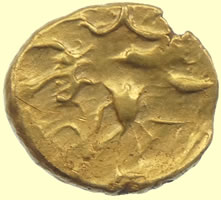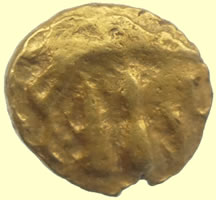 1.45g,11.96mm
It's a class 3 Great Waltham type quarter, no. 400 in Divided Kingdoms (same dies), essentially a slightly later and cruder version of the Ingoldisthorpe quarter, which is class 2 in the British Ab/Ac north-east Thames series. I list 14 other examples in DK but there are at least 15 now.
Hope this is of some help,
All the best
John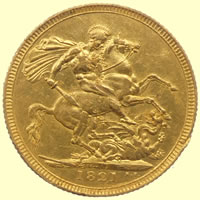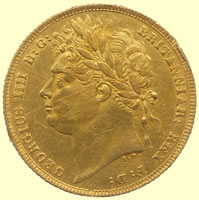 1821 George IV milled gold sovereign
8.01g,22.13mm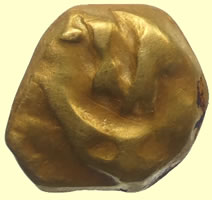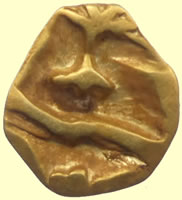 70 BC Morini Celtic gold qtr stater- reported as hoard addendum to museum - tiny undersized coin
0.76g, 10.19mm
As you say, it's a standard Gallo-Belgic D type from the early Gallic War period. I think the clue to its very low weight probably lies in the very irregular flan, which suggests that it was either struck on an abnormal, mis-shapen blank, not intended for use, or that it has been clipped in antiquity to illegally siphon off gold, much as medieval silver was clipped. Difficult to be sure but clipping is more likely,
All the best
John
What a fantastic 2nd week of hunting by the guys with some very rare coins found. I have posted hundreds of other great finds onto the new hunt page.March 2019 finds page. I have updated the gold page which now stands at 50 as I have yet to post a solid gold watch winder found by Cal George. Check out this years gold finds Gold page. German Andy found our first ever complete Saxon strap divider below, amazing that it is in one piece. On our Saxon harness page we have only ever found pieces of them before, great find. Saxon Harness page. Virg Marj popped two of the Celtic's found above and both are rare, only our 2nd ever Great Waltham type gold qtr stater above and a Cunobelinus 'Spiky' silver unit. Ill Andrew found the excessively rare rated Cunobelin Bow type qtr stater which is stunning. Ny Jay on the first morning of his first ever trip here popped the Cunobelin Linear type, man that is newbie luck. So many really nice hammered silver to post here on this news page so check out all the other finds on the March 2019 finds page.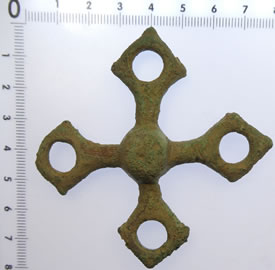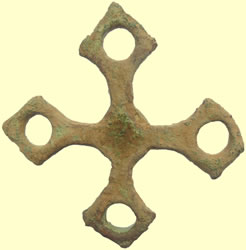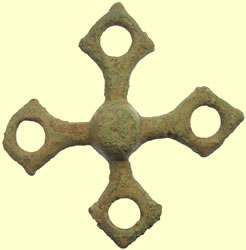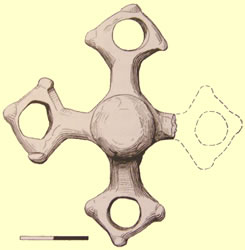 HARNESS FITTING
Complete late Early Medieval (Anglo-Saxon) to early Medieval cast copper alloy harness fitting. This is an Anglo-Scandinavian design and dates from circa AD 1000 to 1150.
This artefact is a strap distributor, formed of a central lozengeform section with a domed circular boss. The reverse of the boss is slightly hollow. There is a projecting arm from each corner of the lozenge; the arms are sub-rectangular with concave sides. Each arm terminates in an incomplete loop which would have secured leather straps.
Chronology
Broad period: EARLY MEDIEVAL
Period from: EARLY MEDIEVAL
Period to: MEDIEVAL
Ascribed Culture: Anglo-Scandinavian
Date from: Circa AD 1000
Date to: Circa AD 1150
Materials and construction
Primary material: Copper alloy
Manufacture method: Cast
Completeness: Incomplete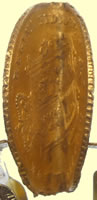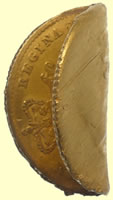 Taco'd 19thC Victorian milled gold half sovereign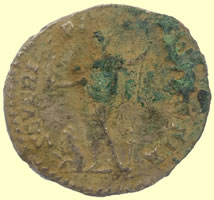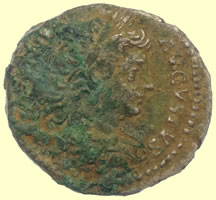 Roman silver hoard coin addendum No47 - reported to museum and sent for ID
This one is Caracalla, 198-217 A.D. AR denarius, Mint of Rome, 199 A.D.
Obv: ANTONINVS AVGVSTVS laureate youthful head of Caracalla right
Rx: SEVERI PII AVG FIL Caracalla in military garb standing facing, head left, holding Victory and spear, bound Parthian captive at his feet
RIC IV 45; RSC 589

Mark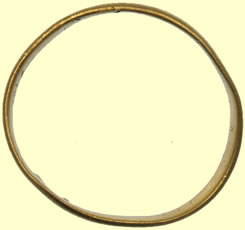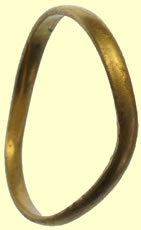 Early gold ring - no hallmarks
1.96g,22.3mm dia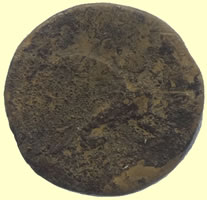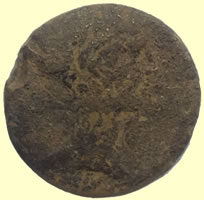 BC Republican Roman silver coin sent for ID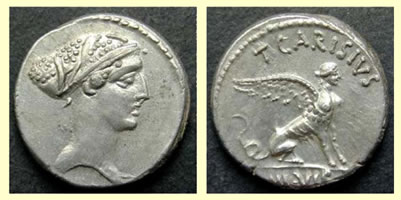 T. Carisius. 46 BC. AR Denarius (17mm, 4.05 g, 4h). Rome mint. Head of Sibyl Herophile right, hair elaborately decorated with jewels and enclosed in a sling, tied with bands / Sphinx seated right; T • CARISIVS above, III • VIR in exergue. Crawford 464/1; CRI 69; Sydenham 983a; Carisia 11; BMCRR Rome 4061; RBW 1613
Technically, this would more correctly fall into the "Imperatorial" category, but you're not wrong if you want to call it Republican
Mark
9th March 2019 - Amazing hunting and more beauty gold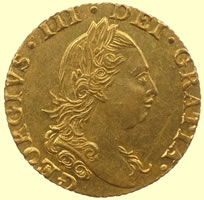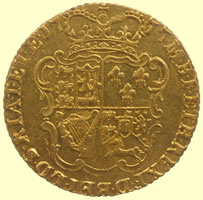 Simply stunning 1777 George III milled gold half guinea
4.20g,20.61mm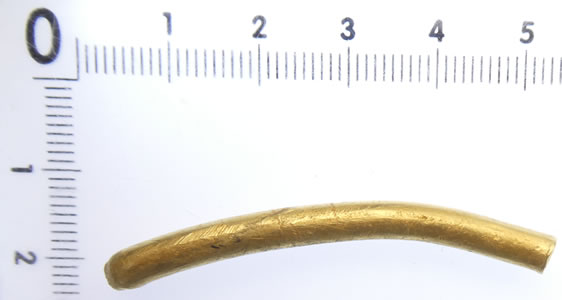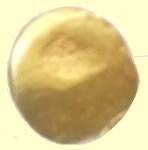 Ancient gold band - possible wrist torc fragment - reported as treasure to museum
11.16g, 4.33mm dia x 49.12mm L
The 2nd team of the season have been having an amazing hunt having set a club record on hammered silver coins found by any team, I have posted dozens of them on to the latest finds page. March 2019 finds page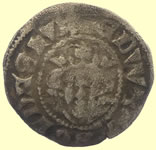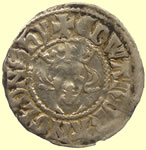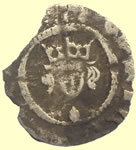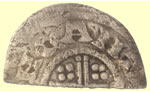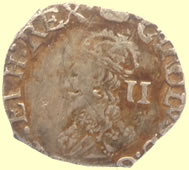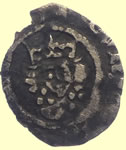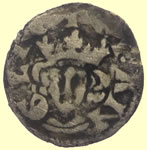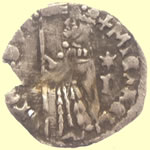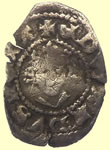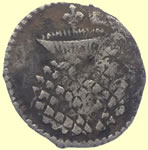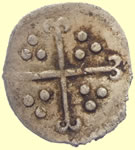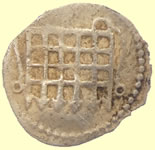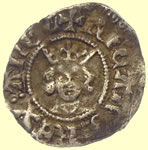 They have also popped two more really crisp Roman silver hoard addendum coins below taking the total out of the 'pot' to 46 now . Big tanks to Mark Lehman our Roman expert for his great ID's. I have not had any feedback yet with the 44 other Roman silver coins lodged with the British Museum. We have been trying our hardest to locate the actual pot with no success yet. Italy Nick also found another coin to add to the Saxon silver sceat hoard we found in Sept taking the total now to 11. This one is well crispy and cannot be cleaned as hoards have to be taken to the museum in the condition they are dug. Can Bill also found another Saxon sceat on a different site that Dr Martin at the Fitzwilliam museum has ID'd and recorded on the EMC database below.
Ill Mike, who has been hunting here for 12 years, finally got the monkey off his back with one of the best looking milled gold coins I have ever seen dug. They were out searching for another one of those 'duck egg sized' gold ingots and he popped the beauty, sucker it mint. Org Stuart popped another Celtic hoard addendum gold coin a mint 70 BC Morini boat tree Celtic gold qtr. Fl Paul added a thick chunk off a possible wrist torc to the gold count which has been reported as treasure to the museum.
Check out this years gold finds Gold page
It will be interesting to see what the curator at the BM makes of this find. There have been too many neat finds to post on the news page so check out the rest I have posted on the March 2019 finds page.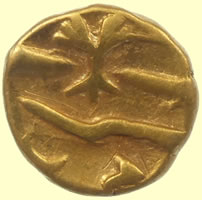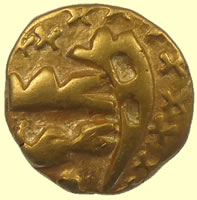 70 BC Morini Celtic gold qtr stater- reported as hoard addendum to museum
1.47g,10.79g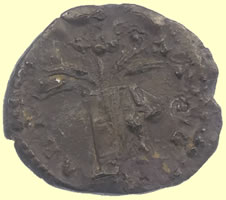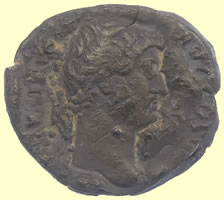 Crisp Roman silver coin sent for ID
2.62g,18.35mm
Hadrian, 117-138 A.D. AR denarius, Mint of Rome, 135 A.D.
Obv: HADRIANVS AVG COS III P P laureate head of Hadrian right
Rx: ANN-O-NA AVG modius containing grain-ears and poppy
RIC II 230, RSC 170a
Nice one for a dugup in agricultural fields. You got this one more or less just in time before it suffered more significant degradation from the fertilizers and pesticides.
I don't have one of this type myself (actually, I have little more than a sparse representative run of denarii/antoniniani/siliquae – I've always favored the larger Æ denominations
Mark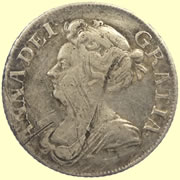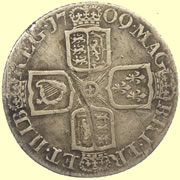 These are hard to find 1709 Anne milled silver shilling (12 pence)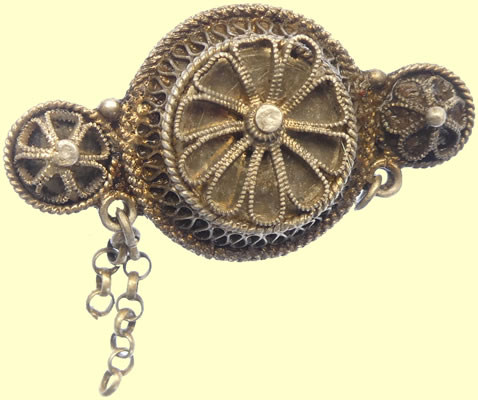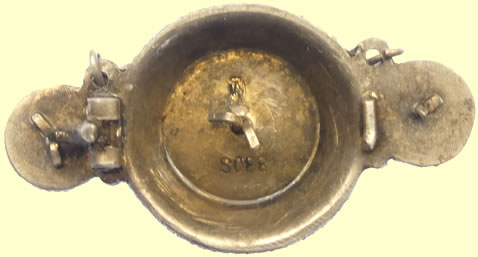 Huge Victorian silver jewelry item - registered number 330 S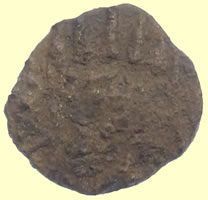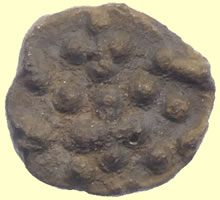 C600 -775 Saxon silver sceat - sent for recording and ID to EMC
1.09g,12.28mm
Thanks for this Series D (Type 2c), which I have recorded as EMC 2019.0088.
Best wishes,
Martin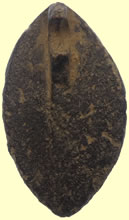 13thC vessica seal matrix
It's our old friend CREDE MICHI -- "believe me" -- i.e. you can believe what is written beneath this seal as being genuine. The lettering is not perfect however! I'd transcribe CREDE [M]IChI. -- possible that the letter before the final C is meant to be MI ligatured, but if so, it's been bungled!
Keep 'em coming -- and, ideally, nice easy ones like this!
regards,
Malcolm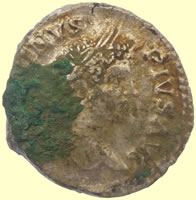 Roman silver hoard coin addendum No46 - reported to museum and sent for ID
2.79g,18.68mm
Continuing with the theme of less-than-pleasant emperors:
This is Caracalla – son of Septimius Severus - also a feared, as well as probably deranged character. He was somewhat successful in terms of military conquests, but more typically by means of subterfuge, like inviting the opposing king and generals to a treaty parlay and killing them all as he did with the Parthians. He also introduced the debased silver double-denarius denomination we call "antoninianus", a 2-denarius coin with 1.5 denarii worth of silver in it, setting the stage for the massive debasements of the later 3rd century.
Caracalla (198-217 AD), as co-emperor with Septimius Severus, 198-209 AD. AR denarius, issued 207 AD.
Obv: ANTONINVS PIVS AVG laureate head of Commodus right.
Rx: PONTIF TR P X COS II securitas enthroned right, at her ease in seat with cornucopiae as arms; head propped on right hand, holding scepter with left; small altar before her.
RIC IV 92; RSC 434; SRCV 6863
Mark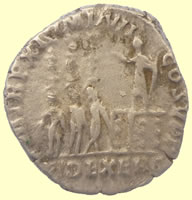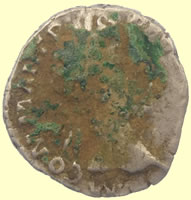 Roman silver hoard coin addendum No45 - reported to museum and sent for ID
2.56g,17.03mm
Commodus. Son of Marcus Aurelius, his sole reign marked the end of the era of "The Good Emperors". He slowly went crazy, and by the end of his reign/life had convinced himself he was the reincarnation of Hercules and was regularly fighting wild beasts in the arena. This was not considered correct or appropriate behavior for an emperor, to say the least – plus he was an all-around shit to everyone, highly paranoid, and tended to have any foe, real or imagined, executed. He was portrayed, extremely inaccurately from an historical standpoint, as the main antagonist in the movie "Gladiator". They made him evil enough, but nowhere nearly so bat-poo unhinged as he was in real life.
It's a very interesting reverse – a far more ambitious composition than one typically sees on a denarius – platform scenes are far more usually seen on sestertii.
Commodus, sole reign, 180-192 A.D. AR denarius issued 186 A.D.
Obv: M COMM ANT P FEL AVG BRIT laureate head of Commodus right
Rx: FID EXERC (in exergue) P M TR P XI IMP VII COS V P P Commodus standing left on platform haranging three soldiers standing right before him; each holds a legionary eagle and shield.
RIC III 130; RSC 143; SRCV 5639
his reign came just before the beginning of the Severan dynastic era, so it's in the right general time-frame for the hoard, so far.
Mark
25th Feb 2019 - Great start to the 2nd half of the season with a couple Celtic gold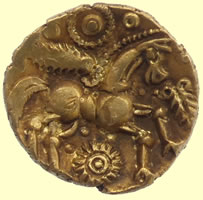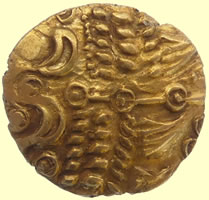 40-30 BC Trinovantes Rowntree Fern leaf Celtic gold qtr stater
Wreath crossed by spike with 3 pellets,crescents below,stylised hair above
Annulate horse r,grooved tail, fern like motiff above, cogwheel sun below
Sent to PAS for recording
12.64mm,1.27g
This isn't the Tring Wheel type, it's a Fern Leaf quarter, DK 442, ABC 2362; they're a little rarer than the Tring Wheels, this is the fifth recorded example.
If you'd like to send a findspot (parish only) I'll do a CCI card for it, PAS have given up using Index numbers and are just giving their own unique reference code.
All the best
John
Nice to get back out there hunting after the half season break. Wash Tom, who has been coming here for 10 years popped his first ever Celtic gold coin on the the very first day of the hunt. He was using the power of the CTX 3030 machine programmed with all the previous hoard coins locations marked on his screen, he popped another hoard addendum coin fragment in between the flags he put out. Not the best example in the world but it counts!! What is amazing is later in the week he popped a 2nd Celtic gold on new land and it is an excessively rare and totally mint Fern leaf design, our first ever of that type. I thought it was Tring type but the CCI's comments above make it even rarer. Tom had a hell of a hunt this week and also found our best ever debased Henry VIII front facing bust type in mint condition, especially for a coin with this low a grade of silver content. His mate Bill found a very unusual 18thC Indian gold fanim, holed to be used as a pendant. Bill also got a half of a Cunobelin Celtic silver unit.
I have posted a load more finds to the latest finds page Feb 2019 finds page and updated the gold page, 39 pieces of gold so far this season.
The guys have left now and the next team in arrives Saturday.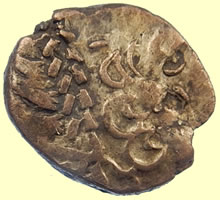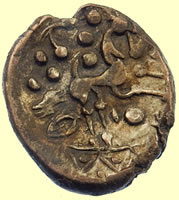 Coin from same hoard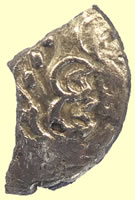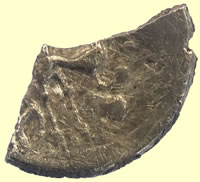 50 BC late British G 'Early Clacton' gold stater - reported to museum as hoard addendum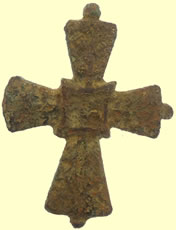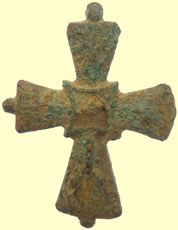 Medieval crucifix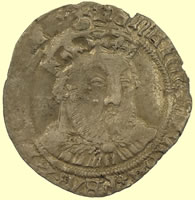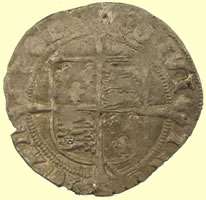 These are very rare to find and our best ever debased 1544-7 Henry VIII hammered silver groat - bust 2 - 3rd issue
Mint mark Lis - CIVI/TAS/CAN/TOR -Canterbury mint
Toward the end of Henry VIII's reign, the silver was progressively debased from 9oz.2dwt. (.758) in 1544, through 6oz.2dwt (.508) in 1545, to 4oz.2dwt. (.342) in 1546. At this last standard, the blanched silver surface of the coins soon wore away to reveal the copper alloy beneath which earned for Henry the nickname 'Old Coppernose'.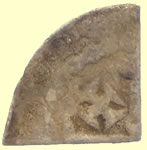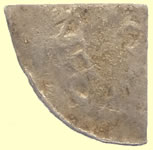 1158 -1189 AD Henry II hammered silver farthing ' Tealby' cross and crosslet type
n 1158 a monetary reform was introduced in England which was of sufficient importance for the contemporary chroniclers to record that 'a new money was made, which was the sole currency of the kingdom.' This coinage is notorious for its ugly appearance, bad craftsmanship and careless execution. It continued till 1180, and is named after a large hoard which was found at Tealby, Lincolnshire, in 1807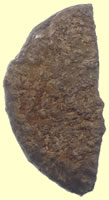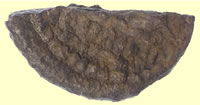 10-40 AD Cunobelin Celtic silver unit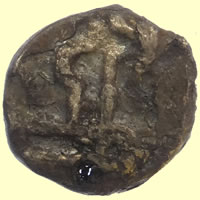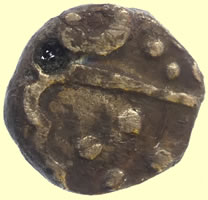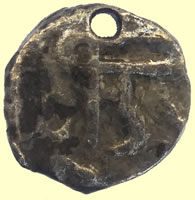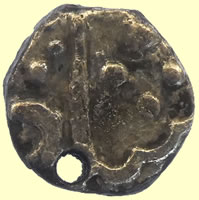 18thC Indian debased gold Fanim pendant
Fascinating coin - initially thought is was Saxon silver sceat as the size matches. I do not recognise the markings and have sent it off to Fitzwilliam museum for ID and recording. Is it probably an Indian debased gold Fanim pendant?
1.08g,9.41mm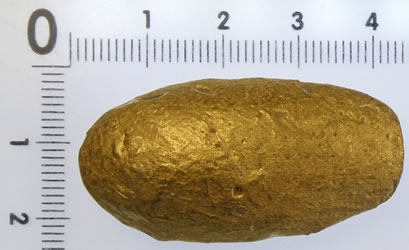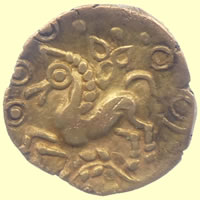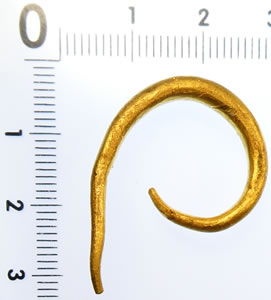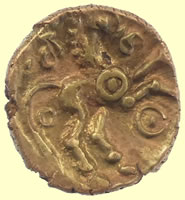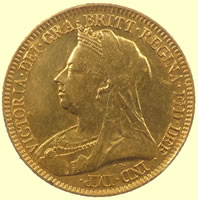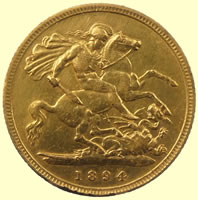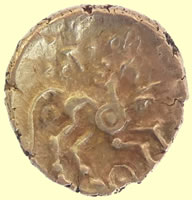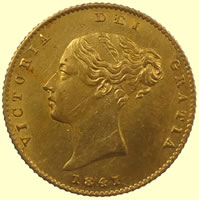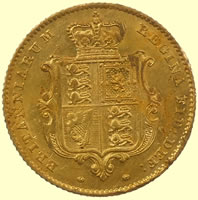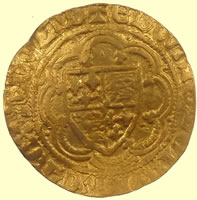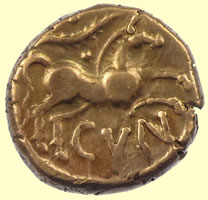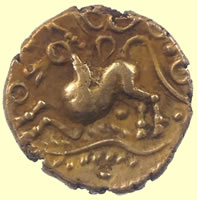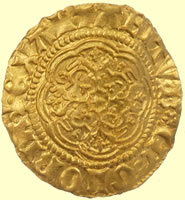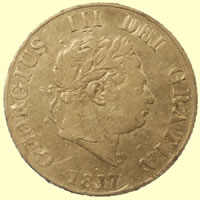 14th Feb 2019 Season restarts on Saturday - New electronic export system proposed
Our new site https://colchestertreasurehunting.com/news/ is suffering constant malfunctions with Word Press and I have not been able to update the news page regularly. I have reinstated this, our original site, to post regular updates.
The 2nd half of the season kicks off on Saturday with a special early 10 day hunt with Wash Tom's team. Then a short break and the main hunts start on the 3rd March.
The first half of the season produced 35 gold finds so we are on target for a great season final total. Several of the gold finds like the duck egg sized gold nugget and our first ever Celtic gold votive offering are in with a shout for possible finds pf the year.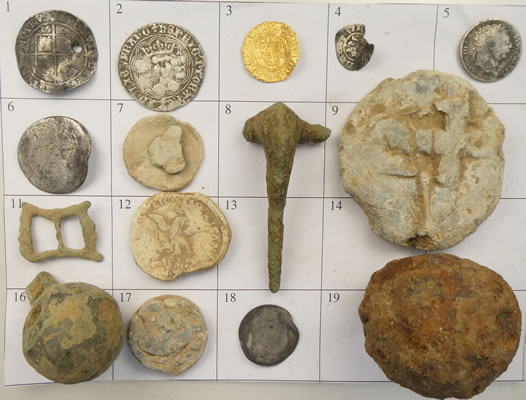 1. 1582 Elizabeth 1st hammered silver sixpence - bell mint mark
2. 1422- 27 Henry VI hammered silver groat - Annulet issue - Annulets by neck and two sets of opposing pellets on reverse Obv + hENRIC'x DI GRAx REX ANGLIE Z FRANC Rev VIL LAx CALI SIEx - Calais mint 3.73g,26mm
3. 1412-13 Henry IV hammered gold qtr Nobel- Light coinage - Lis above shield, trefoils beside shield,Lis in centre of reverse. Obv +hENRIC'DI; GRA;REX ANGL - mm Fleur de Lis 1.80g,18mm
4. 1314-17 Edward 1st hammered silver half penny - Type 13a Obv + EDWA**DVS***A
Rev CIVI/TAS/LON/DON- London mint
5.1816 George III milled silver sixpence
6. 17thC William III milled silver sixpence
7. Post medieval cloth seal
8. 2ndC Roman fibular brooch
9. Medieval trade weight
11.1500-1650 buckle
12. Post medieval lead bale seal
16. 18thC crotal bell
17. Post medieval lead bale seal
18.17thC William III milled silver sixpence
20.1640's Civil War half pound cannon ball - 7.8oz,39mm
I have been beavering away completing the last of the export applications for all the guys pouches from Sept/Oct and a load of approved export licenses have already been returned, name lists posted onto the members forum. This is a very time consuming process where every piece of metal over 50 years old has to be photographed and itemised and it can be up to 10 + pages per guy. I have to then print off 3 colour copies of the word document + a triple carbonated export application form. This has to be then physically posted, a huge number of trees are cut down to eventually get an export license approved and returned to me. Again the physical officially stamped export license together with one of a my word documents officially stamped is sent back to me in the post. I have been doing this for over 15 years so I have just taken it as read. However brilliant news, behind the scenes they are now talking about a totally electronic replacement version and I was invited to a meeting to give my input on a the new proposed electronic replacement service. It will give me the ability complete the same work on line and fire it off to export duties in box. I will be able to log on to their system and be able to monitor its process. Currently every export application I make has to be physically sent by export duty onto a specialist advisor at the British Museum to vet that none of the finds is of National Importance or constitute a possible hoard or treasure. All the processes surrounding an export application are very slow and time consuming and the only way to find out where the application is in the process is make a phone call to export duty.
More missed finds have been posted to the last finds page 2018Octfinds
I have created a new finds page ready for the kick off on Saturday. 2019Febfinds. All new finds will be posted there as they are made.
Latest news page
Click this link below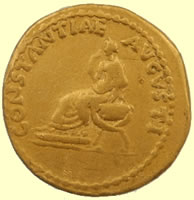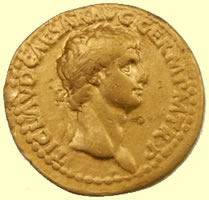 Roman gold coin send for ID
19mm,7.70g
Well, even though Roman gold is way out of the orbit in which I normally travel, I see absolutely no reason to question its authenticity. I presume you know this is an aureus of Claudius. It's obviously clear enough overall that there should be no doubt about the legends, but for the sake of form:
Obv: TI CLAVD CAESAR AVG GERM P M TR P laureate head of Claudius right
Rx: CONSTANTIAE AVGVSTI Constantia seated left on curule chair
Mint of Lugdunum, 41/2 AD.
RIC I 2, BMC 1, CBN 19.
My congratulations to all involved – well found!
Mark
New March 2018 finds page to started
Latest news is now posted directly to our new Colchestertreasurehunting.com modern web page. This is our new replacement web site with searchable features and mobile device freindly.
Colchestertreasurehunting.co.uk will continue in tandem as a reference database for all the 14 years of historical finds.
http://colchestertreasurehunting.com/news/
Lastest finds are always posted to
http://colchestertreasurehunting.com/finds/
Short Video of Medieval Gold Ring find


Date from: Circa AD 1600
Date to: Circa AD 1700
Cast copper alloy
This instrument has a globular knopped handle at the hinge. There is a small ridge just below the knop on the outer edge of each of the arms. The upper sections of each arms is flattened and one is recessed to accommodate the other. The arms then change shape to have a square cross-section before tapering to form points. There are some decorative facets on the inner edges of the arms near the flattened upper section. There is no evidence of maker's marks.
Similar dividers have been recorded on The Portable Antiquities Scheme database. For example, see finds: LON-33D734; NMS-886014; LVPL-6DBFA6.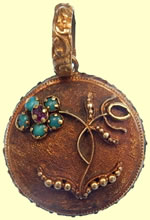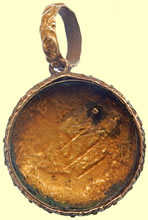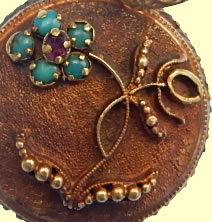 Stunning Victorian gold pendant with stones and pearls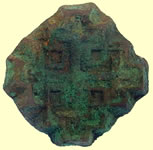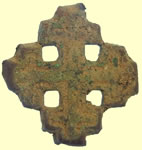 Medieval badges Ref Mitchiner p244 939 - 941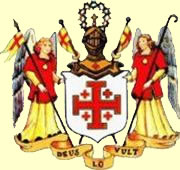 'A badge for a Knight of the Order of the Holy Sepulchre in bronze and dating somewhere around C13/14th possibly very slightly later . This is a very scarce item and it relates to The Equestrian Order of the Holy Sepulchre of Jerusalem being a Catholic chivalric order of Knighthood that traces its roots to Godfrey of Bouillon, principal leader of the First Crusade. According to reliable sources in the Vatican and Jerusalem, it began in historical reality as a mixed clerical and lay confraternity (association) of pilgrims which gradually grew around the most central of the Christian holy places in the Middle East, the Holy Sepulchre or the tomb of Jesus Christ.This would have been a pin for a member of the order , there is a mark on the reverse where the original pin would have been fixed '
1653 Jeremy Erds of Manningtree Essex hammered copper trade farthing

Mint condition 1340 AD French Jetton

Crown introduced in 1340 by Philip VI (1328-50)

Royal Crown with 3 rosettes across body of crown

Rev Triple banded straight cross fleuretty AV

17thC Henry Lamb of Colchester hammered copper trade farthing

17thC Christopher Bayles of Colchester hammered copper trade farthing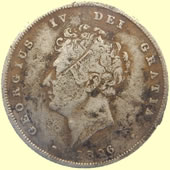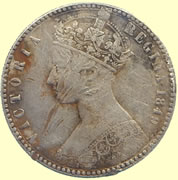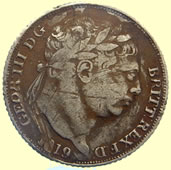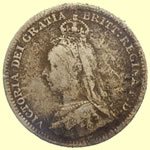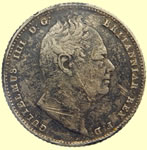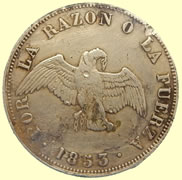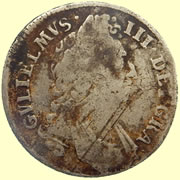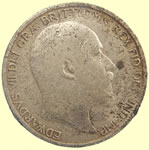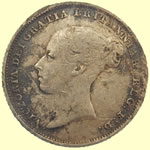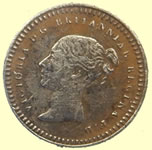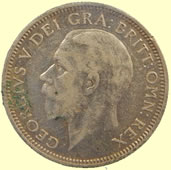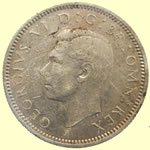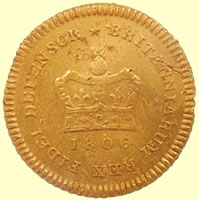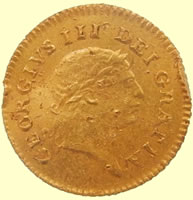 1806 George III milled gold 1/3rd guinea
2.80g, 17.11mm
I have posted huge number of great silver and relics to the latest finds page 2016 Oct finds page. The guys have been finding an unusual number of milled silver on new land including florins and half crowns that I have posted to that page. NC Jeff found a stunning Roman votive offering figurine below which is a definite 'find of the year' contender and then Idaho Mike found his first ever gold coin find with a neat George III third guinea. Casey popped a 104 BC Roman silver republican coin in remarkable condition for it's age and Mark Lehman has sent his complete ID below.
I have updated this years gold page with another piece of modern gold years gold page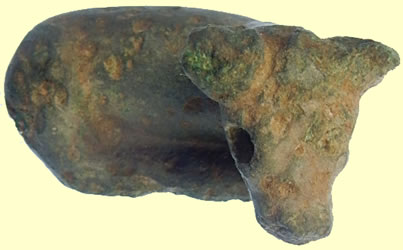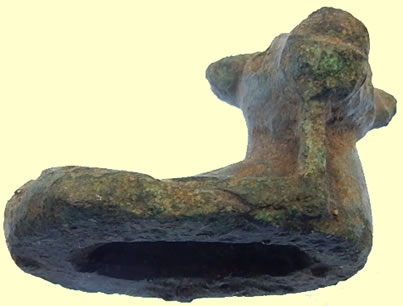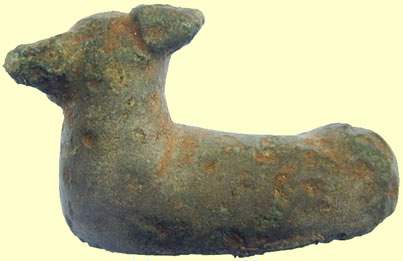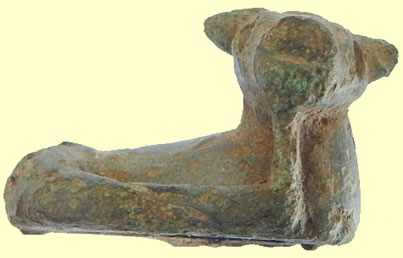 Roman bronze votive figurine
18.88g, 27.2mm L x 18mm H x 16.23 mm W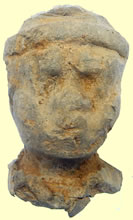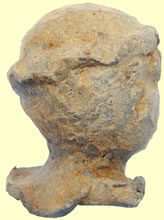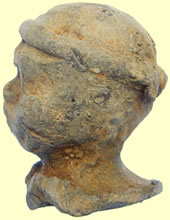 Medieval lead bust mount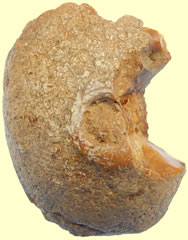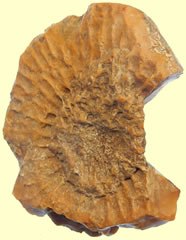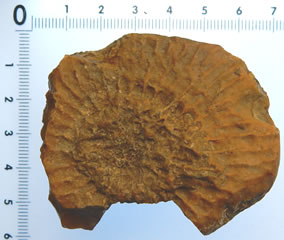 Large stone fossil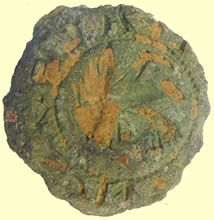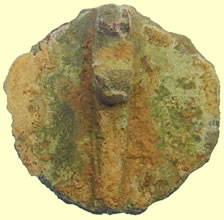 Very unusual to have a c13thC 'round type' medieval seal matrix with suspension loop. Normally the vessica type seals are suspension but round types are always bell type.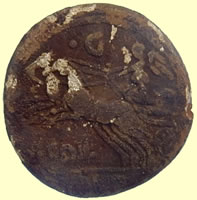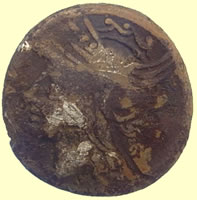 Early BC Republican silver Roman coin - sent for ID
Okay, I have it:
AR Denarius - Coelia 2 - C. Coelius Caldus, 104 BC.
Obv: Helmeted head of Roma left.
Rx: Victory charging in biga left; control: • G above; C•COIL below horses; in ex, CALD.
Crawford/RRC 318/1a; Sydenham/CRR 582; SRCV 196; BMC 1435-62; Babelon/RSC Coelia 2.
Mark
1438-1481 Alfonso V Portugal Half Real Grosso

Obverse Crowned letter A between two annulets, below the A, a small letter L (mintmark).

Reverse Cross of five shields, each with five billets in the shape of an X. Near Fine, Rare

Miss Dan

1356-61 Edward III hammered silver groat - Fourth coinage: Pre Treaty -Series G - Std F type

Extra annulet in one qtr of reverse - annulet stops in reverse legend - annulet below bust

Obv + EDWARDo D G REX ANGL Z FRANCo oDo hYB

Rev CIVI/TAS/LON/DON - London mint

Ref North 1193

Oct 1470-April 1471 Henry VI hammered silver penny - period of restoration - G and Key by bust and quatrefoil at centre of reverse cross

Initial mark Lis

Obv +hENRICVS REX ANGLIE

Rev CIVI/TAS/EBO/RACI - York mint

15thC Spanish hammered silver coin

1474 -1504 Madrid Spain, 1/2 real, Ferdinand-Isabel, mintmark M plus

Flourished crown; mintmark below; annulets above mintmark. Bundle of arrows; quartered with annulets.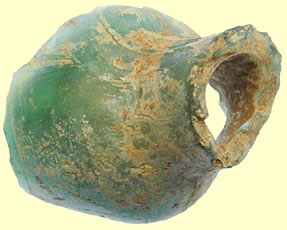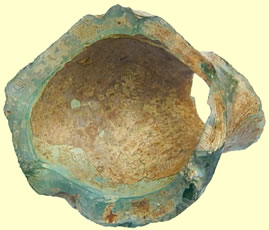 Roman glass bottle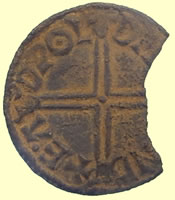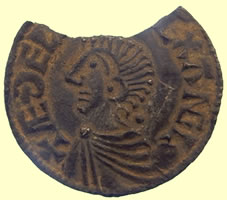 Saxon 978 - 1016 AD Æthelred II's Long Cross type hammered silver penny - sent to Fitzwilliam museum for recording and final ID
This is Æthelred II Long Cross type, London mint, moneyer Ædwold.
Best wishes,
Martin
The guys have been having a great hunt and I have posted loads more really great hammered silver and relics to the latest finds page 2016 Oct finds page. Seattle Casey added another Saxon silver penny to the disclaimed hoard from last year with a very crisp Æthelred II Long Cross type that Dr Martin has ID'd as the moneyer Ædwold. Ill Tim found a neat pure gold collar stud that I have added to this years gold page years gold page. Chicago Ron found the largest medieval seal matrix below I have seen and it is mint shape.
I still have tons more great finds to upload to the the latest finds page.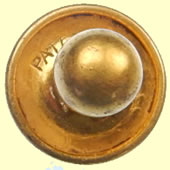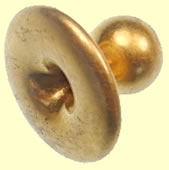 Victorian solid gold collar stud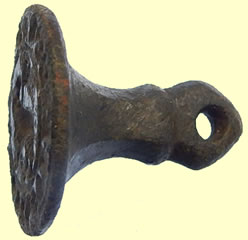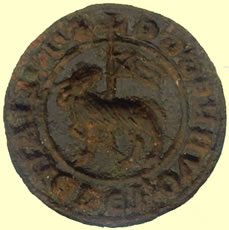 Extra large 13thC seal matrix - sacrificial lamb impression
The central design of a lamb with flag is often accompanied by the inscription ECCE AGNUS DEI, although that is not the case with that example.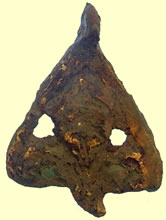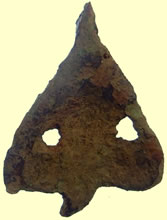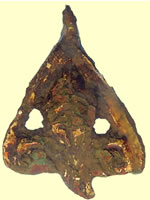 Very unusual gilded fretwork early medieval harness pendant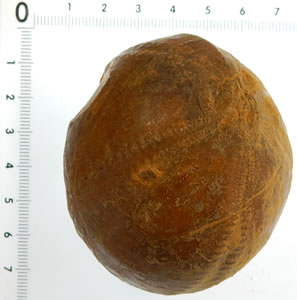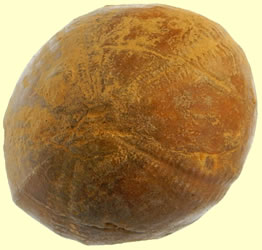 205 million years old fossil
Name: Clypeus plotti
Age: Jurassic
Location:United Kingdom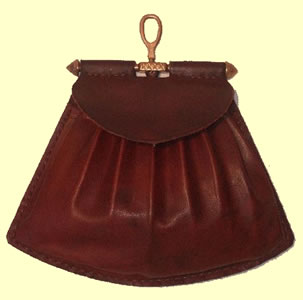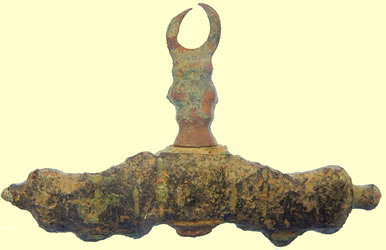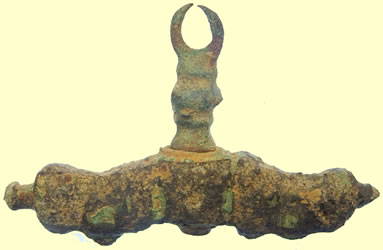 Medieval complete purse bar and swivel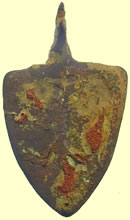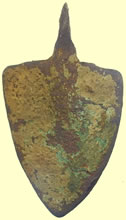 14thC Heraldic medieval shield pendant - rampant Lion with enameled inlay
" Per Pale or and vert overall a lion rampant gules".

So I believe this shield belongs to one of the greatest of all knights, William Marshall, Earl of Pembroke and several of his descendants on his daughters side, Roger Bigod, Earl of Norfolk (2 with the same name).

http://www.castlewales.com/marshall.html
Cal Jim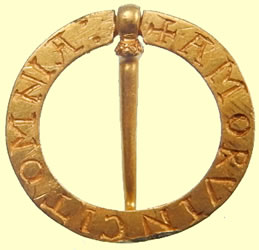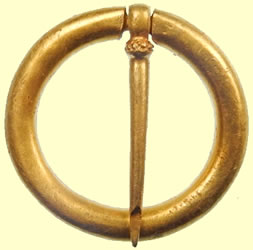 Spectacular c13thC medieval gold annular brooch
+AMOR VINCIT OMNIA -(Love Conquers All)
2.55g, 18mm dia
Reported as treasure to museum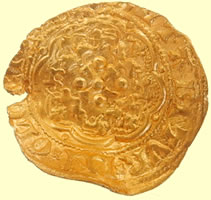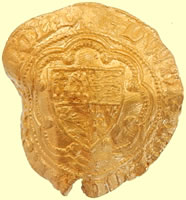 1361- 69 Edward III hammered gold qtr nobel - Treaty period, Large pellet at centre of reverse cross
Obv EDWAR DEI GRAC ANGL D
19mm,1.83g
Pen Christy popped the most gob-smacking medieval gold annular brooch I have ever seen and in mint condition, easily a find of the year contender. I have reported it to the museum and landowner as treasure. Chicago Ron then added his first ever medieval hammered gold coin find to take his impressive gold coin total 18 gold coins. He is our most successful gold coin finder in the clubs history and 90 % of his gold coin finds are ancient Celtic staters. Nh Tom popped the stunning medieval enameled harness pendant below and our club researchers are scanning the Heraldic Rolls to try and find the owner. It looks like a jester facing left. Another one of my favourite finds below is the 'scum class' early railway ticket/badge below? Mail me with any info you might have on was use this plaque was used for please.
I posted a load more great silver coins and widgets to the latest finds page and trying to mirror the new site.2016 Oct finds page
http://colchestertreasurehunting.com/finds/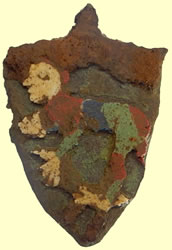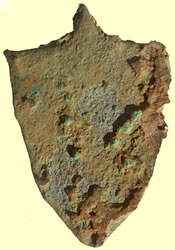 Stunning 13thC enameled heraldic pendant - researching family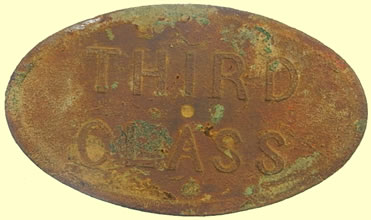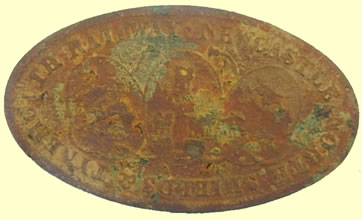 The Newcastle & North Shields Railway opened in June 1839 from a temporary terminus in Carliol Square in Newcastle upon Tyne to North Shields. The railway was absorbed by the Newcastle & Berwick Railway in November 1844. The Newcastle & Berwick Railway was itself absorbed by the York, Newcastle & Berwick Railway, and this became part of the North Eastern Railway in 1854.
The average speed of express trains in 1841 was 31–34 miles per hour (50–55 km/h).Third-class carriages were painted light green, and the first was 20 feet 8 inches (6.30 m) long and 7 feet 9 inches (2.36 m) wide, did not have doors and carried 60 passengers. First class carriages were painted crimson, maroon, and in one case a rich light scarlet claret edged with yellow and second-class passengers were light brown and vermilion.
| | |
| --- | --- |
| | |
| 1631 - 2 Charles 1st hammered silver sixpence - Plume above shield CR - mm Rose | 1583 Elizabeth 1st hammered silver sixpence - Bell mint mark |
I have created a new 2016 Oct finds page as the Sept one is now massive. 'Pouch of the year' voting by members ends tonight at 2355 GMT, mail me your vote and also guess at this years forum comp to win a weeks free trip next season.
I have posted loads more great relics and silver coins to the new Oct and Sept hunt pages, I am backed up with finds and have tons more great hammered silver to post yet. Marl Scott did it again with a monster gold 15thC ring off new land, not content with his Saxon gold shilling find from a few days ago !!. Can Ron also popped a neat little treasure with a 16thC Tudor gilded silver clothing fastener in great shape.
I have updated this years gold page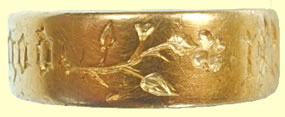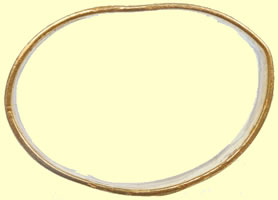 Medieval inscribed gold ring - no hall marks - reported as treasure to museum
'IIIy GOD is al '"My God is al[l]".
22mm dia,2.80g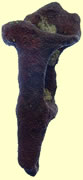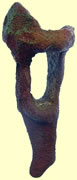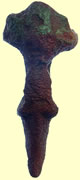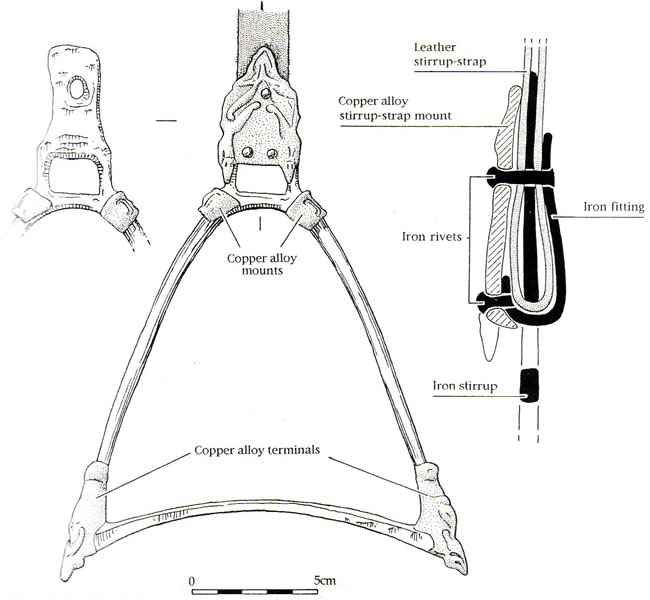 Saxon Stirrup terminal

Early Medieval 11th century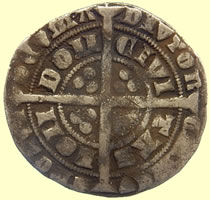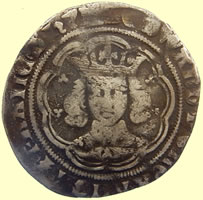 1351-2 Edward III hammered silver groat - Cross 1 Type F
Obv EDWARD DG ANGL REX Z FRANC D hYB
Rev POSVI DEVM ADIVTORE MEVM (outer)
CIVITAS LONDON (Mint) (inner)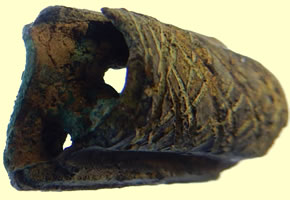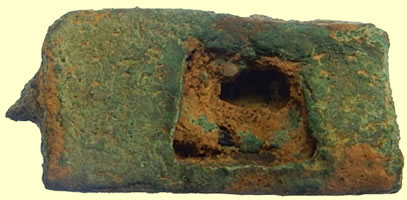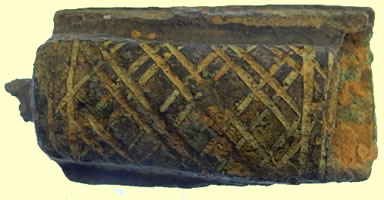 Late medieval lock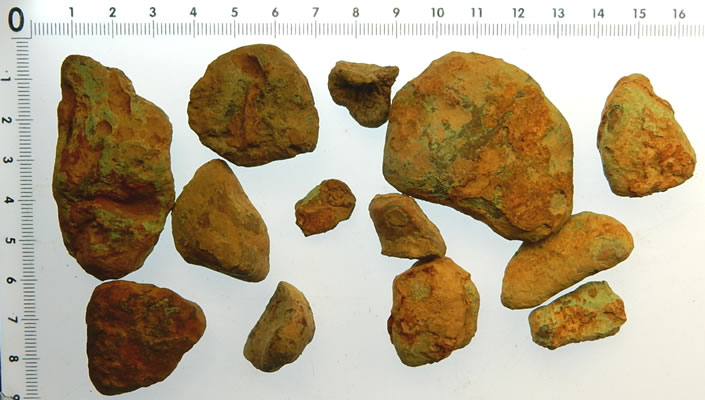 c1000BC Bronze Age casting slag, includes a fragment of a socketed axe bottom right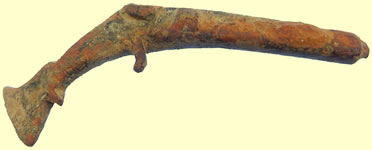 17thC working toy petronel (pistol)
Broad period: POST MEDIEVAL
Date from: Circa AD 1600
Date to: Circa AD 1640

The toy is based on the match-lock 'petronels' of the 16th and 17th Centuries
70mm long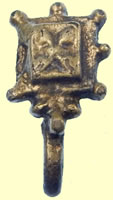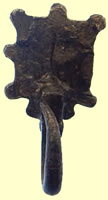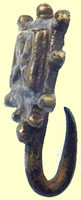 16thC Tudor gilded silver clothing fastener - reported as treasure to museum
More extended news page click here
Archived news pages below
More news pages
Brad's gold medieval gold statue
English Saxon gold coin found
Double Cunobelin Celtic gold
Chicago Reid's Roman gold ring
NS Andy's Saxon strap end
Medieval Iconic gold ring find
First Celtic gold of the season
Celtic Woad cosmetic grinder and Jeff Roman Pecker find
Viking silver strap end- Rare Roman silver coin finds
Great Saxon silver finds Offa Rex - Coenwulf - Hammered gold
Villa Dig - Roman gold - Celtic gold hoard found
Can Majos and Mass Bills gold rings - Texas Dave's hammered gold
Roman gold coin - Mass Bruce's axe hoard
2000BC Axe - Boston Buds Saxon gold
michelle@colchestertreasurehunting.co.uk