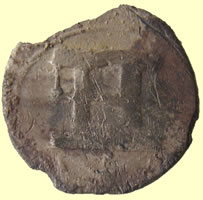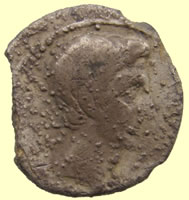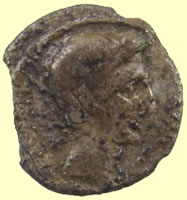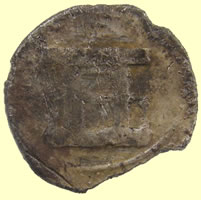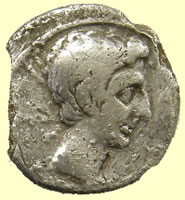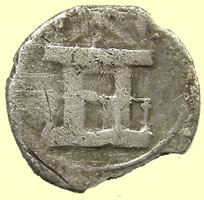 BC Roman silver sent for ID- interesting dug condition, cooking to remove crust
This one took a little digging - since there's no legible inscription at all.
Turns out that first off, you had the reverse photographed upside-down as you sent it to me. If you look carefully (it's weakly struck) you can make out a peaked roof with statues at the peak and eves. This is an elevation of the Curia Julia - which still exists in the Forum in Rome - the edifice is represented by 3 stout uprights supporting the architrave and surrounded with a balustrade on 4 short columns at "waist level".
It's illegible, but on a better-preserved example you would see IMP CAESAR across the architrave - the only writing on this piece by Octavian (before he became Augustus). The portrait is of Octavian, of course. This piece dates to about 30-29 BC, or shortly before Octavian became Augsutus, dissolving the Republic and creating the Principiate - the official beginning of the Empire.
This piece carries a fairly high estimated price in Sear where it is # 1557; RSC 122, RIC 266; & BMCRR 4358 / BMCRE 631.
Mark
Very unusual to have a piece with such clear types and still have it require almost an hour to find in the literature. Not at all the sort of thing we normally see in British digs - particularly around Colchester which, although it was a really major Romanized center, dates at its earliest to mid-1st century AD - by which time this coin would have been very unlikely to still be in circulation, at least in the condition we find this one.
We have no proof, of course, but this would seem to indicate either an earlier Roman presence - perhaps of some private, non-governmental, perhaps mercantile establishment or center of operation - or of significant trading activity to bring this, among other pre-Claudian, Continental types of coins, to this general location. The tin mines were nowhere near the Eastern part of the Island, right? I'm afraid that my knowledge of the geology/geography of the British Isles is poor to non-existant, but I think of the mining districts being more a feature of lands to the west, Cornwall & Wales, etc. But tin was certainly the most important (in the point of view of importers on the continent) "export product" of the Island(s) before the establishment of an ongoing, official Roman presence. I know there were flint mines not too far north of London, a good friend is originally from Feltwell, but that activity rather significantly predated the Hellenistic age and I don't think there's any geological connection between flint and tin.
Mark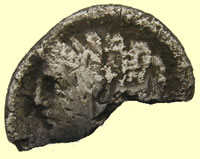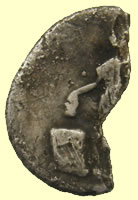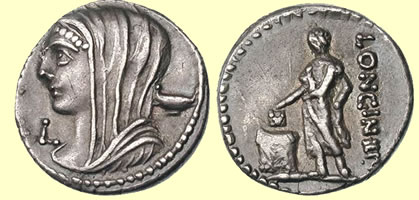 63 BC Roman BC republican silver sent for ID
Believe it or not, this is actually a pretty easy one to identify - mostly due to the fortuitous way it broke and what parts of the distinctive reverse device were left visible.
This is a denarius of L. Cassius Longinus, 63 BC.  The obverse is the veiled and diademed head of Vesta left.  The reverse is really an interesting and important voting scene - "Togate citizen standing left depositing ballot inscribed "V" in voting box."  Off flan to the right is the legend LONGIN III V vertically to the right of the standing figure.
http://www.wildwinds.com/coins/sear5/s0364.html
There are links to another dozen or so specimens of this type on the page to which the URL above links.
Mark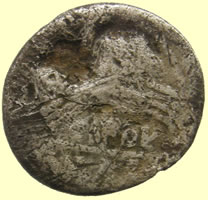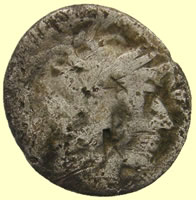 Circa 100 BC Roman republican silver sent for ID - needs a 'cook' to reveal more detail
Plenty adequate detail to ID it, at least. Cn. Foulvius, M. Calidus & Q. Metellus - 117-116 BC - Helmeted head of Roma right / Victory in biga right, holding wreath; beneath, CNFOVL (CNF & VL ligate), M. CAL • Q. MET (CAL & MET ligate) in exergue.
RSC-Babelon Fulvia 1; RRC 284/1; CRR 539a; SRCV 160 var.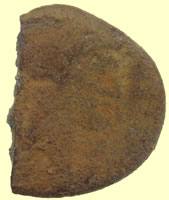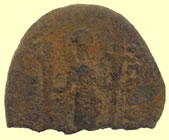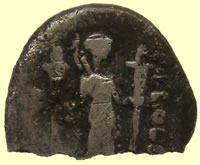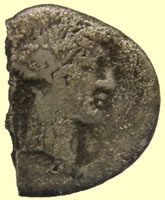 BC Roman republican silver coin - cooking to remove crust and sent for ID
I found a second to go looking for an ID for this one. I was quite a bit off on my first estimated date - dating to 42 BC, it's right on the cusp of the Republican & Imperial periods. The family is Claudia (Babelon/RSC Claudia 15). The obverse is Apollo, head right (should be a lyre behind the head, but that would have been on the missing bit.) The reverse is Diana Lucifera standing holding two torches, with P•CLODIVS downwardly on the right, and M•F• (illegible) to the left.
Crawford 494/23; Sydenham 1117; SRCV 492.
Mark
http://www.stoa.org/gallery/album98/ML_31_Clodia_den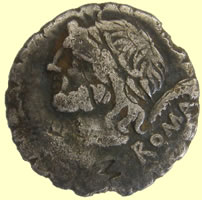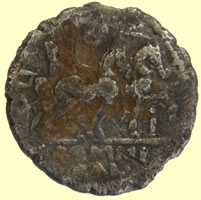 One of the best condition c100 BC Roman Republican silvers I have seen dug, minimal cleaning to remove crust.
Sent to Mark Lehman for ID - 3.36g, 17.56mm
That's a nice one - and it's actually a rare sub-type of this otherwise fairly common denarius.
AR Denarius Serratus.
L. Memmius Galeria, 106 BC.
Obv: Laureate head of Saturn left, harpa and ROMA behind.
Rx: Venus in biga right, cupid flies to left above; in exergue, L•MEMMI / GAL (ME is ligate)
Babelon/RSC Memmia 2b; BMCRR 1328.
Usually a Memmia 2 will have a control letter either beneath the chin on the obverse or below the horses on the reverse. Those without a control letter - like this one - are fairly scarce.
Although it's not immediately apparent, this is a "serrate" denarius - it has a toothed edge. Coins of this type vary geatly in the depth and number of indentations around the edges even among a single type and it is theorized that groups of 10 or so flans were clamped together and a file was used to cut serrations in the edges of all of them at once, pre-striking. This technique could - and did - produce great variations in number of teeth and the depth of the indentations around the edges. It seems that this piece never had particularly deep serration to begin with and wear, etc, has obscured the serration even further on this specimen.
What is less understood is just why they bothered to add this very labor-intensive step to the minting process, and only on a few - less than 10% - of the types.
One leading theory used to be that this was done as a protection against the fourree type of forgery where a copper core was wrapped in thick silver foil which was "soldered" onto the core with an acid flux and heat, then struck. Cutting the edge of a coin was one way to check to see if it had a copper core and so some thought these to have been produced as "pre-cut" to prove that they were silver all the way through. However, it is easily shown that fourrees are just as common among serrati as in the usual, smooth-edged types, which kills that theory fairly quickly.
this is an example of a fourree serrate denarius from my collection:

http://www.stoa.org/gallery/album98/ML_17_Aurelia_den
Another popular theory is that these were for some reason favored by the Gauls and other "tribal" folk to the north where they were more readily accepted in trade than smooth-edged pieces - why this might have been, however, is never explored.
Finally, there's the old "Istanbul/Constantinople" explanation - they might have done it just because they liked them that way - or to make them purposefully different. For a young and ambitious senator, being a aedile moneyer was a difficult and thankless task which was a typical first step on the cursus honorum - the "ladder" by which those senators with political aspirations beyond their participation in the Senate advanced in a career quest the evenual goal of which was to become a Censor or Consul with great power and access to riches. In order to make a name for oneself as an aedile moneyer one method was to produce coins which were in some way different or memorable - but without going too far out-of-bounds in terms of the accepted designs - and in that way serration may have been one step as a part of a political "arms race" among aediles to create "more unique" types.
This seems to have been somewhat of a passing fashion, becoming relatively common beginning around 125 BC, peaking around 100 BC, and then very seldom seen after about 65 BC.
Mark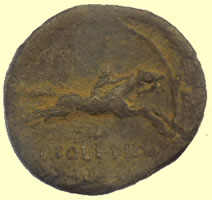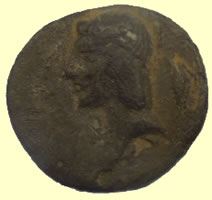 Stunning BC Roman silver sent for ID - needs minimal cleaning
Not terribly old, but it is a very nice, clear specimen. This is a huge type which was produced in great quantities at the time of the wars with the Marsic Confederation and for which dozens of minor varieties and some several hundred separate dies are known. Additionally, his son revived the type and produced it on a much smaller scale in c. 60-65 BC.
L. Calpurnius Piso L.f. L.n. Frugi, 90 BC. Laureate head of Apollo left (this is a little unusual, it's normally to the right) / Naked horseman galloping right, holding whip. [L] PISO LF FRV[GI] below. RSC-Bab. Calpurnia 6-12d
I'm pretty certain that yours is from the father's (Lucius) run of coinage. If you clean this at all it may become possible to figure out what the various fieldmarks and symbols might be - they're all pretty vague and obscured at this point, as is the 1st letter in the name on the reverse. If it happens to be "C" rather than "L", then it's from the son's later run of issues.
This is really one of the most common of all Republican denarii, but this is a really nice specimen, it would appear.
Mark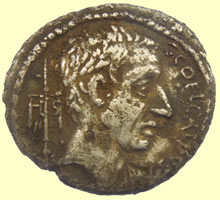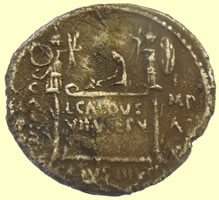 Stunning BC Roman silver coin sent for ID
19.1 mm,3.4g
A quick reply now and I'll hope to get back to it to tell you some of the details later - there are plenty of details. C. Coelius Caldus - this piece dates to 51 BC. - As you can tell, there's a LOT going on on this piece - most of it has to do with preparations fro the Feast of Jupiter. This is not one of the absolute top-dollar types, but it is a sought-after and somewhat scarce piece with a "catalog value" 2-3 times higher than other, more common or less desirable types from the same era.
Cool find!
Mark
I promised you some more details about this lovely denarius - so here they are. This is an issue given to the family Coelia by Babelon in his original work on Republican coins, classifying them by the families of the issuing aediles - a lower-rank job generally given to younger senators and considered one of the first rungs for climbing the cursus honorum to eventual political status including Consul or Censor, etc.
This specific piece is an issue of C. Coelius Caldus, originally attributed to ~c. 62 BC, new scholarship dates this issue a decade or so later in 51 BC. This is a prime example of a young politician trying his best to associate himself with the offices and exploits of his famous ancestors.
The obverse is a portrait of the younger Caius' namesake grandfather who was consul in 94 BC. The "HIS" on the standard behind his head refers to his military victories in Spain. Not really all that clear on your specimen, there is a standard topped with a boar beneath his chin and COS (for "Consul") beneath the neck truncation. I'm uncertain exactly what the boar represents, but it also relates to his grandfather's exploits in Spain. In front of the portrait, the legend reads C COEL CALDVS - the name of both the moneyer and his famous grandfather. The reverse refers to the moneyer's father who held the office of "Epulo Jovis". The scene depicted is a figure "seated on a lofty lectisternum" between two trophies. The stage is inscribed, CALDVS VII VIR EPVL (VIR & VL in monogram) naming him as a "Septumvir of Epulo" - one of seven officials holding this office simultaneously. I'm uncertain what "epulo" means, exactly, but "Jovis" means "of Jupiter" so it is an honorary religious office of sorts. Vertically on the left it reads C / CALDVS, on the right, I / MP / A / X (MP in monogram) "Imperator, Augur, Deceimvir" and below CALDVS III VIR (LDV in monogram) - "triumvir".
There are several sub-types with essentially all these same elements, but variously arranged with legend parts and/or trophies swapping sides of the stage as well as the 2 standards on the obverse swapping location and the HIS on the obverse standard replaced with other abbreviations or by weapons. Yours is RSC Babelon Coelia 7 (out of 6 essentially similar types, differently laid-out, referring to the office of Epulo Jovis numbered 7-12).
An interesting piece, to be sure - and one that is generally valued a good bit higher than the average issue of the era.
Mark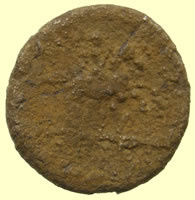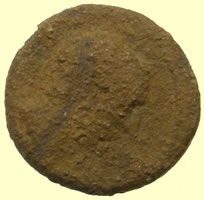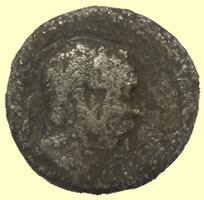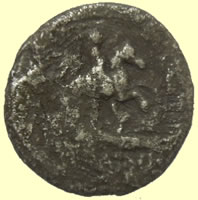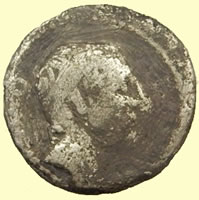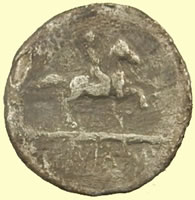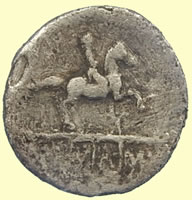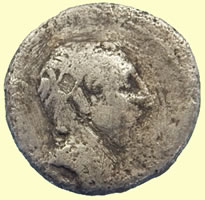 Seems like today was the day to ID this one! I opened the book and it fell open to the page with this piece on it!





L. Marcius Phillipus, 56 BC. Obv: Diademed head of the early Roman King Ancus Marcius right, lituus behind. [ANCVS] (off flan) below.


Rx: The Aqua Marcia aqueduct represented as an arcade of 5 arches surmounted by equestrian statue to right. AQVR MAR (MAR ligate) within the arches; PHILLIPVS (letters barely visible around circumference) to left.


RRC 425/1; CRR 919-1919c; Babelon/RSC Marcia 28-29c; RMM 15.1-2; SRCV 382.

2nd C Roman silver coin - cooking to remove crust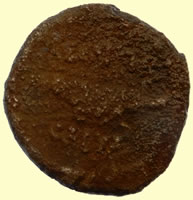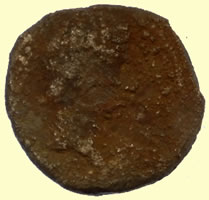 BC looking Republican Roman silver coin - needs cooking to show up detail
Sent to Mark Lehman for an initial ID as it has an unusal obverse symbol

Once I found a minute to have a good look at it, it was easy/obvious. This denarius is by "Octavian" – Gaius Octavius - in other words, Augustus as a young member of the 2nd Triumvirate before he became "Augustus", which he did in 27 BC. This piece dates to ~ 28 BC, or just before he consolidated his power-base to an extent to step into the role of "emperor" which had been carved out by his great-uncle Gaius Julius, (also known as Caesar.)
Nice find! – your diggers are finding some really important and desirable Imperatorial-era coins these days which many an experienced collector would love to be able to own, but are prevented by the very high prices they command – at least they command them when their "opticals" are a bit more market-ready.
Mark
PS – I suspect the so-far "unidentifiable" denarius from a few days ago will also be from the Imperatorial era – it should be interesting to see who it is, eventually, when the obverse legend is revealed a bit.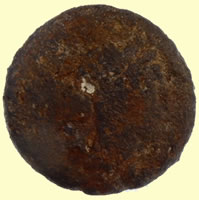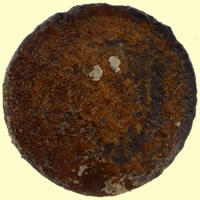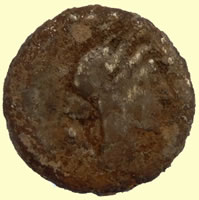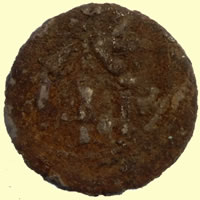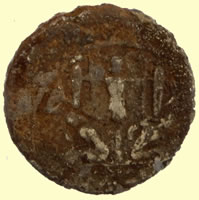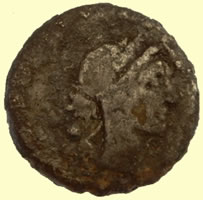 BC Republican Roman silver - needs cooking to remove crust
17mm, 3.56g
This one isn't "Republican", strictly speaking – it belongs to the vague, in-betweensy period typically called "Imperatorial", but which is not all that well-defined in time. It ends, definitively, with the accession of Augustus to the Imperial throne in 27 B.C. – when, exactly, it starts depends on who you are asking, but this era contains the rules of Julius Caesar, Pompey, Marcus Antonius, The "Triumvirates", etc.
In fact, this is an issue of Julius Caesar's, c. 46/5 BC, struck at a mint in Spain. Diademed head of Venus Genetrix right, erote on shoulder / "Gallia" and a Gaulish captive bound, seated at base of trophy – it's not legible (yet) but it should have "CAESAR" in the exergue. The Gaulish captive may be supposed to represent Vircingetorix
Crawford 468/1, Sydenham 1014; RSC Julius Caesar 13.
Nice find! – that's the second Caesar denarius your diggers have found recently in addition to all the Republican stuff – you must be on some late 1st century B.C. – or early 1st century AD (pre-invasion) site.
Mark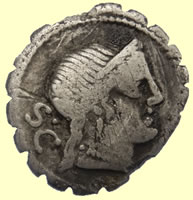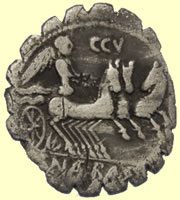 Cleaned up stunning BC Roman silver coin sent for ID
As it turns out, there are very few trigas (3-horse hitch) on Roman coins of any type – only a few among the Republicans which run heavily to quads- and bi-gas. It's C. Naevius Balbus, 79 B.C.
This is specifically the only type of serrate denarius with a triga reverse.
Also, the "SC" on the obverse is quite unusual as well, indicating that the silver for the issue was approved – probably as a huge emergency issue to raise and equip an army during the civil war disturbances at the time of Sulla's dictatorship – by a specific act of the Senate. Not particularly early, and definitely not rare, but in the Republican silver series, it is a unique combination of all of these somewhat lesser-seen elements: serrate, triga, "SC". The "CCV" on the reverse is a control mark and variable.

Mark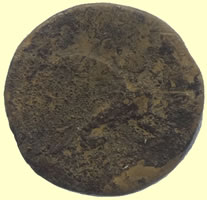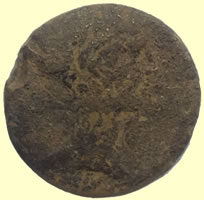 BC Republican Roman silver coin sent for ID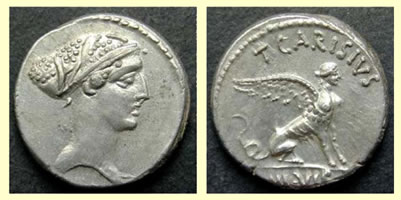 T. Carisius. 46 BC. AR Denarius (17mm, 4.05 g, 4h). Rome mint. Head of Sibyl Herophile right, hair elaborately decorated with jewels and enclosed in a sling, tied with bands / Sphinx seated right; T • CARISIVS above, III • VIR in exergue. Crawford 464/1; CRI 69; Sydenham 983a; Carisia 11; BMCRR Rome 4061; RBW 1613
Technically, this would more correctly fall into the "Imperatorial" category, but you're not wrong if you want to call it Republican
Mark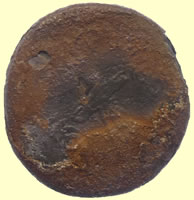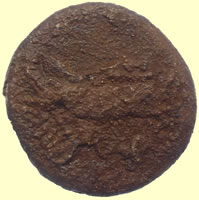 BC Roman silver - cooking to remover crust - sent for provisional ID
I'm afraid you'll need to reveal a bit more here before I have any real chance to ID it. I have a short list of things the reverse might have been, but not enough specific detail to tell if it's a leaping dog or horse – or a galley rowing along – or a crocodile – or something else altogether. I'm not sure what you see on the obverse, but that is also too unclear to be accurately oriented.
If you get an "after" picture when it's been cleaned, at least somewhat, I'll be glad to have another stab at it.
Mark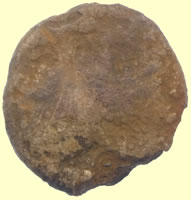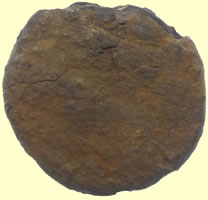 Roman republican silver coin - needs cooking to remove crust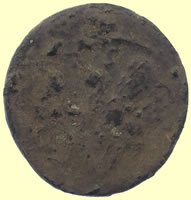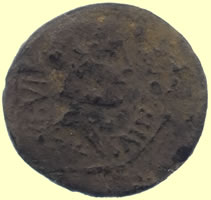 Crusty 50 BC Roman silver with unusual obverse - sent for ID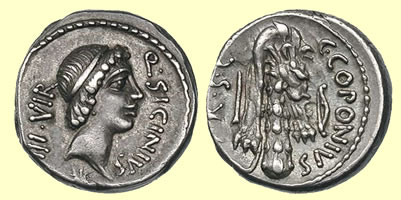 This is the closest I've been able to come. I truly wish I could discern more detail on the reverse, but this "match" seems plausible at least. The obverse is very close to a match, to the extent it can be seen.
It does appear, as I suspected, to be Republican, but so late a date that you could call it "Imperatorial" and not be far off.
Do you have a date for Caesar's British expedition? This might have come over in one of his soldiers' purses if that foiled attempt at conquest was after 49/48 BC. (I suspect it might have been earlier – I'm just being lazy not looking it up, but I'vbe had my nose in a couple books for an hour now.
Here's a photo:
Gens: Sicinia, ca. 49/48 BC Q. Sicinius & C. Coponius
Obv: diademed head of Apollo right, (star below?) Q SICINIVS to right, III . VIR to left (legend clockwise)
Rx: C. COPONIVS PR S.C. club of Hercules surmounted by lion-skin with scalp to right (bow to right, arrow to left?)
Babelon/RSC Sicinia 1; Syd. CRR 939-40; Craw. RRC 444/1; SRCV 413
Would I bet my next social security check on this? – maybe not - but I think I got it pretty close seeing that we only had the obverse to go on, really, and much of that unclear as well. All the legible letters correspond to the legends on a clear specimen – the reverse is somewhat different, but these were all hand cut dies and so variety is the norm, within limits. I also suspect the reverse is double-struck about 25% to left on 2nd strike. You can see dotted border at 3:00-4:00 reverse, and I'm pretty sure the crescent you see inboard of that border from 5:00-6:00 is also a segment of border from a 2nd strike. The obverse is also just about exactly 25% off center to left
Mark