Saxon harness fittings now have their own page
Saxon artefacts have their own page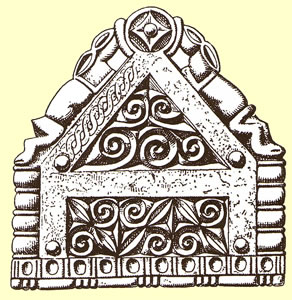 Saxon Bronze ornamental plate
The Angle, Saxon, and Jute tribes who invaded Britain in the 5th and 6th centuries are known as the Anglo-Saxons. They left their homelands in northern Germany, Denmark and northern Holland and rowed across the North Sea in wooden boats.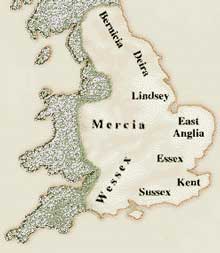 The Anglo-Saxons took control of most of Britain, although they never conquered Scotland, Wales and Cornwall. They divided the country into kingdoms, each with its own royal family. The stronger kingdoms often took control of the weaker kingdoms.
By around AD 600 the five main Anglo-Saxon kingdoms were Northumbria, Mercia, Wessex, Kent and Anglia.

Early Anglo-Saxons wrote using letters called runes. They believed runes had magical powers.
Anglo Saxon England (597 - 687)
The coming of St. Augustine, triumph of Rome-oriented Christianity, Saxon control of island, rise of Mercia, Offa's Dyke.

Anglo Saxon England (688 - 801)
Rise of Wessex, King Ine establishes his law, Venerable Bede, Viking invasions.
Anglo Saxon England (802 - 898)
Triumph of Egbert, development of Wessex dynasty, Viking wars, Alfred the Great, St. Swithun, Peace of Wedmore, the Danelaw.

Anglo Saxon England (899 - 977)
Athelstan, St. Dunstan, growth of monasteries, more Viking wars, Battle of Brunanburh
Anglo Saxon England (978 - 1066)
Aethelred the Unready, Danegeld, Danes gain English crown, Edward the Confessor, rise of the Godwins, Westminster Abbey, Harold and William at Hastings.

Mercian Rule
Wulfhere 658-675
Aethelred I 675-704
Coenred 704-709
Coelred 709-716
Coelwald 716
Aethelbald 716-757
Beornred 757
Offa 757-796 - see coin find below
Egfrith 796
Coenwulf 796-821 - see coin find below
Cenelm (St.) 821
Ceolwulf I 821-823
Beornwulf 823-825
Ludecan 825-827
Wiglaf 827-828
Under Wessex Rule 828-830
Mercian Rule
Wiglaf (again) 830-840
Wistan (St.) 840
Beorhtwulf 840-852
Burghred 852-874
Sub-Kings under Norse Rule
Ceolwulf II 874-879
Mercian Rule
Aethelred II 879-884
c. 561
Coins are minted again in England by Bishop Liudard

The minting of coins in Britain had been abandoned after about 435 as a result of the Anglo-Saxon invasions. Bishop Liudard came over from France with the Merovingian Princess Bertha who married Prince Aethelbart who later, in 590, becomes King of Kent.

c. 604-616
Bishop Mellitus issues gold coins from a mint in London

These are used more for ornament than as currency.

620-625
Sutton Hoo ceremonial Saxon burial ship

Among the various treasures on board, are 37 Merovingian gold coins, but no English coins.

c. 630
Saxons first start to produce gold coins in significant numbers

As a result of the gradual rebuilding of commercial and cultural contacts with France and Italy Anglo-Merovingian types of coinage begin to circulate in south-east England.

c. 630-c. 650
Crondall hoard of coins

A hoard of 101 gold coins, most of which were minted in England, is buried at Crondall in Hampshire. The precise date is not certain.

c. 675
Silver starts to displace gold in Saxon coinage

Initially silver is used with gold as an alloy but early in the 8th century silver and base metals are the only ones used.

752
Pepin the Short of France starts minting the Denier

This new silver coin serves as a model for the English penny.

757-796
Reign of Offa, King of Mercia the most powerful Saxon Kingdom

During Offa's reign the minting of coins in England reaches new heights, both in terms of quality and quantity.

c. 765
King Heaberth of Kent produces the first English pennies

After the conquest of Kent by Offa, King of Mercia, production of the silver penny increases enormously and it replaces the older, more crudely designed sceat as the main English coin, except in Northumbria.

789
Vikings raid Portland

For the next 2-3 centuries England is subjected to repeated Viking attacks.
Saxon/ Merovingian & Frisian gold coins

Comments by all coins are from Dr Martin Allen who records our coins on the Fitzwilliam museum Early Medieval Corpus National database

Saxon gold solidus ? sent to Fitzwilliam museum for recording and ID- Turns out to be neither Saxon or Roman but our first Visigoths in Gaul coin

1.32g,14.1mm

This is very interesting find, but unfortunately it is notAnglo-Saxon and neither is it a solidus. This is a semissis (half solidus) ofJulius Nepos (474-5), from the Rome mint (RIC X, 3207). The damage mayhave been caused by removal of a mount.

I have recorded this as EMC 2015.0080 from 'near Colchester'.

Best wishes,

Martin>

Julius Nepos - Sure, he's one of the final "emperors" of the Western part of the Empire (huddled in Ravenna, waiting for the Gothic axe to fall) Julius Nepos had a first reign from 24 June 474 - 28 August 475. Then he fled and "enjoyed" a period of exile and a so-called "2nd reign" in exile in Dalmatia from September 475 - 9 May 480.

His successor in Italy in 475-6 was the pathetic child-emperor Romulus "Augustulus", who returned the Imperial regalia to Constantinople in 476 - saying "I give up, this is impossible" or words to that effect. This moment is basically the end of the Western Roman Empire - except in the minds of all the barbarians who believed themselves to be the emperors continuing Roman "civilization" as Europe fell into feudalism.

This is a "Tremissis", or one third of a Solidus. It appears to be from the mint at either Rome or Ravenna - it's only possible to tell the difference between the Rome, Ravenna and Milan issues of this type by the style and workmanship. It also appears to have been crudely broken off a soldered jewelry mount of some sort. I only checked it quickly in Sear. I will have a look in the RIC later, but RIC vol X is a beast of a book, both physically and to look up specific emperors and types - particularly in the chaotic final days of the Western Empire.

"Cool beans!", however, as my kids would probably have said with they were teenagers - gold is always a great find!

Mark

Martin Allen forwarded details of this coin on to me which I have entered on our database:

Unique ID: FASAM-310211

Object type certainty: Certain
Workflow status: Awaiting validation

Gold tremissis, attributed to the Visigoths in Gaul, copying a coin of the Roman emperor Julius Nepos (AD 474-5) struck at Rome, dating to c. AD 475-500. Obverse: D N IVL NE - POS P F AVG; Pearl-diademed, draped and cuirassed right, with probable diadem above bust. Reverse: Staurogram in Wreath. Mintmark: COMOB. RIC X, p. 461, no. 3766var. RIC 3766 has a cross above the bust. Incomplete, possibly because a mount has been removed.

 

https://finds.org.uk/database/artefacts/record/id/710744

You will see I have re-identified the coin.

I was wondering if you could provide me with a find-spot and finders name.

With best wishes,

Sam

Dr Sam Moorhead
National Finds Adviser for Iron Age and Roman coins

Merovingian tremissis of the 7th century

Saxon gold coin - this is part of an existing hoard and reported as hoard to the museum

Sent to Fitzwilliam museum for ID and recording

1.18g, 11.73mm

c 600/800 AD Saxon gold coin send to Fitzwilliam museum for ID and recording

1.35g, 13.87mm

'Saxon' gold coins not in the reference books are usually Merovingian tremisses, and this coin (EMC 2010.0130) is no exception to this rule.
The coin seems to be unworn and from relatively undamaged dies, but the inscriptions are garbled. I have not found any similar coins in the reference books on Merovingian coins (which is not unusual), but if I receive any clarification from one of the continental experts on Merovingian coins I shall let you know.

Merovingian gold coins greatly outnumber Anglo-Saxon gold coins as finds in England.

With thanks,

Martin


1.26g,15.08mm

2nd Saxon gold coin found in same location as the one above - reported to Colchester museum as potential hoard

Merovingian tremissis of the 7th century

1.26g,15.08mm

This coin (EMC 2010.0131) is a Merovingian tremissis of Coutances (dep.
Manche), moneyer Piontus, from the same dies as Belfort 1681, Prou 299.
The obverse names the mint *CVSTANCIA [S reversed] and the reverse names the moneyer PIONtVS. Priou reads the moneyer's name as tVSPION but Belfort's reading PIONtVS is now accepted as the correct one.

Keep looking.

Martin


Merovingian tremissis of the 7th century

Saxon gold coin - this is part of an existing hoard and reported as hoard to the museum

Sent to Fitzwilliam museum for ID and recording

This sucker is tiny and mint 1.30g, 10.21mm, totally different from the others

Many thanks. A preliminary trawl of the works of reference has not yet
produced any result unfortunatetely.

Best wishes,


Martin

I have not recorded this in EMC as it is probably not a single find.
There have to be a proper hoard publication in due course, but while the finds are still appearing that may be rather premature.

Best wishes,

Martin

7thC Saxon gold Tremissis 1.27g, 13.16mm

'The new find (EMC 2007.0069) is a Merovingian tremissis of the 7th century. The name of the mint on the obverse seems to read PAATICIACO, and the moneyer's name on the reverse is DEAIRENASCA. I have found a coin with a fairly similar obverse inscription (PATICACO VIGO) from an unidentified town in the region of Tours (Prou 413). If I obtain any more information I shall let you know.

I have passed on your enquiry about the nature of the site to Mark Blackburn, who is much better qualified than I to answer it. The evidence you are finding for early Anglo-Saxon activity in the area is certainly very impressive'.

Saxon period gold coin 6th/8thC, Early Continental (Merovingian Francia) (584-750), Ruler: anon. (tremissis) (590-675). Found by Boston Bud (Y)

EMC number 2004.0030 (Ref: Reported by Caroline MacDonald, FLO for Colchester)
State: Early Continental (Merovingian Francia) (584-750), Ruler: anon. (tremissis) (590-670)
Type: Merovingian tremissis (500-675)
Mint: Thiré (TIDIRICIACO), moneyer: Gundobode (GVNDOBODE).
Weight: 1.47g.
Uncertain Findspot.
Obv. TIDIRICIACO
Rev. +GVNDOBODE
Source:
Comments: Cf. Belfort 4297

Thanks to Bud for sending more some more information he researched about his coin. I must admit I knew nothing about this period so this is fascinating stuff.

Merovingian Tremissis

The Merovingian dynasty is said to have begun in 481 with King Clovis I, king of the Franks, who defeated the last Roman army in Gaul. King Clovis, a Salian Frank, supposedly descended from a mythical hero named Merovech. The dynasty ended with the power of the last Merovingian kings being taken over by a prime minister, Pippin the short (752-768). His son Karel (Charles) the great or Charlemagne (768-814) initiated the Carolinginan Dynasty.

The Merovingian Dynasty, ca 500-751
The Carolingian Dynasty, 752-911
The Saxon Dynasty 919-1024

Here is a site listing the Merovingian Rulers

http://www.ac.wwu.edu/~stephan/Rulers/merovingian.html

It is said that the Franks were the only tribe to make and use coins. Circulated gold coins were called Solidi and Tremissis. They were crude coins with simple portraits and figures. In the EMC at the Fitzwilliam Museum, where coins can be viewed on line. http://www-cm.fitzmuseum.cam.ac.uk/ I found about 80 Tremmisis. All look different to me.

The gold tremmisis found here is described as "early" continental Merovingian Francia (584-750) because at the end of the 7th century, gold coins were replaced by silver denarii or pennies. Silver coins from the Netherlands are called sceattas

English Saxon Thrymsa gold coin - 'Witmen type' c620 -650 AD named after the hoard found in 1828. Sent off to the Fitzwilliam museum Corpus database for recording 1.26g, 11.46mm

Recored as EMC 2007.0302.

c 8thC Saxon gold coin

Unusually thick coin for a Saxon

1.31g,9.51mm x 1.61mm thick

Many thanks for this new coin, which I have recorded as EMC 2011.0044.

Most 'Saxon' gold coins found in this country are Merovingian tremisses, and this is no exception to that rule. As you rightly say it is too thick to be Anglo-Saxon. The absence of an readable insription is a problem and I have been unable to find an illustration of a similar coin in the reference books on Merovingian coins (not an unusual experience).
If I get any further with this coin I shall let you know.

Cut halve of an Anglo-Saxon gold shilling

0.87g, 12.39mm

As usual this coin (EMC 2011.0059) is Merovingian and not Anglo-Saxon, but an important find nonetheless.

We have recorded two cut halves of Anglo-Saxon gold shillings in recent years, and a cut half of a Series B sceat, but this coin is noticeably more than a half (between two-thirds and three-quarters), so it may have been cut up as bullion.

This is developing into a really interesting hoard.

Best wishes,

Martin


I should have mentioned that there is no obvious match in the works of reference on Merovingian coins, but the inscriptions are legible, which gives some hope of identification eventually.

Martin

Merovingian Saxon gold tremissis of the 7th century - reported to museum as hoard

1.19g, 13.5mm

The expert on Merovingian coins (Dr Arent Pol) has not been able to suggest a specific identification of yesterday's find, beyond an observation that it 'belongs to the so-called "first provençal type" that was widely imitated in the North-Eastern part of present-day France'.

Best wishes,

Martin

Monster rare coin ID'd Frisian imitation (c.830-850)

Wierd ancient coin - looks like a Roman but with more medieval style lettering - sent off to both medieval and Roman experts for their views

This is copper alloy plated imitation of a Frisian imitation (c.830-850) of the gold solidus of Louis the Pious (814-840). There have been many single finds of these Frisian imitations, including cut fractions of them, but this is the first plated copy I have seen.

I have recorded this as EMC 2013.0106. If it should ever be available to acquire please let us know.

Best wishes,

Martin
Saxon silver penny

This coin looked like it had a fresh break with the chunk missing when dug. Dropping it in lemon juice prior to cleaning gently is has fractures in two places. Time to test our goldsmiths repair skills again

825 - 845 Athelstan I of East Anglia, North 439

Obv ETHELSTAN in centre A

Rev REX ANG Omega

1.16g, 18.53mm

1042 Saxon Edward the Confessor hammered silver penny- expanding cross type 0.72g, 18.48mm

Sent off to the Fitzwilliam museum for recording and ID confirmation

Many thanks for this new find, which I have recorded as EMC 2012.0095.

This is a coin of the London moneyer Spracelinc, with the first letter and part of the second letter of the moneyer's name visible.

Best wishes,

Martin

Saxon hammered silver penny - sent to Fitzwilliam museum for recording and ID

This is 975 - 978 AD Edgar, Edward the Martyr or Æthelred II First Small Cross. I have recorded it as EMC 2014.0097.

Thanks,

Martin

First King Eadred (also known as Edred) Saxon silver penny we have found

946 AD Eadred Saxon hammered silver penny - Crowned bust type - sent to Fitzwilliam musuem for ID and recording

Obv EADRED REX

Rev Small cross pattee - Moneyer name does not appear in my ref books

20.42mm, 1.30g

King Edred was born in about 923 AD, a son of King Edward the Elder by his third marriage. He succeeded his brother, King Edmund I, in 946. Like both his elder brothers, Edred enjoyed military success over the Vikings. However, Edred was a strongly religious man with bad health (he had a stomach ailment and could barely eat). He died on November 23, 955, at Frome in Somerset, and was buried at Winchester. He was succeeded by his nephew, King Edwy.

Many thanks for this new find, which I have recorded as EMC 2012.0280.
This is a coin of the moneyer Nothelm with a style indicating that the mint is probably Norwich. It is from the same dies as SCBI 34, 709 (in the British Museum).

Best wishes,

Martin

Saxon silver penny sent to Fitzwilliam for recording and ID - reported as hoard to museum

This is 1016 AD Cnut Short Cross type, London, uncertain moneyer, EMC 2014.0102.

Thanks,

Martin

Saxon hammered silver cut half penny fragment - sent to Fitzwilliam museum for recording and ID

As dug

Cleaned

8thC Saxon Offa Rex silver penny - in 'cooker' to remove crust

sent to Fitzwilliam museum for ID and recording

Different type pf the other we have found

16.22mm,1.31g

The images of this new coin (EMC 2012.0110) are good enough to see that this is from the same dies as three of the five specimens of this type in Derek Chick's The Coinage of Offa and his Contemporaries (Chick 31c-31e). It may well look magnificent once it is cleaned.

Best wishes,

Martin

Saxon silver penny - Æthelred II 978 AD of the 'First Hand, type

20.85mm dia - 3g

Saxon silver penny of Æthelred II 978 AD sent for recording and ID

1.22g,20.34mm

This coin (EMC 2011.0084) belongs to the First Hand type (note the absence of a sceptre on the obverse and the plain sleeve without a curve at each side). The Benediction Hand type has two fingers bent in blessing.

The moneyer is probably Eadsige or Wynsige.

With thanks,

Martin

995-7 Late transitional period - Æthelred II 'crux' type South Eastern mint bust type Fig 2 - Eadpold, moneyer

Bar headed bust left Voided short cross with C,R,V,X in angles

Obv + AEDELRED REX . ANGLO\X, written with seperate R & X

Rev + EADPOLD M : U CAENT - Canterbury mint

Æthelred the Unready, or Æthelred II,(c. 968 – 23 April 1016), was a king of the English (978–1013 and 1014–1016). He was a son of King Edgar and Queen Ælfthryth. His reign was much troubled by Danish Viking raiders. Æthelred was only about 10 (no more than 13) when his half-brother Edward was murdered and was not personally suspected of participation. But as the deed occurred at Corfe Castle by the attendants of Æthelred's mother, it made it more difficult for the new king to rally the nation against the invader, especially as a legend of St Edward the Martyr soon grew. Later, Æthelred ordered a massacre of Danish settlers in 1002 and also paid tribute, or Danegeld, to Danish leaders from 991 onwards. In 1013, Æthelred fled to Normandy and was replaced by Sweyn, who was also king of Denmark. However, Æthelred returned as king after Sweyn died the following year. "Unready" is from Anglo-Saxon unræd, meaning ill-advised

995-7 Late transitional period - Æthelred II 'crux' type South Eastern mint bust type Fig 7 - Eadpold, moneyer

Bar headed bust left Voided short cross with C,R,V,X in angles

Obv + AEDELRED REX . ANGLO\X, written with sperate R & X

Rev + EADPOLD M : U CAENT - Cantebury mint

Æthelred the Unready, or Æthelred II,(c. 968 – 23 April 1016), was a king of the English (978–1013 and 1014–1016). He was a son of King Edgar and Queen Ælfthryth. His reign was much troubled by Danish Viking raiders. Æthelred was only about 10 (no more than 13) when his half-brother Edward was murdered and was not personally suspected of participation. But as the deed occurred at Corfe Castle by the attendants of Æthelred's mother, it made it more difficult for the new king to rally the nation against the invader, especially as a legend of St Edward the Martyr soon grew. Later, Æthelred ordered a massacre of Danish settlers in 1002 and also paid tribute, or Danegeld, to Danish leaders from 991 onwards. In 1013, Æthelred fled to Normandy and was replaced by Sweyn, who was also king of Denmark. However, Æthelred returned as king after Sweyn died the following year. "Unready" is from Anglo-Saxon unræd, meaning ill-advised

Saxon hammered silver penny

Sent off to the Fitzwilliam museum for recording and ID confirmation

1016 AD Cnut's Short Cross type, probably from York, with a mint signature that might be read as [  ]RPI.

1050- 1053 Saxon - Edward the Confessor hammered silver penny - expanding cross type - heavy coinage ?

Obv EDWERD REX : +

Rev (Wulfsige) ON GIPESWIC (Short cross voided with expanding limbs) - IPSWICH MINT (GIPESWIC)

EMC 2008.0136.

1.63g, 19.87mm

'I have recorded it as EMC 2008.0136.

The portrait with two toggles on the mantle certainly differs from the types illustrated in North, but these illustrations were drawn in the the early 1960s to show the main types only. There are many variants, and the three other coins of this type, mint (Ipswich) and moneyer
(Wulfsige) in EMC/SCBI also have this portrait variant. I can send images of the coin to Gareth Williams, who is compiling a die study of the Expanding Cross type, and pass on his comments.'

'This is extremely interesting. It is very promising.

Gareth Williams has commented that the Ipswich coin 'seems to be from the same dies as one of our [British Museum] coins (1950,6-5, 1) and the same variation in the design is also found on two different obverses of Bruninc of Ipswich. However, it isn't a purely local variation, as the same bust appears on selected coins of Colchester, Gloucester and London, and a related variation at Dover, although these represent the minority of dies from the mint in each
case.'

Martin

957 AD King Edgar -Saxon hammered silver penny 18.29mm, 0.59g- sent for confirmation of ID and recording to the Fitzwilliam museum

Many thanks for this find, which I have recorded as EMC 2009.0377. It is a coin of Edgar's Bust Crowned type, with the last letter of the king's name, R, visible on the obverse. Unfortunately the remaining portion of the reverse inscription is a garbled version of MONETA (MONEAT), and consequently the mint and moneyer are uncertain.

Best wishes,

Martin

King Offa - 780 - 792 King of Mercia hammered silver .0.92g - 16.64mm EMC 2006.0181

EMC 2005.0229

King Offa - 780 - 792 King of Mercia hammered silver 1.27g, 16.67mm

OFFA REX ('King Offa') and, on the reverse side, Eð / IL / VA / Ld ('Ethilwald' - the moneyer who authorised the minting of the coin).



During Anglo-Saxon times when England was divided between seven or so kingdoms, the last and greatest ruler of the central kingdom, Mercia, was Offa who ruled from 757 to 796. His military capital was at Sutton Walls near Sutton-St-Nicholas, and it is probably that Hereford was his civil one, hence Offa street.The name Mercia means boundery and indeed Offa's kingdom straddled the Welsh border with the city of Hereford on the very frontier. Offa built the first defences for Hereford after it was attacked by the Welsh in 769. These consisted of earth and timber banks surrounded by a deep ditch, the outline of which is marked in the subway at Eign gate.These structures can still be traced today, but Offa's greatest legacy was the monumental defensive earthwork he constructed between England and Wales, famous as Offa's Dyke to try and keep out raiding parties and possibly also as a springboard from which the Mercians could launch attacks Wales.Apart from where rivers supplied a boundery, this dyke ran 120 miles from Clwyd to the Severn estuary. It was a 6-feet-deep trench fronting a rampart 19ft high. Garrisons were positioned at regular intervals along its length. With some 80 miles of it still surviving, it is the largest earthwork of its type in Europe.Under Offa Mercia became the overlord of the Anglo-Saxon kingdoms south of the Humber, and he styled himself as Rex Anglorum (King of the English). He gained control of Wessex through alliances of marriage and Kent and Essex by military might.London grew as Offa strengthened trading links with the continent, including with the Holy Roman Emperor, Charlemagne. Liason was establish between the two kings with mutual esteem until they fell out over marriage proposals concerning their children.Offa coined the first silver pennies which were such a high standard of weight, size and artistry that they set the basic for English coinage for the next 600 years.Interestingly he minted some coins with the inscription 'There is no God but Allah'. Some have speculated whether he was a convert to Islam though this is very unlikely, these were probably made for export, as in other ways he acted like a Christian king. He held a synod in Chelsea ca. 787,and granted land at Harrow to the Abbey of St Albans which he founded.Unfortunately one dark event casts a shadow over his reign. In 972 King Ethelbert of East Anglia travelled to Hereford hoping to marry Offa's daughter, Elfrida. But Offa's queen, Quendreda felt that this might make Ethelbert powerful enough to replace Offa as the greatest ruler in England. He persuaded Offa to have Ethelbert beheaded and burried beside the Lugg.However, that night miracles occurred where the dead king lay. Offa felt guilty and had Ethelbert's remains moved to Hereford Cathedral and built a shrine to house them. Ethelbert was made a saint, his tomb attracted pilgrims whose money couple with donations from Offa allowed the Cathedral to be rebuilt far more grandly. As a further sacrifice of penance he gave the patronage of Wood street, London and land at Stanmore to the Abbey of St Alban's.

Coenwulf, king of Mercia (796-821) 1.31g, 19.78mm

EMC 20050226

'This is a good example of the earliest East Anglian coinage of Coenwulf (North 363). It is quite rare, as there are only two other examples of North 363 on EMC, from dies of different styles'.

Following Offa on the throne of Mercia was Coenwulf, who succeeded the great king in name and deed. He was indeed an overlord, much as Offa was, and he played the part well. He even had his own silver penny made.Coenwulf, of course, had really succeeded Ecgfrith, Offa's son, who managed to hold onto the crown for only 141 days. Coenwulf proving himself the better man for the throne, Ecgfrith paid for his defense of his father's bloodline with his own blood.Coenwulf soon went about continuing the anti-Welsh doctrine of Offa, engaging the Welsh on their own land in the 797 Battle of Rhuddlan. Fighting against a combined force from Powys and Dyfed, Coenwulf scores a convincing victory, even gaining for himself the spoils of killing Dyfed's King Maredydd.After this significant victory, Coenwulf continued into Wales. The next year, at a battle in Snowdonia, Coenwulf and his crack Mercian troops add Gwynedd's King Caradog to the list of the Welsh kings killed in battle. Coenwulf's domination of eastern Wales is nearly complete.Not much more is mentioned in the Anglo-Saxon and Welsh chronicles of the times, for a number of years. We are left to assume that the struggles between the two peoples continued off and on. The thread of Coenwulf in Wales is taken up again in 818, when the chroniclers tell us that the Mercians raided Dyfed. (One chronicle uses the word "ravaged.")Coenwulf continued his campaigning in Wales until his death at Basingwerk, in 821. His target at the time: Powys.So we can see from a simple glance at a map that Coenwulf and his Mercians were controlling a vast amount of territory at this time. In addition to most of Anglo-Saxon England (in one way or another), Mercia now controlled or could lay claim to much of Wales. The results of Coenwulf may very well be seen to have outstripped even the lofty ambitions of the great King Offa.Coenwulf did his part for the Church as well, granting money for the establishment of churches and abbeys throughout Mercia. But such offerings to the Church did little to assuage the concerns of the common people, who were suffering the most under the Mercian yoke. The tradition of Offa, reinforced by Coenwulf, went a long way toward the viewing of Mercia as "the beast." In just a few years more, Wessex would be seen as the instrumental of salvation from the oppression precipitated by Mercia.

Saxon hammered silver penny - sent to Fitzwilliam museum for recording and provisional ID

Our goldsmith needs to work his magic on this very rare coin - very crisp detail on this coin

1.22g, 18.30mm

This is a very interesting find, providing a new type for the Heavy Coinage of Offa. It is a coin of the London moneyer Eama, with some similarities to Chick type 207 (Blunt 90; a unique coin from the Delgany hoard), but the triple-stranded cross is new. The first three letters of the moneyer's name (EAM) are clearly visible in the images, and you might be able to see whether the final A is visible on the coin itself.

Presumably the obverse, which almost entirely obscured by the bending of the coin, has M / OFFA / REX in three lines, of which the M is visible in the images.

I have recorded this as EMC 2012.0121.

Martin

axon hammered silver cut half penny fragment - sent to Fitzwilliam museum for recording and ID

1016 AD

 

This is a coin of Cnut's Short Cross type, probably from York, with a mint signature that might be read as [  ]RPI. I have recorded it as EMC 2015.0078.

Cut fractions are rare before the reform of the coinage by Edgar in the 970s, but increasingly common thereafter.

Best wishes,

Martin

Saxon hammered silver penny - too fragile to clean - reported as potential hoard

Sent to Fitzwilliam museum for recording and ID

978 - 1016 AD Æthelred II's Long Cross type

Saxon hammered silver penny - too fragile to clean - reported as potential hoard

Sent to Fitzwilliam museum for recording and ID

978 - 1016 AD Æthelred II's Long Cross type

Saxon hammered silver penny - sent to Fitzwilliam museum for recording

20mm, 1.16g

Many thanks for this new find, which is Offa of Mercia Heavy Coinage (792/3-796), East Anglian mint, moneyer Wihtred, reading UI / HT / [ ] / [ ]. This is type 258 in Derek Chick's The Coinage of Offa and his Contemporaries (part of North type 338). I have attached adjusted images showing the correct orientation, which might be helpful.

This is the first EMC find from Ramsey.



Best wishes,

Martin

5 potential Saxon hoard coins below

Saxon silver penny fragment sent to Fitzwilliam for recording and ID - reported as hoard to museum

Saxon silver penny fragment sent to Fitzwilliam for recording and ID - reported as hoard to museum

Saxon silver penny sent to Fitzwilliam for recording and ID - reported as hoard to museum

This is probably a 1016 AD Cnut Short Cross type

Saxon silver penny fragment sent to Fitzwilliam for recording and ID - reported as hoard to museum

C10thC Saxon silver coin centre - send for ID and as potential hoard to museum

This must be a Circumscription Cross type from before Edgar's reform, and so it cannot be part of the hoard.

Best wishes,

Martin

Saxon hammered silver penny - sent to Fitzwilliam museum for recording and ID

Looks like 975 - 978 AD Edgar, Edward the Martyr

I have recorded this new find as EMC 2016.0109. This is a coin of Eadgar's Reform Portrait type - +EADGA[ ] is legible onthe obverse. I have not been able to decipher the reverse inscription.



Thanks,

Martin

These four new fragments and the Cnut Short Cross fragment reported in 2014 seem to be from five separate coins.

The largest new fragment reads +PVLFP[ ], which is the beginning of numerous moneyers' names in the Short Cross type, and the surviving portion of the moneyer's name on the the other fragment with a visible inscription - [ ]FPO[ ] - is equally ambiguous.

Best wishes,

Martin

Saxon silver scea

t

- Circa 600-775

AD
Primary Saxon silver sceat 600- 700 AD - 'cooking' it to clean off crust

'Cooked'

Many thanks for this new coin, which is EMC 2012.0210, Series C1.

Good luck with the cooking.

Best wishes,

Martin

Exciting find. I was 'cooking' this sceat found last week and thought this silver is too pure for a sceat and then noticed the edge. It is a contemporary forgery with 2 thin sheets of silver over a base inner. First one we have ever found,

Primary Saxon silver sceat 600- 700 AD - 'cooking' it to clean off crust

Sent to Fitzswilliam museum for recording

1.27g, 12mm

Many thanks for this new find, which I have recorded as EMC 2014.0289.

We can hope that the 'cooking' will improve the detail, but this does seem to be Series E, G3, as you suggest.

Best wishes,

Martin

Obv Pointed nose face, bust facing right

Many thanks for this new coin, which I have recorded as EMC 2012.0101.
This is of course a Series D (Type 2c) Continental sceat of c.700-715.

Best wishes,

Martin

1.13mm, 12.55mm

This coin (EMC 2012.0103) is a good example of the MONITASCORVM group, which is certainly very interesting.

Some coins with a similar portrait read MONITASCORVM, which probably means 'money of the saints' (MONITA S[AN]C[T]ORVM), and there are other coins that clearly state that they are from London: DE LVNODNIA, some of which (as here) have SCORVM on the reverse under the 'porcupine'. The most likely (but still speculative) explanation of these inscriptions is that this is a coinage of the bishops of London.

Best wishes,

Martin

11.53mm1.12g

This new find (EMC 2012.0106) is a good example of a late phase of the Vanimundus coinage (VaBII). Along with the Pada type, Vanimundus marks the transition from gold to silver coinage in the 670s/680s. Early coins in VaA are gold but late coins in VaBII are of silver with perhaps a small amount of gold.

Dr Martin Allen

12.22mm,1.21g

Many thanks. I have recorded this as EMC 2012.0124. It is Series E Plumed Bird variety J (an early variety in the primary phase of Series E, c. 700).

Best wishes,

Martin

1.14g,12.06mm

Many thanks.

I have recorded the new coin (Series D (Type 8)) as EMC 2011.0085.

Best wishes,

Martin

1.12g,11.99mm sent for recording and ID

There is of course no problem with the sceat (EMC 2011.0045) , which is Series D (Type 8) and presumably Frisian.

Best wishes,

Martin

10 - Saxon silver sceat hoard below - found March 2018 currently with British museum

C600 -775 Saxon silver sceat hoard coin 1 - reported as hoard to museum

1.32g,11.90mm

C600 -775 Saxon silver sceat hoard coin 2 - reported as hoard to museum

1.16g, 11.73mm

C600 -775 Saxon silver sceat hoard coin 3 - reported as hoard to museum

1.41g,11.74mm

C600 -775 Saxon silver sceat hoard coin 6 - reported as hoard to museum

1.05g,11.98mm

C600 -775 Saxon silver sceat hoard coin 5 - reported as hoard to museum

145g,12.84mm

C600 -775 Saxon silver sceat hoard coin 7 - reported as hoard to museum

1.41g,12.35mm

C600 -775 Saxon silver sceat hoard coin 8 - reported as hoard to museum

1.41g,12.33mm

C600 -775 Saxon silver sceat hoard coin 4 - reported as hoard to museum

1.25g, 12.06mm

C600 -775 Saxon silver sceat hoard coin 9 - reported as hoard to museum

1.43g,11.97mm

C600 -775 Saxon silver sceat hoard coin 10 - reported as hoard to museum

1.39g, 12.17mm




12.08mm,1.25g

'Many thanks for this interesting new find, which I have recorded as EMC 2008.0410.

This seems to be a new variety of the Vernus type, with an inscription reading VE[N?]VEO. It does not really belong to any of the varieties of the Vernus type described in Michael Metcalf's Thrymsas and Sceattas.
The curved object on the obverse is probably derived from the 'plumed bird' type of Series E, which Metcalf suggests is the origin of the Vernus type. The relatively high weight is normal for the Vernus type, but your comment about the debasement of the silver is interesting.

Regards'

Martin

1.20g, 12.12mm

'Thank you for this Series C1 sceat, which I have recorded as EMC 2009.0301.'

Good luck for the new season.

Martin

The series C1 is an early coin with high silver content C 600 AD

Primary Saxon silver sceat 600- 700 AD - sent to Fitzwilliam museum for recording and ID

0.85g, 11.24mm

Many thanks for this Series BIB sceat, which I have recorded as EMC 2012.0138.

Best wishes,

Martin

1.23g, 12.22mm

Many thanks. This is EMC 2011.006.

This is of course Series D (Type 2c).

Best wishes,

Martin

1.19g, 12.11mm

Many thanks for this new find (EMC 2011.0076), which is Series BII

Dr Martin

1.16g, 10.98mm

Series D (Type 2c) (North 168) EMC 2007.0239.

1.13g,11.28mm

'(Series C2), which I have recorded as EMC 2007.0228'.

Many thanks for this Series E (variety G3), which I have recorded as eMC 2010.0133.

Martin


1.20g, 12.26mm

0.88g, 11.07mm - Series C2 and recorded as EMC 2007.0268.

1.07g, 11.62mm

'Thank you for this new coin, which I have recorded as EMC 2007.0087.This is an imitation of Series B, derived from Series BI. Metcalf illustrates six imitations of Series B (nos 107-112), which show the great range of variation found in these imitations'.

'Thanks for the new find, which I have recorded as EMC 2007.0081. It is an interesting imitation of Series R, which does not closely correspond to any of the Series R subtypes'.

'Many thanks for the latest find (EMC 2006.0342), which is excellent example of the Series C1 inverted type'.

0.94g - 11.09 mm

'The sceat is Series F, variety bi (Metcalf, p. 129) (EMC 2006.0335)

'After puzzling over the reverse inscription of your second coin (EMC 2006.0336) for some considerable time I realised this is actually a Pada type III sceat (North 31). The reverse inscription is not as clear as it
might be, but you can just see the runic letters of Pada, which are larger than the other letters. The 'pellets' in the angles of the cross are actually annulets, smoothed down by wear. This coin was issued during the transition from pale gold shillings to silver pennies or sceattas, c.665-680, and its very worn condition suggests that it was in circulation until well into the 8th century. Collectors may not like worn coins, but you could argue that the heavy
wear of this coin makes it more interesting as a piece of monetary history than an unworn coin that saw very little circulation'.
Dr Martin Allen

1.14g,10.81mm

'Many thanks for the new coin, which I have recorded as EMC 2006.0338. A nice example of Series D Type 2c, one of the major series of Frisian sceattas'.

1.16g - 11.85 mm

'This coin (EMC 2005.0208) seems to be a variant of Series BIA. There is great variation in the early varieties of Series B and the illustrations in Metcalf are by no means comprehensive'.

(Metcalf 1993 plate 11/12, obv:195 rev:221) early 8th C 0.87g 12.1 mm

Metcalf type C2 (metcalf 1993, 1, plate 6, 121) c.705 0.85g, 12mm

Porcupine Type 0.94g, 12mm

'Your 'sceat' is a very interesting mule with designs derived from the Series E plumed bird type and the Series D cross pommee reverse. This is a good example of the copying of designs in this coinage, which often resulted in rather garbled copies'.

Variant of Series BIA

(Metcalf Series D, Variety 2C, light specimen C700 - 715 AD 1.00g 10.8 mm

(Metcalf Series E, Variety G1, C 695 - 710 AD (1993, 2 plate 11/201)1.19g 12.34 mm

Series C1 inverted type' 1.18g, 11.99mm

EMC 2007.0057

Variant of Series BIA

This coin (EMC 2011.0278) belongs to Series C2

'The new find (EMC 2011.0261) is an interesting example of an imitation of Series C (note the unusual style of the portrait and the pellets around the head).'

600-775 AD Saxon sceat - sent to Fitzwilliam museum for ID (Mitch)

1.16g, 12.12mm

Needs a good cook to remove crust

Sceat 5 (EMC
2012.0131) is an imtitation of Series B.

Martin

Interesting silver object - Saxon sceat sized - sent to Fitzwilliam museum for ID

1.16g,12.34mm

Needs a good cook to remove crust

Sceat 4 (EMC 2012.0130) is Series F, variety a (ii)

Martin

Primary Saxon silver sceat 600- 700 AD - sent to Fitzwilliam museum for recording and ID

Cooking to remove crust

Primary Saxon silver sceat 600- 700 AD - sent to Fitzwilliam museum for recording and ID

Cooking to remove crust

1.28g, 11.58mm

This is Series C2, EMC 2012.0266.

circa 600 AD Saxon silver sceat - cooking to remove crust

As dug and 'cooked' pics

Primary Saxon silver sceat 600- 700 AD - sent to Fitzwilliam museum for recording and ID

Series BIA, EMC 2012.02659.

As dug and now 'cooking' to remove crust

Primary Saxon silver sceat 600- 700 AD - sent to Fitzwilliam museum for recording and ID

Left facing bust

1.23g, 11.41mm

Many thanks. This is EMC 2013.0066.

Series D (Type 2c).

Best wishes,

Martin

6

As dug and now 'cooking' to remove crust

Primary Saxon silver sceat 600- 700 AD - sent to Fitzwilliam museum for recording and ID

Left facing bust

1.23g, 11.41mm

This new find (EMC 2013.0069) might be Series R9, but enhanced images would certainly be appreciated.

Best wishes,

Martin

Primary Saxon silver sceat 600- 700 AD - Plumed Bird variety - Sent to Fitzwilliam musuem for recording and confirmed type

1.19g, 12.1mm

Many thanks for this new coin, which I have recorded as EMC 2015.0044. This is a classic example of Series E, Vico variety 2.

Best wishes,

Martin

c700 AD Saxon silver primary sceat sent to Fitzwilliam museum for ID and recording

1.16g, 12mm

Many thanks for letting me know about this Series C2 sceat, which is EMC 2015.0066.

Best wishes,

Martin

c700 AD Saxon silver primary sceat sent to Fitzwilliam museum for ID and recording

1.09g, 11.2mm

This is indeed a fine example of Series C2, which I have recorded as EMC 2015.0077.

Best wishes,

Martin

c700 AD Saxon silver primary sceat sent to Fitzwilliam museum for ID and recording

11.1mm,1.22g

Crispy 600 AD Saxon silver primary sceat - needs 'cooking' to remove crust

1.10g,12mm

c700 AD Saxon silver primary sceat sent to Fitzwilliam museum for ID and recording

0.89g,12.2mm



Many thanks for this very helpful information about the find, which is EMC 2015.0268.

The Series E Stepped Cross type (Type 53) is one of the more interesting varieties of the Secondary Phase, and this is the first in EMC since 2010.

All the best,

Martin

Primary Saxon silver sceat 600- 700 AD - sent to Fitzwilliam museum for ID and recording

1.02g,11mm

This is a Series BII sceat recorded as EMC 2017.0317.
The attached image of the reverse is oriented to show the bird on cross with cross to the right of Series BII.
Regards,
Martin

Primary Saxon silver sceat 600- 700 AD - sent to Fitzwilliam museum for ID and recording

Reported as potential hoard to museum

Many thanks for this new Series D (Type 8) sceat, which I have recorded as EMC 2017.0330.

Martin

0.76g,11.59

Primary Saxon silver sceat 600- 700 AD - sent to Fitzwilliam museum for recording and ID

0.84g, 11.00 mm

The sceat (EMC 2018.0080) is Series BIa

Dr Martin Allen