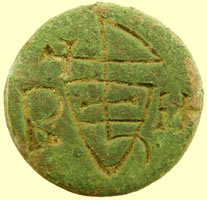 Stunning 16thC seal matric - R H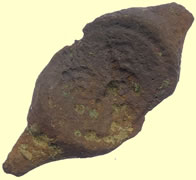 Post medieval copper seal ring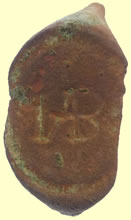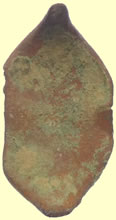 17thC seal ring - IB
17thC Charles II circa 1670 silver seal matrix - reported to Colchester museum as treasure
Stunning 17thC seal matrix - reported to museum as treasure
17thC seal matrix - reported to museum as treasure

Stunning ecclesiastical 17thC silver seal matrix - reported as treasure to museum

17thC silver seal matrix - clasped hands and heart - reported a streasure to museum
Post 17thC silver seal matrix

c13thC medieval silver seal matrix - Crossed hands and flowers

Lombardic lettering - Edward type E's and barred A's.

Appears to be * E( ? AUI IDE( LI ?'

17thC silver seal matrix - reported to museum as treasure

Crown over Tudor rose

17thC silver seal matrix - rev initial IC ,
17thC silver seal matrix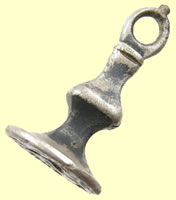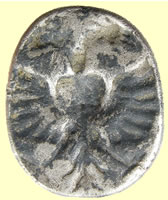 ESS-49C036 Seal Matrix
Treasure 2008 T579 : Post Medieval silver seal matrix. It is 25.12mm long, measuring 13.76mm by 11.36mm wide. Weight 4.93 grams. British Museum Report: Silver seal-die, fluted handle with baluster knop and suspension loop, the die engraved very lightly and crudely with a double-headed eagle displayed, no edging. Probably 17th Century. There is an amateurish look to this seal die, which is also heavily worn. As such, due to its age and precious metal content, this object qualifies as Treasure under the stipulations of the Treasure Act 1996. Dr Dora Thornton, Curator of Renaissance Collections The British Museum
Chronology
Broad period: POST MEDIEVAL
Period from: POST MEDIEVAL
Date from: AD 1600
Date to: AD 1700

Dimensions and weight
Length: 25.12 mm
Width: 13.76 mm
Thickness: 11.36 mm
Weight: 4.93 g
Quantity: 1
Materials and construction
Primary material: Silver
Manufacture method: Cast
Completeness: Complete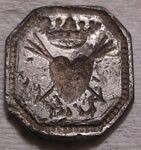 PAS-8E6B26 Seal matrix
17th century silver mount or seal die Circumstances of discovery: Whilst searching with a metal detector Description: (Please note this description is based on an image and not first hand experience of the object.) This silver mount is octagonal in plan and flat in section. It is decorated to the front face with the negative design of a heart with a crown above, bisected by two crossing arrows with feathered flights, within a border of pellets. The reverse of the mount is plain. There is a raised circular collar to the centre of the reverse. The negative design and collar may suggest that the object was once mounted on a shaft and used as a seal. The design is similar (though not identical) to that found on a number of post-medieval buttons or cufflinks previously reported as treasure (e.g. Treasure Annual Report 2001, page 81). The design may have commemorated the marriage of Charles II with Catharine of Braganza in 1662. Dimensions: Length: 14.85mm, width: 14.1mm, Weight: 2.19g. The object contains a minimum of 10% silver and is over 300 years old. Consequently it qualifies as Treasure under the stipulations of the Treasure Act 1996 in terms of both age and precious metal content.
Subsequent actions
Subsequent action after recording: Returned to finder
Treasure details
Treasure case tracking number: 2005 T491
Chronology
Broad period: POST MEDIEVAL
Period from: POST MEDIEVAL
Period to: POST MEDIEVAL
Date from: AD 1600
Date to: AD 1699

Dimensions and weight
Length: 14.85 mm
Width: 14.1 mm
Weight: 2.19 g
Quantity: 1
Materials and construction
Primary material: Silver
Completeness: Incomplete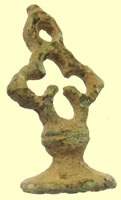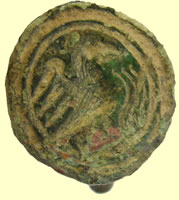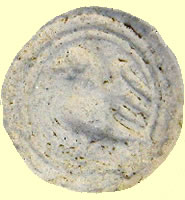 16thC seal matrix with bird impression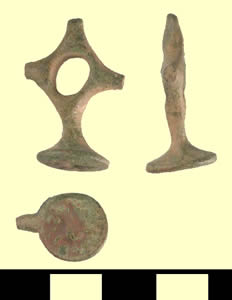 Incomplete Post Medieval cast copper alloy seal matrix. Originally this would have been a quadruple seal-matrix; four ovals joined by arms at a lozengeform junction with openwork circle. Only the commecting junction and one oval survives. The matrix is worn, with only a slight depression now visible. It is 28.72mm long, with the matrix measuring 13.93mm by 13.43mm. It weighs 6.43 grams. For a similar example see Reed (1988) History beneath our feet, page 117 figure 5.
Subsequent actions
Subsequent action after recording: Finder applying for an export licence
Chronology
Broad period: POST MEDIEVAL
Period from: POST MEDIEVAL
Date from: AD 1600
Date to: AD 1750

Dimensions and weight
Length: 28.72 mm
Width: 13.93 mm
Quantity: 1
Materials and construction
Primary material: Copper alloy
Manufacture method: Cast
Completeness: Incomplete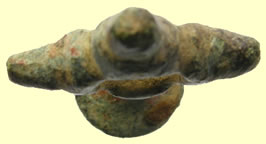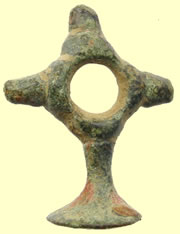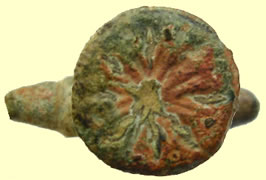 Post medieval seal matrix - sunburst impression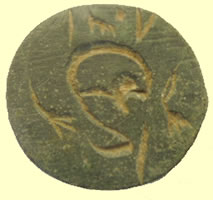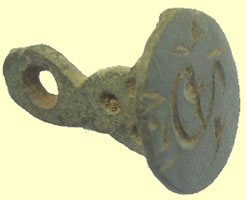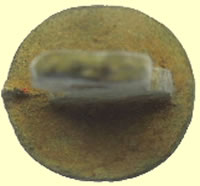 16thC Tudor seal matrix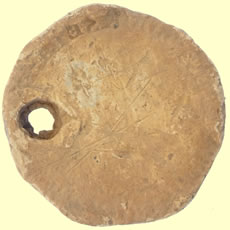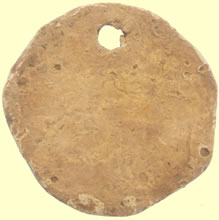 Interesting lead seal matrix - Piper facing right
'BOORSEIS'