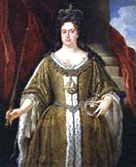 Queen Anne was the last of the Stuart monarchs, and the first sovereign of Great Britain.
Anne was born on 6 February 1665 in London, the second daughter of James, Duke of York, brother of King Charles II. She spent her early years in France living with her aunt and grandmother. Although Anne's father was a Catholic, on the instruction of Charles II Anne and her sister Mary were raised as Protestants. In 1683, Anne married Prince George of Denmark. It was to be a happy marriage, although marred by Anne's frequent miscarriages, still births and the death of children in infancy.
In 1685, Anne's father James became king. He was overthrown in 1688 and Anne's sister Mary, and her Dutch husband William, took the throne. Anne became their heir and with the death of Mary (1694) and then William, with no children, in 1702 Anne was Queen. Within months, the War of the Spanish Succession began. A series of military victories by John Churchill, Duke of Marlborough, including the battle of Blenheim strengthened England's negotiating position at the end of the war. Under the 1713 Treaty of Utrecht, France recognised Anne's title over that of James II's Roman Catholic son, James Stuart and confirmed England's possession of Gibraltar.
The last years of the seventeenth century had seen differing policies pursued by parliaments in England and Scotland which included disagreements over the succession. The solution seemed to be unification and so on 1 May 1707 England and Scotland were combined into a single kingdom, and Anne became the first sovereign of Great Britain. One British parliament would meet at Westminster, and there would be a common flag and coinage but Scotland would keep its own established Church and its systems of law and education.
Politically, Anne's reign was marked by the development of the two party system, with Whigs and Tories competing for power. Anne hoped to rule through mixed ministries, but in 1708 the Whigs became dominant. In 1710 there was a major shift to the Tories, which lasted until her death. Anne allowed herself to be heavily influenced by her ministers and her favourites, particularly her friend Sarah Churchill, wife of the Duke of Marlborough.
Anne died on 1 August 1714. Her only surviving son William had died in 1700, prompting parliament to pass the Act of Settlement (1701) to ensure a Protestant succession. Anne was therefore succeeded by the German Protestant prince George, Elector of Hanover.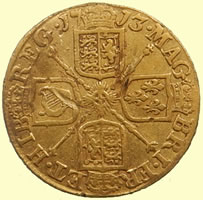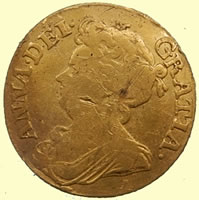 1713 Queen Anne milled gold full guinea
24.2 mm,7.67g