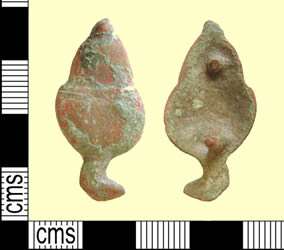 A small cast copper alloy mount or stud, in the shape of a bird. The mount is a rough oval in shape, being the shape of a bird with wings folded away. The top forms the head, with a sharp beak pointing left; this resembles that of a crow, raven, magpie or other corvid. The decoration is basic, consisting of a crude 'eye' and horizontal lines on the body. The mount is convex in section, hollow at the reverse, with the stumps of two studs. This artefact dates to the 13th to 15th centuries.
Chronology
Broad period: MEDIEVAL
Period from: MEDIEVAL
Date from: Circa AD 1200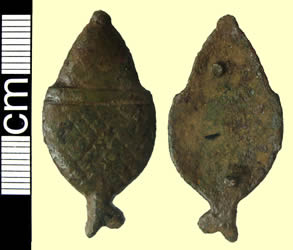 Early Post-Medieval (1500-1700) copper alloy belt mount in the form of an acorn,
On the reverse are the remains of the broken attachment spikes. The acorn is flat (1.37mm average) sometimes with a flat collared knop at one end and a sharp extension (broken stem) at the other. It has a flat horizontal rib across the middle.
Chronology
Broad period: POST MEDIEVAL
Period from: POST MEDIEVAL
Date from: Circa AD 1500
Date to: Circa AD 1700