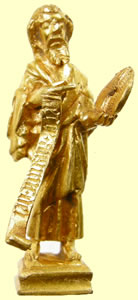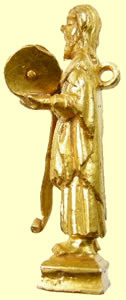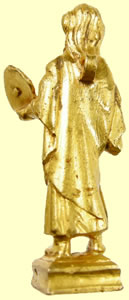 Stunning medieval gold statue pendant - C15thC

Treasure Report: 2008 T581
Parish/County: Tendring District, Essex
A medieval figure of John the Baptist. The saint is shown not in his usual attribute of a camel skin, but in the robes of a prophet. He gestures with his right hand to a salver, which he holds in his left. This was originally designed to carry a lamb, signifying the Lamb of God. A scroll issues from the Saint's left hand and is inscribed with the words
: ECCE +ANGUS+DEI
(Behold, the Lamb of God)
The figure stands on a small plinth with a finished base. It is designed to be seen in the round and on its back there is a loop for attachment to an object. It would probably have been entirely enamelled, but no traces of enamel survive on the figure.
The figure is gold and dates from the late fifteenth or early sixteenth century.
Dimensions: height 33 mm, width 11 mm, depth 10 mm.
Consequently, in terms of age and as the object contains a minimum of 10% precious metal it qualifies as Treasure under the stipulations of the Treasure Act 1996.

J P Robinson
Curator of Medieval Collections
30th March 2009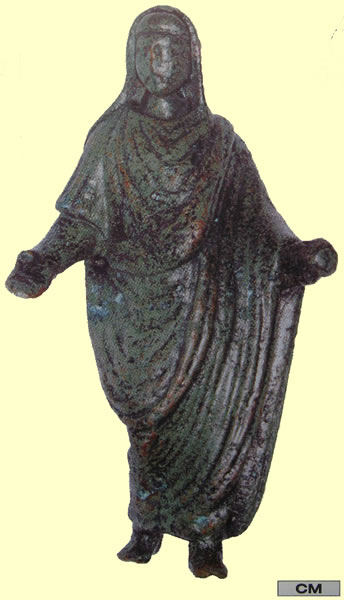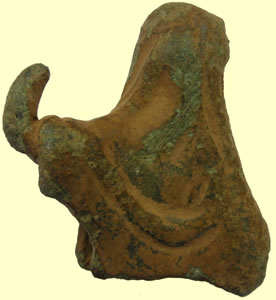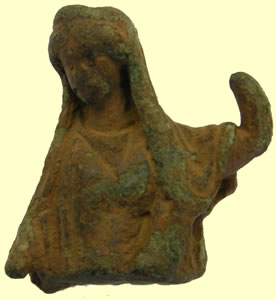 Roman veiled standing togate figure - popular throughout the Roman Empire but quit a rare find in Britain
50mm high
The small size of the statue, the thin profile of the head and upper body, and the somewhat Augustan or Julio-Claudian traits reflected in the face all indicate that the statue was made, probably as a public or personal votive offering, in a central Italian workshop, such as that which produced the large votive bronzes from Nemi.